The latest from Fabrice du Welz bleeds horror tropes into a yearning romance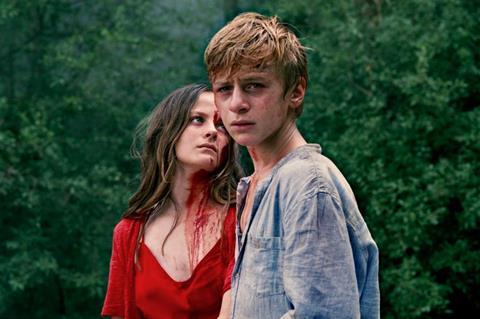 Dir. Fabrice Du Welz. France, Belgium. 2019. 98 mins
A boy and a girl flee the clutches of the wicked uncle who aims to cheat her out of her inheritance by any means necessary. The fairytale dusting on this premise is no accident. Enchantment wisps through the story like mist. But Paul (Thomas Gioria) is the son of a mother who works in a mental institution. And Gloria (Fantine Harduin) is one of the more troubled patients. Whatever it is that they are actually running from, it is buried deep within her mind. While some of the symbolism is a little on the nose, the latest film from Belgium's from Fabrice Du Welz is rather effective. A perturbing juvenile road movie, it bleeds horror tropes into a yearning romance which is wilfully suspended from reality.
Arthouse audiences might be tempted by this atmospheric tale of murderous kids on a gorgeously photographed killing spree
Although Adoration is the last chapter of Du Welz's Ardennes trilogy (after Calvaire and Alleluia), with its themes of unhinged paranoia, the film has a kinship with the director's earlier picture, Vinyan. Yet there's an innocence and purity here, in the character of Paul, which makes it more intriguing and unconventional than the director's straight horror outings. A key asset is casting: Harduin, so chilling in Haneke's Happy End, has cornered the market in photogenic teen sociopaths. And Gioria (Custody) is a knockout. Any one interested in what the future of francophone acting might look like would do well to check this out. A healthy festival run seems likely: the film arrives in Sarajevo having premiered at Locarno. And arthouse audiences might be tempted by this atmospheric tale of murderous kids on a gorgeously photographed killing spree.
Cinematographer Manu Dacosse, whose lensing created much of the queasy nightmare aspects of Lucile Hadzihalilovic's Evolution, imbues this picture, shot on 16mm, with a kind of unmoored timelessness. The brisk handheld camerawork gradually gives way to something more brooding and slippery as the story progresses.
We meet Paul as he scrambles out of a tree to tend to an injured fledgling chaffinch. He names it, gently wraps it in his shirt to take home and nurse back to health. "I made a new friend," he tells the barn owls in the attic of the castle-like asylum. Then one day, a young female patient running from her attendants crashes into him. The boy who cares for broken wild creatures recognises an animal in need of help. And Gloria sees a sympathetic soul who, as she scrawls on a note signed off with a heart, could be a friend.
Gioria is terrific as the lonely, unworldly, romantic Paul, who is bewitched by Gloria and convinced that he can save her. An instinctive, reactive actor, he brilliantly captures the conflicting emotions coursing through an out of his depth Paul after Gloria kisses him for the first time: fear, bewilderment and a scorching kernel of infatuation about to ignite. Even so, there's something about her glazed blue stare which bothers him: churning dreams, soundtracked with full on demon child horror music, tap into his subconscious fears. But by the time Gloria is freaking out about surveillance chickens and attacking him with an oar, Paul is in too deep to easily get out. Or perhaps he just wants to keep the fairytale alive a little longer.
Production company: Panique!, The Jokers Films
International sales: Memento gaelle@memento-films.com
Producers: Vincent Tavier, Manuel Chiche, Violaine Barbaroux
Screenplay: Fabrice Du Welz, Romain Protat, Vincent Tavier
Cinematography: Manu Dacosse
Editor: Anne Laure Guegan
Production design: Manu Demeulemeester
Music: Vincent Cahay
Main cast: Thomas Giora, Fantine Harduin, Benoît Poelvoorde, Laurent Lucas