Dir/scr. Elad Keidan. Israel, 2015. 105 min.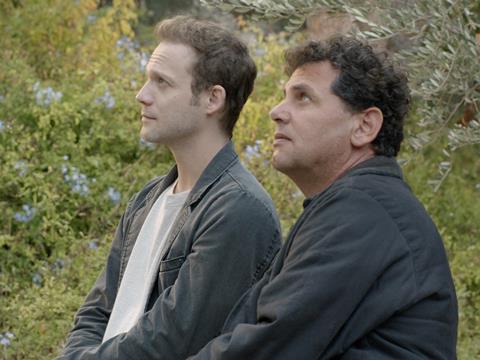 Seven years after receiving the Cannes Cinefondation's top prize for Anthem, a brief, concise and brilliant portrait of Israel, Elad Keidan is back with his first feature film, a cryptic sketch of two characters, Moshe and Uri (the most familiar names in Israel) with one literally walking up, the other going down, the steps crisscrossing the slopes of Israel's northern port city of Haifa.
One sequence at least, that of Uri's encounter with his former Barbershop Quartet and their a capella rendition of By the Light of the Silvery Moon, deserves an accolade all of its own.
Practically plotless, but perceptive, intelligent, ironic and often touching, the main obstacle to Afterthought reaching wider audiences may be the use of typical Israeli elements which many viewers will be unfamiliar with.
Instead of Anthem's emblematic symbols, this time Keidan uses his two protagonists as prototypes for his fellows Israelis. Topics such as politics and social issues, brought up every single time the country is discussed, are of course present, but pushed into the background, part of a vast colorful canvas but never dealt with in depth.
Afterthought opens with a long travelling shot taken, most likely, from the top of a giant crane in Haifa's harbour. It starts off with the city's refineries, one of the country's most lucrative industries but also a dangerously polluting monster affecting the quality of life in the entire city, and then goes on to survey the surrounding hills covered with new high rises, sweeping elegantly over to Mount Carmel, home of the city's aristocracy, and downhill to the much less fashionable downtown, all the way to the port area and its busy harbor.
Once the background is established, Keidan enters the home of his first protagonist, Moshe (Uri Klauzner) a middle-aged man, lovingly watching his wife getting dressed, about to go out. When she can't find one of her earrings which she might have lost the night before on her way home, he, the adoring husband, immediately offers to go out and look for it on the steps leading up to Mount Carmel. He doesn't forget, before walking out the door, to tell his spouse how much he loves her.
The other protagonist, Uri (Itay Tiran), is caught on his way down the same flight of stairs (the city's dwellers will realize the topography has been tampered with for dramatic purposes). Much younger, Uri has just broken up with his girlfriend and left the barbershop quartet he used to sing with. He is generally disgusted with life, doubtful about his writing abilities and badly in need of a break. Skipping the call for an Army reserve training session, he is on his way to the harbour to catch a boat and leave the country.
The two of them meet only once, in the middle, and have a short conversation during which it transpires that Moshe used to be Uri's teacher in elementary school. They both go on, one up, the other down until, at the very end, unexpected circumstances cause each one of them to turn in the opposite direction. Each encounter they have on their way is another piece of a puzzle that fits together to give two generic images: one, of a melancholy middle-aged man crushed by the past; the other, of a rather confused young man facing an uncertain future. Together, they suggest Keidan's personal view of Everyman, Israeli style.
Haifa's picturesque nooks and crannies, old colorful neighborhoods and new nondescript malls, supported by a rich sound tapestry, pieces of classical music and Israeli hits but also snippets of unrelated conversations, serve to add color to the backdrop. Not all episodes on these two journeys are equally well handled and the direction and the acting may be hesitant at times, but that is mere quibbling. One sequence at least, that of Uri's unwarranted encounter with his former Barbershop Quartet (the other three members belong to a real life quartet) and their a capella rendition of By the Light of the Silvery Moon, deserves an accolade on its own.
Production companies: Spiro Films, EZ Films
International Sales: The Match Factory, info@matchfactory.de
Producers: Eitan Mansouri, Elie Meirovitz, Danny Goldberg
Screenplay: Elad Keidan
Cinematography: Yaron Scharf
Editing: Arik Lahav-Leibovitz
Sound designer: Aviv Aldema
Sound: Jean-Yves Rousseau
Cast: Itay Tiran, Uri Klauzner