A slice of life on the Tundra closes the 2018 Berlinale out of Competition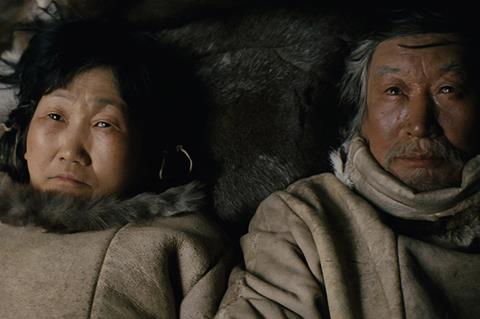 Dir. Milko Lazarov. Bulgaria/Germany/France. 2018. 96 mins
Bulgarian director Milko Lazarov's second feature, closing the Berlinale out of competition, is an exquisitely shot and very moving film about an ageing couple who appear to exist alone on the edge of the world, stoically surviving on the icy tundra in a way of life that may be about to end. A fiction with a documentarian's eye and feel, Ága could appeal to the same festival and theatrical audiences who have responded to such anthropological fare as The Cave Of The Yellow Dog and The Eagle Huntress. It's certainly one of the more successfully wrought and appealing films in the Berlinale.
Lazarov and his cinematographer Kaloyan Bozhilov never cease to amaze
The film isn't explicit about its setting, though Yakutsk, in Siberia, seems a good bet. It opens with a slice of cheerful entertainment, as an old woman resplendent in traditional costume gives a virtuoso performance on a Jew's harp, her ringed fingers dancing across her mouth. When she finishes, she smiles at the camera; it's impossible not to clap.
Lazarov then switches mode from the sweet to the near mythic, and an image of a man alone in the wilderness – or at least, alone with his dog. In the far distance, Nanook (Mikhail Aprosimov) sleds across a wintry landscape in which it's difficult to tell where the land stops and the sky begins. The gradations of white and pale blue are so pellucid that he seems to be moving across a watercolour.
Nanook cuts a hole in the ice, fishes and returns to an isolated yurt and his wife Sedna (Feodosia Ivanova). In contrast to the tundra, the yurt's interior is on a spectrum of browns, reflecting the warmth of the couple's simple domesticity. During the day, he fishes and hunts, at night they eat, talk, he tells her anecdotes and stories, all of which she has undoubtedly heard before. She cuts his hair and beard with a knife, sings to him as they lie beside each other at night, still dressed against the cold.
A storm is a reminder that they're always at the mercy of the elements. But the weather is one way in which their way of life is changing. It's warmer, he says, "Spring comes earlier every year." Reindeer, once an integral part of their existence, have all but disappeared. And human contact is getting scarcer, as the younger generation embraces change. Their one contact with the outside world is a morose young man, Chena (Sergey Egorov), who arrives by snowmobile with firewood and kerosene, and news of their daughter Ága, who is working on a diamond mine, many miles away.
"Legs are like family," Nanook asserts, "one can't do without the other." And yet Ága has left them, under a cloud. When Sedna recognises that she is dying, she declares her desire to reconnect with her daughter.
This is no relation to Nanook of the North. The cast are actors (even if Apromisov, with his tough hide of a face, seems to have stepped right off the tundra), who brilliantly convey the physicality and intimacy of people content in their isolation. Lazarov and his cinematographer Kaloyan Bozhilov never cease to amaze, not least when they reveal the diamond mine as a mirror of Nanook's fishing hole, magnified to the size of a giant crater, with a town hanging on its lip – a grim view of the dehumanisation that comes with industry. Composer Penka Kouneva's beautiful score adds to the sense of majesty and loss.
Production company: Red Carpet
International sales Beta Cinema, beta@betacinema.com
Producer: Veselka Kiryakova
Screenplay: Milko Lazarov, Simeon Ventsislavov
Cinematography: Kaloyan Bozhilov
Editor: Veselka Kiryakova
Production design: Ariunsaichan Dawaachu
Music: Penka Kouneva
Main cast: Mikhail Aprosimov, Feodosia Ivanova, Galina Tikhonova, Sergey Egorov, Afanasiy Kylaev