Dir: James Bobin. US. 2016. 112mins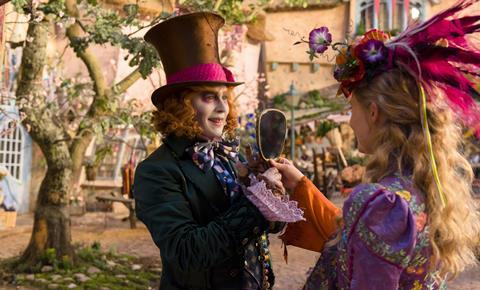 A parade of gaudy CGI and strained whimsy, Alice Through The Looking Glass proves even more manic and grating than its 2010 predecessor. Tim Burton, who directed Alice In Wonderland, has handed over the reins to Muppets filmmaker James Bobin for this sequel, but what should be magical instead feels manufactured, the wonder of Lewis Carroll's tales replaced by elaborate set pieces and predictably lavish costume design. In the six years since the first Alice, Mia Wasikowska has developed into a far more poised actress, but once again she's overshadowed by Johnny Depp's aggressively cutesy portrayal as the Mad Hatter. This fantastical film never takes flight.
Instead of curiouser and curiouser, this sequel gets shriller and shriller.
Disney will be releasing Looking Glass across much of the globe by May 27, and what will be intriguing to monitor is whether audiences devour this sequel as they did the original. Alice In Wonderland grossed a billion dollars, thanks in part to it being the first major 3D release after the breakthrough smash Avatar. But will viewers be as excited six years later? And will Depp's sagging box-office potency erode enthusiasm? Opening in a far more crowded marketplace than Wonderland faced, Looking Glass should still do solid business with families, but word-of-mouth could keep this follow-up from matching the previous film's commercial heights.
Set a few years after Wonderland, Looking Glass finds the once-impressionable young Alice (Wasikowska) now a confident, independent ship's captain who returns to London only to learn that her family may lose their beloved home. Unfortunately, she cannot focus on this crisis once she's summoned back to Underland, where her dear friend the Mad Hatter (Depp) has sunk into a deep depression, convinced his family (whom he thought had died long ago) is actually still alive. Alice takes it upon herself to travel back in time to discover what happened to the Mad Hatter's clan, stealing a time machine from Time himself (Sacha Baron Cohen).
Working from a screenplay by Linda Woolverton, who also wrote Wonderland, Bobin initially seems like an appealing alternative to Burton's reliance on overblown spectacle and wincingly quirky humour. Whether as director on Flight Of The Conchords or on his two big-screen Muppet reboots (The Muppets and Muppets Most Wanted), Bobin has demonstrated a cheeky, irreverent comedic sensibility that feels far more modest and charming than Burton's laboured, outsized shtick.
But Bobin's small-scale sweetness gets crushed by a film so slavishly indebted to its myriad effects, over-the-top characterisations and tiresomely clever wordplay. Between Depp's eunuch-like portrayal of the Mad Hatter, Baron Cohen's arch turn as the finicky Time (speaking with a thick, affected accent that might double as a Werner Herzog impression), Helena Bonham Carter's broad performance as the Red Queen, and Anne Hathaway's one-note depiction of the goody-goody White Queen, Looking Glass is filled with irritating caricatures that are meant to seem iconic — as if these larger-than-life figures were ripped straight off the page of Carroll's book. But instead, they're aggravating company who are very rarely funny and even less often lovable.
Consequently, the muted Wasikowska seems almost as dwarfed in Looking Glass as she was in Wonderland. Since Wonderland, the actress has played similar young women who are ingénues ready to break free (Stoker, Crimson Peak) or troubled hellions who can't be trusted (Only Lovers Left Alive, Maps To The Stars). Perhaps not surprisingly, her reprising of the role of Alice brings with it an assurance and grace that weren't present in Wonderland — which is fitting, considering that Alice has grown up since the last movie. Even then, though, the character's mild-mannered demeanour pushes her into the background, a condition not helped by the fact that in Looking Glass she mostly has to learn bland lessons about letting go of the past and standing up for herself.
The movie's time-travel element proves surprisingly unimaginative, with Alice walking through the Mad Hatter's past and discovering what his family life was like. (Of the movie's new cast members, Rhys Ifans is strongest as the Mad Hatter's kindly father, avoiding the hammy theatrics that infect just about everyone else on screen.) Additionally, Looking Glass delves into the backstory of the Red Queen and the White Queen, revealing the dark childhood secret that severed the sisters' bond.
The makeup and costumes are both extravagantly layered on, which goes double for effects work that's simultaneously robust and chintzy. (The artificial environments are opulent but decidedly phony-looking, undercutting any possibility of feeling transported to a magical realm.) There are a couple moments when Looking Glass wows with an impressive visual — say, when Underland is threatened after the past is altered, the kingdom covered over in rust. But for the most part, the experience of watching Looking Glass is akin to walking into an incredibly opulent house that's been tackily decorated. Instead of curiouser and curiouser, this sequel gets shriller and shriller.
Production companies: Roth Films, Team Todd, Tim Burton Productions
Worldwide distribution: Disney, http://movies.disney.com/all-movies
Producers: Joe Roth, Suzanne Todd, Jennifer Todd, Tim Burton
Executive producer: John G. Scotti
Screenplay: Linda Woolverton, based on characters created by Lewis Carroll
Cinematography: Stuart Dryburgh
Production design: Dan Hennah
Editor: Andrew Weisblum
Music: Danny Elfman
Website: http://movies.disney.com/alice-through-the-looking-glass
Main Cast: Johnny Depp, Anne Hathaway, Mia Wasikowska, Matt Lucas, Rhys Ifans, Helena Bonham Carter, Sacha Baron Cohen, Alan Rickman, Stephen Fry, Michael Sheen, Timothy Spall