Documentary explores the history of lynching in America's Deep South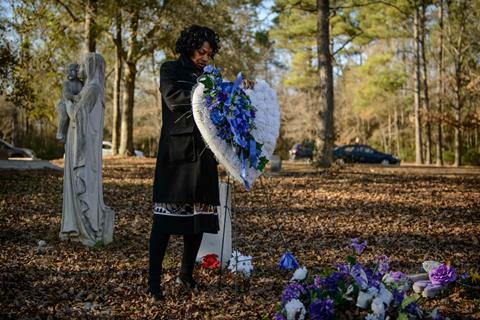 Dir: Jacqueline Olive. US. 2019. 89 mins
An artful, deeply felt documentary, Always in Season has its own, sadly necessary reasons for being. But it also feels somewhat like a companion piece to Spike Lee's BlacKkKlansman and Martin McDonagh's Three Billboards Outside Ebbing, Missouri. Like Lee's based-on-fact feature, this is a story of ugly violence and organised racism. Like McDonagh's drama, it's the wrenching tale of one grieving mother's resolve to solve the mystery of her child's senseless death – even if it means taking on the police. Unlike those films, however, this one has no clear-cut ending.
Evocative cinematography by Patrick Sheehan and S. Leo Chiang finds beauty, and terror, in glimpses of the everyday
Premiering at Sundance, Jacqueline Olive's anguished documentary paints a portrait of the American South in which the past is still present and, for African-Americans, still dangerous. Although its theatrical future seems limited, it should easily find berths on the festival circuit, and the small screen.
Always in Season begins by focusing on the story of Lennon Lacy, a high-school football star who, on the morning of a big game in 2014, was found hanging from a swing set. There was no note. After taking the weekend off, the police ruled it a suicide; something his mother refused to accept. And, slowly, the story deepens.
Lennon was dating a white woman – an unpopular practice in their rural, North Carolina community. The woman had some suspicious friends, too, who abruptly left town after Lennon's death. Meanwhile, the local mortician says the teen's body was badly bruised, as if he'd been in a fight before his death. Was this a suicide? Or a lynching made to look like one?
Olive covers the determined quest of Lennon's mother, Claudia, to re-open the case, but also opens up the story to look at the history of lynching itself, and the legal system's lack of success – or interest – in ever bringing anyone to justice. Danny Glover narrates sickening accounts of public murders; people shot, mutilated, burned alive. Activists who stage re-enactments of those crimes talk about the necessity of not letting this history fade. Elsewhere, some white Southerners talk about their family's past involvement in the Klan, and their own attempts now to make amends – while others insist, sharply, it's time to move on.
The filmmaker's all-encompassing approach here is understandable, but also slightly problematic. While the Lennon Lacy case on its own probably couldn't support more than a short film, the history of white-on-black violence is far too involved to be covered in 90 minutes. The film is both a bit too long for its chief subject, and too short for its ambitious scope. There are also, maddeningly, a few holes in the reporting, promising avenues that turn into dead ends. What happened to those surly neighbors who left town? Who exactly is this local law-enforcement official they may have had ties to? Those questions are left to linger.
But Olive, who stays offscreen and mostly unheard, has an impressive talent for drawing out her emotionally raw subjects, with editor Don Bernier wisely letting the scenes run long, as people try, not always successfully, to hold back tears. And the evocative cinematography by Patrick Sheehan and S. Leo Chiang finds beauty, and terror, in glimpses of the everyday. A bereft mother clasping a small child's hand before saying grace. A faded Confederate flag tacked to the side of a weathered house. And, chillingly, we see fresh Klan graffitti on the underside of a bridge where four black people – including a pregnant woman – were savagely murdered back in the `40s. No one was ever charged in those deaths, either.
As the film makes clear, Claudia Lacy still hopes she'll get justice for her son – or, at least, some answers. But closure? That's something for Hollywood movies.
Production companies: Multitude Films, Naked Edge Films, Tell It Media
US Sales: Cinetic, eric@cineticmedia.com
International sales: RoCo, annie@rocofilms.com
Producers: Jacqueline Olive, Jessica Devaney
Screenplay: Don Bernier, Jacqueline Olive.
Editing: Don Bernier
Cinematography: Patrick Sheehan, S. Leo Chiang
Music: Osei Essed