An immigrant from Senegal struggles to find happiness in France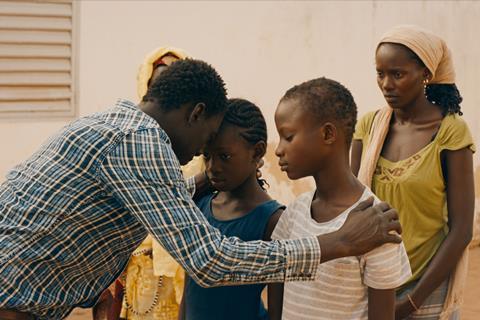 Dir: Philippe Faucon. France. 2018. 91 mins
A work of tender humanism and stultifyingly good intentions, Amin explores the plight of people like eponymous immigrant Amin (Moustapha Mbengue) who, for various reasons, find themselves distanced from their family and love ones. Compassionate but laboured, this is a film to file alongside the work of Ken Loach and Stephane Brizé. Like the best of Loach's films, it is empathetic and socially aware; like the worst of them, it bludgeons home its plot points a little too emphatically with thudding, declamatory dialogue and wildly variable performances.
The film's main asset is Moustapha Mbengue in the central role of Amin
The intimate scale of the drama means that this is a film which would work as well on the small screen as in the cinema. In fact, it is likely that its best chance of connecting with the people it portrays so sensitively – migrants who have sacrificed the best part of their family life to provide for the people they left behind – would be through television or streaming platforms. Yet the low key nature of the story won't help it to stand out in a market which is oversupplied with tales of displaced people.
The film's main asset is Mbengue in the central role of Amin, an immigrant labourer in France with a wife and three children back home in Senegal. He is a man of decency and dignity, but the nine long years of exile have left him hollowed out. Is is a performance which exudes warmth and solidity; he is the central axis point about which the other characters gravitate.
Early scenes, during one of his rare visits back to Senegal, are impossibly poignant. Amin greets his children with a torrent of jovial banter and questions, he can't risk an awkward silence. That would be an admission that the children who smile so shyly are virtual strangers to him. His wife, Ayesha (Mareme N'Diaye) encourages the children to lobby for the family to move together to France. But Amin gently insists that France is not the promised land they believe it to be.
Back in France, Amin lives in a hostel inhabited by men from around the world. It's here that the screenplay exhibits its most schematic tendencies. Several of the supporting characters seem entirely constructed to illustrate aspects of the migrant condition. There's the young man who visits prostitutes for momentary relief from the drudge work and loneliness. And there is Moroccan worker Abdelaziz (Noureddine Benallouche), torn between two lives, his family in Morocco and his two daughters in France. Hapless Abdelaziz has the thumb print of tragedy upon him from pretty much the first scene; it's clear that his is the cautionary tale.
Amin's work for divorcee Gabrielle (Emmanuelle Devos), herself estranged from her vindictive ex and struggling to maintain a connection with her daughter, leads to a tentative relationship between the two. Though pivotal to the story their bond is curiously underpowered. But it's entirely possible that this is the intention. They are, after all, two lonely souls flung together temporarily; two people whose hearts are elsewhere.
Production company: Istiqlal Films
International sales: Pyramide International avalentin@pyramidefilms.com
Producers: Olivier Pere
Screenplay: Philippe Faucon, Yasmina Nini-Faucon, Moustapha Kharmoudi
Production design: Manuel Swieton
Editing: Sophie Mandonnet
Cinematography: Laurent Fénart
Cast: Moustapha Mbengue, Emmanuelle Devos, Mareme N'Diaye, Noureddine Benallouche, Moustapha Naham, Jalal Quarriwa, Fantine Harduin, Samuel Churin