A cinematic essay looks at the concept of soulmates – two sides of the same coin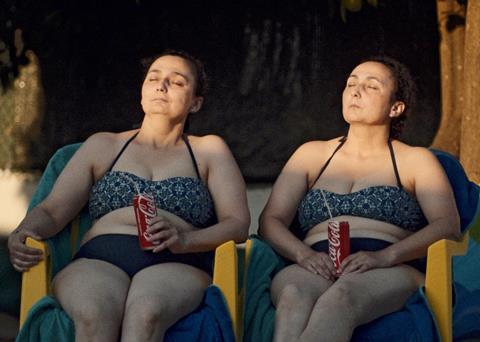 Dir: Claudia Varejao. Portugal, Switzerland, France. 2020. 102 mins
Do we believe in the concept of soulmates? Can two hearts beat as one? Amor Fati offers a compendium of dead-ringer twins, boon companions and bosom buddies that collectively illustrates how many lives are only complete with the addition of that certain someone special. Claudia Varejao's quirkily engaging documentary essay can often feel a little random but it has enough heart and soul to attract willing partners among festival audiences.
A very contemplative, reflective film that is more concerned with observation than any commentary or rush towards profound conclusions.
Varejao begins by quoting a speech from Aristophanes in Plato's 'Symposium' asserting that "each of us are only one side of the coin whose halves have been separated". Shot over two years, Amor Fati builds a mosaic from the fragments of lives and relationships in which couples are inseparable. Individual stories are chopped up and folded together into the bigger picture. Some stories are striking enough to emerge from the crowd, including that of elderly twins Jonita and Ana who share a modest home and a humble life. As the wind blows and snow swirls, they shelter from the cold, warming their hands by a stove. Dressed in black and silhouetted in a narrow window frame, they are like two halves of one set of curtains.
We witness identical twins who run a restaurant and wear exactly the same top-to-toe wardrobe including eye-popping jumpers and fluffy pink slippers. A fortune teller warns that the bond between them is so strong that there is little likelihood of either achieving anything in their own right. Home movies capture the childhood of Ines and Teresa. Two peroxide blonde boys display their fondness for tattoos, white wedding dresses and each other. Blind football fan Ringo has someone to watch over him and lovingly share every moment of his days.
These special bonds extend to those between humans and animals. Dressed in a white shirt and sporting a flowing frizzy mane of white hair, a man is the spitting image of a, you've guessed it, white horse that appears to be his closest companion. Drag artist Simao sits watching a television screening of Sunset Boulevard with his new best friend Gianni, a pug puppy, and it could be a moment from an Almodovar film.
Varejao also seems to have taken inspiration from Norma Desmond's assertion that "we didn't need dialogue. We had faces". The film is peppered with close-ups that scrutinise lined faces, wrinkled skin and the misty eyes of those lost in adoration for the object of their affections. It is a very contemplative, reflective film that is more concerned with observation than any commentary or rush towards profound conclusions.
The variegated stories occasionally reflect on the way those who are close may eventually come to resemble each other. There is also a poignant sense of what remains when death severs a connection, leaving the survivor achingly alone in the afterglow of a relationship that had meant the world to them.
The very "choral" nature of Amor Fati means that it is inherently fragmentary and that some stories are inevitably more compelling and fully explored than others. There are couples here who could merit a film to themselves. Yet there are still enough nuggets of gentle humour, understanding and human interest to reward the patient viewer.
Part of the International Feature Film Competition, 'Amor Fati' plays in www.visionsdureel.ch between April 25 and May 2

Production companies: Terratreme Filmes, Mira Film, La Belle Affaire
International sales: Terratreme Filmes pedroperalta@terratreme.pt
Producers: Joao Matos, Vadim Jendreyko, Jerome Blesson
Editing: Joao Braz, Claudia Varejao
Cinematography: Claudia Varejao