This modest superhero film - in Marvel terms - moves the franchise along from its 2015 original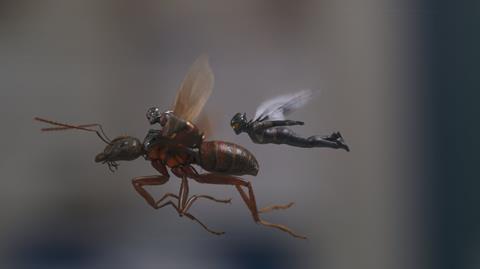 Dir: Peyton Reed. US. 2018. 118mins.
Improving on the lacklustre 2015 original, Ant-Man And The Wasp is winningly modest, no small feat for a film which is part of the gargantuan Marvel Cinematic Universe. Amidst the vibrant new realms depicted in Black Panther and the galaxy-sized stakes of Avengers: Infinity War, this diverting sequel sports a refreshing breeziness and lack of pretension that feel appropriate for a self-deprecating superhero who is not nearly as iconic as Captain America or Iron Man.
It doesn't have the urgency of other recent MCU instalments, with the unexpected benefit that Ant-Man And The Wasp has the relaxed tone of a well-executed lark
Paul Rudd and his equally likeable cast mates find the heart and humour in familiar comic-book theatrics, resulting in a film which is less concerned with generating awe than in delivering plenty of goofy grins.
Disney will roll out Ant-Man And The Wasp on July 6 in the States, with the UK release scheduled for August 3. 2015's Ant-Man grossed $519 million worldwide, a relatively low sum for a Marvel film, and no doubt there's concern that between Black Panther, Infinity War and even Incredibles 2, audiences may be satiated on superhero adventures. Still, positive reviews and a marketable ensemble should help stir sizable interest.
The film takes place after Captain America: Civil War but before Avengers: Infinity War, revealing that Scott Lang (Rudd) has been under house arrest by the FBI after his involvement in the events chronicled in Civil War. With his sentence nearly over, this former thief just wants to be a good single father to his young daughter (Abby Ryder Fortson). However he is visited in a dream by a vision of Janet (Michelle Pfeiffer), the wife of Hank Pym (Michael Douglas) and mother of Hope (Evangeline Lilly), who was assumed dead after she vanished into the Quantum Realm years ago. Hank and Hope have reason to believe Janet is trying to contact them — and they need Scott's help to rescue her.
Peyton Reed, who directed the first Ant-Man, returns for the sequel, and he and the film's five credited screenwriters (including Rudd) have crafted an overly busy, sometimes convoluted story that juggles a few subplots and several significant antagonists. Chief among them is a treacherous new nemesis known as Ghost (Hannah John-Kamen), who can walk through walls and appear out of nowhere. For mysterious reasons, she wants the technology to enter the Quantum Realm for herself — and she's willing to kill Scott and his friends to get it.
The first Ant-Man struggled to balance its irreverent quips and unguarded sincerity — much of the 2015 film was a redemption tale concerning Scott's inability to adjust to the idea that a regular guy like him could be a superhero — but the sequel has cleverer comedic sequences and a stronger emotional through-line. While some of the one-liners still feel forced, Ant-Man And The Wasp benefits from the sharper deadpan rapport between Rudd, Lilly and Douglas. Also strong is Michael Peña, reprising his role as Scott's dopey buddy Luis, who steals the show during a sequence involving truth serum.
The new film doesn't have the urgency of other recent MCU instalments, which has the unexpected benefit of giving Ant-Man And The Wasp the relaxed tone of a well-executed lark. By not trying to oversell the stakes, Reed at times seems to be making a light-hearted sendup of Marvel movies with their eye-popping pyrotechnics and mythic narratives. In comparison, Ant-Man And The Wasp is often a silly but touching look at familial bonds and the sacrifices people will make for those they love. Nothing that happens feels life-or-death, although Reed does unveil several nifty action scenes and a couple of emotional punches near the end.
Rudd has a boyish appeal as this smart-aleck thief who connects with his sensitive side. The actor shows great warmth with young actress Fortson, and he has considerable chemistry with Lilly, whose character has been hurt by him before. And although Marvel hasn't always done a terrific job in fashioning nuanced villains, John-Kamen gives Ghost a soul, revealing the inner pain which is motivating her actions. The effects team do consistently impressive work, especially in giving us a sense of the trippy Quantum Realm, but their rendering of Ghost's spectral-like presence makes her both haunting and disconcerting, adding a welcome note of unease in a film that's otherwise pleasantly playful.
Production company: Marvel Studios
Worldwide distribution: Disney
Producers: Kevin Feige, Stephen Broussard
Screenplay: Chris McKenna & Erik Sommers and Paul Rudd & Andrew Barber & Gabriel Ferrari
Production design: Shepherd Frankel
Editing: Dan Lebental, Craig Wood
Cinematography: Dante Spinotti
Music: Christophe Beck
Main cast: Paul Rudd, Evangeline Lilly, Michael Peña, Walton Goggins, Bobby Cannavale, Judy Greer, Tip "T.I." Harris, David Dastmalchian, Hannah John-Kamen, Abby Ryder Fortson, Randall Park, Michelle Pfeiffer, Laurence Fishburne, Michael Douglas