Wen Shipei's lacklustre Chinese hit-and-run thriller makes its international premiere as a Cannes special screening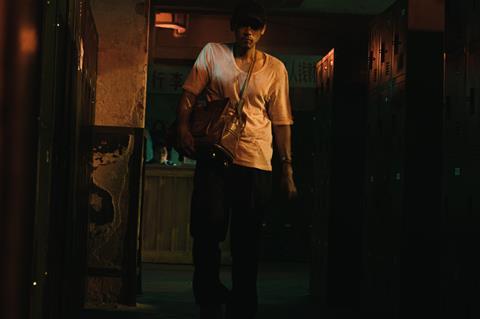 Dir: Wen Shipei. China. 2021. 95 mins
Most recently seen as an unreservedly heroic coast guard in Dante Lam's action spectacle The Rescue (2020), Taiwanese heartthrob Eddie Peng takes on an unassuming blue collar identity for Are You Lonesome Tonight? This noir thriller asks a lot of its leading man and co-star Sylvia Chang, particularly as its narrative concerning a humble repairman whose mundane life is upended by a tragic accident is distinctly threadbare. Developed from a pitch project at the 2017 Shanghai International Film Festival, it relies on dream sequences, structural trickery and multiple perspectives to pad the proceedings to 95 minutes. Still, there is a modicum of curiosity value here for Asian crime cinema aficionados, as first-time director Wen Shipei demonstrates a certain flair for heightened atmospherics and off-kilter details.
Basically a rote thriller complete with the requisite bag full of cash and a final cat and mouse chase sequence set to frenzied staccato strings
On its June 12 domestic theatrical release, Are You Lonesome Tonight? was largely ignored with box office returns tapping out at a tepid $10 million, constituting a rare commercial misfire for executive producer Ning Hao, who shepherded Dying to Survive (2018) to breakout smash status. Receiving its international premiere as a Special Screening in Cannes' official selection, it's a stylish package with high profile stars, so engagements at Asian-themed festivals should be on the cards. However, the lack of genuine suspense seems likely to otherwise limit overseas potential to modest streaming revenues.
Mostly taking place in 1997, the film opens at night with air conditioning repairman Wang Xueming (Peng) driving to meet his girlfriend (Jiang Peiyao) for a cinema date, only to run over a pedestrian. A panicked Wang disposes of the body and flees the scene. Although he seems to be in the clear, Wang is tormented by the accident and considers turning himself into the authorities. Instead, he finds a way to befriend the victim's widow, Mrs. Liang (Chang), who is being harassed by a pair of men claiming that her late husband owed them a significant sum of money.
While trying to make amends to Mrs. Liang without revealing his role in her sorrow, Wang learns that the deceased was actually shot twice prior to being run over. Determined to piece together the complete events of that fateful night, he is also being stalked by a shadowy killer (Lu Xin) who spotted his van at the site of the incident.
None of this is especially involving given Wang is barely sketched by a half-baked screenplay credited to four writers, although Peng endeavors to convey an anxious mental state. There are echoes of Brad Anderson's unsettling psychological thriller The Machinist (2004), not just in having a protagonist unravel following a hit and run, but the alarming physique of the main actor. Peng's guilt ridden everyman isn't quite as shockingly emaciated as Christian Bale's, but he is noticeably gaunt, with the actor trading endearing charm for a perpetually pensive expression.
It's a fair attempt to inhabit a protagonist under duress, and Peng has a few strong scenes opposite the typically fine Chang, but sadly winds up delivering a rather one-note performance. A reflective voiceover allows the star to deliver some musings on the reliability of memory, but this is basically a rote thriller complete with the requisite bag full of cash and a final cat and mouse chase sequence set to frenzied staccato strings.
As such, the film's main pleasures are its visual style and incidental elements. It may hardly be sweat-inducing as a suspense piece, but Are You Lonesome Tonight? features more perspiration than almost any film in recent years since it was filmed in the city of Guangzhou during the summer.
Four credited cinematogaphers provide a suitably muggy palette while carefully obscuring modern developments to enhance the shabby late-90s urban texture in tandem with Ahong Cheung's first-rate production design. In addition to the impressive aesthetic, there are welcome offbeat touches. A wry cameo from Zhang Yu as a blind singer and a visit to a gun dealer (Wang Nan) who is overly confident about his imitation product add droll levity to a ploddingly familiar redemption arc.
The international title is taken from the classic ballad by Roy Turk and Lou Handman, two appropriately yearning renditions of which are featured in the film, but bids for emotional resonance are scuppered by underwhelming characterisation. Rather, the local title of "Tropical Memories" is more representative of the hazy noir mood that Wen achieves in fits and spurts.
Production companies: Dirty Monkey, Beijing Culture, Huanxi Media, Tencent Pictures, Alibaba Pictures
International sales: Wild Bunch International, aguilhem@wildbunch.eu
Producers: Hu Jingxuan, Wang Jing
Screenplay: Noé Dodson, Wang Yinuo, Wen Shipei, Zhao Binghao
Editing: Zhu Lin, Will Wei, Dong Jie, Noé Dodson, Cao Hangchen
Cinematography: Andreas Thalhammer, Cedric Cheung-lau, Xiaosu Han, Zhang Heng
Production design: Ahong Cheung
Music: Hank Lee
Cast: Eddie Peng, Sylvia Chang, Wang Yanhui, Zhang Yu, Jiang Peiyao, Lu Xin