Mikhail Red mixes action and social commentary in this tale of a lone cop fighting to stay alive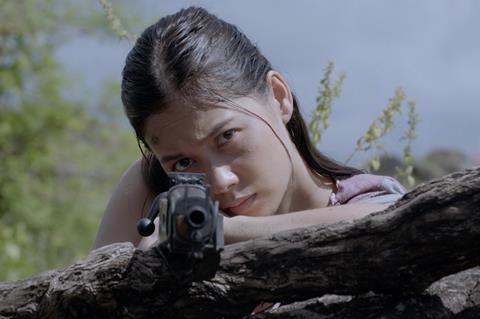 Dir: Mikhail Red. The Philippines. 2021. 96 mins.
Mixing a chase thriller with social commentary, Arisaka stars Maja Salvador as a resourceful policewoman who must stay alive after a prized witness is gunned down in an ambush, leaving her as the only survivor of the assassination. The latest from Filipino filmmaker Mikhail Red starts off as a suspenseful crime drama before segueing into an acknowledgment of the indigenous peoples still living off the land — and of the lingering trauma of the 1942 Bataan Death March, which saw the forcible transfer of thousands of captured Filipino soldiers during World War II. But the high-minded approach ends up misfiring, diminishing the film's genre trappings while failing to provide a trenchant cultural critique.
There's a quiet poetry to the film's last shot
This Tokyo premiere's commercial prospects will be boosted by Salvador's star power, and fans of stripped-down B-movies may appreciate the spareness of Arisaka's premise. But the melding of disparate tones could prove distracting for some viewers, although Mycko David's widescreen lensing makes this an ideal big-screen proposition.
Salvador plays Mariano, a cop who's part of a convoy transporting Vice Mayor Rosales (Archi Adamos), whose testimony will bring down government officials. But during the trip across Bataan's forested outskirts, Mariano's car is attacked by crooked police officers, with everyone inside the vehicle dying except for her. Making a run for the woods where the Bataan Death March took place, she must stay a step ahead of crime boss Sonny (Mon Confiado), befriending an indigenous girl named Nawi (Shella Mae Romualdo) who provides her sanctuary.
With bullet wounds in her belly and arm, Mariano may not survive the ordeal, and Salvador gives an impressively intense physical performance as she limps and sometimes crawls through the woods. Red (Dead Kids) alternates gorgeous shots of the lush, forbidding landscape with blunt action sequences. And as Mariano's nemesis, Confiado gives Sonny a slightly cartoonish swagger, which explains the character's fondness for dark shades and large cigars.
When Arisaka switches gears, deemphasising the chase elements to explore the relationship that develops between Mariano and Nawi, the story goes into more thoughtful, but not especially satisfying, terrain. Red telegraphs his film's agenda early on, as the convoy are initially stopped on the road by an indigenous man and his cow who are trying to cross, prompting Mariano's fellow cops to make derogatory comments about the man's seemingly primitive lifestyle. But once Mariano meets Nawi and her tribe, Arisaka becomes a paean to the importance of tradition and respecting the natural world.
But while that's a commendable stance, Red tends to simplify the indigenous characters, making them patronisingly noble beings meant to contrast with the wickedness of the modern world. (In a series of flashbacks, we'll discover that Mariano actually has a connection to Sonny and his gang — she, too, is far from innocent.) Likewise, the references to the Bataan Death March feel more ornamental than deeply resonant, a reminder of a harrowing, tragic moment from the past that's mostly used as a superficial dramatic irony.
In its final stretches, Arisaka returns to being a more conventional action-thriller as Mariano and Sonny square off for one last showdown. The sequence, which involves gunplay and brutal hand-to-hand combat, has a lean economy to it that, while not especially innovative, embodies the spare grandeur of a Western. For as much as Red wants to elevate the picture with observations about the tensions between old and new, good and evil, Arisaka works best when it adheres to its baser instincts, telling a survival story in which one brave, wounded cop must fend off well-armed crooks out to kill her. There's a quiet poetry to the film's last shot, but it only hints at the profundity that's missing elsewhere, despite Red's best intentions.
Production company: Ten17P
International sales: Ravenbanner Entertainment, michaelangelo@ravenbanner.ca
Producers: Paul Soriano, Mark Victor
Screenplay: Anton Santamaria, story by Mikhail Red
Production design: Eero Yves S. Francisco
Editing: Nikolas Red
Cinematography: Mycko David
Music: Myka Magsaysay-Sigua, Paul Sigua
Main cast: Maja Salvador, Mon Confiado, Art Acuna, Shella Mae Romualdo