Zack Snyder's zombies take over Sin City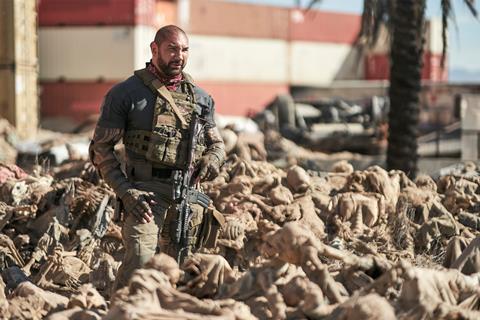 Dir: Zack Snyder. US. 2021. 148 mins.
If you're planning to pull off a heist in Las Vegas in the midst of a zombie pandemic, try to make sure you're part of a crew that's more engaging than the one assembled by Zack Snyder. Army Of The Dead flashes some of the maximalist filmmaker's hyper-vivid visual flourishes, but this story of a ragtag team descending on Sin City to rob a vault while fending off the undead rarely delivers on its gonzo premise. And much of the problem stems from the fact that the cast, led by Dave Bautista, is shackled to drab characters they can't hope to enliven.
Even viewers simply seeking turbo-charged zombie carnage may be disappointed by Army Of The Dead
This gory action-horror thriller will appeal to hardcore genre fans when it opens in US theatres May 14, launching globally through Netflix on May 21. Bautista is the biggest name in the ensemble, but it's likely viewers will be just as interested because of Snyder, who made his feature debut with 2004's Dawn Of The Dead. As opposed to that George A. Romero remake, though, Army Of The Dead is based on an original idea by Snyder, and the splashy recent release of his four-hour Justice League may help add awareness for this undead spectacle.
When a zombie uprising occurs in Las Vegas, the American government walls off the city, trapping the flesh-eating legions inside and planning a low-grade nuclear strike to wipe out the population. Before that happens, though, a shady casino boss named Tanaka (Hiroyuki Sanada) recruits mercenary Scott (Bautista) to assemble a team to break into the city and steal millions from an impenetrable vault in the bowels of his now-abandoned casino. Scott's squad includes mechanic and long-time friend Maria (Ana de la Reguera) and safecracker Dieter (Matthias Schweighöfer), but he's shocked when his estranged daughter Kate (Ella Purnell) announces she's also coming along in order to find a friend who has gone missing.
Those who appreciate Snyder's overblown style, full of grandiose slow-motion and operatic images, will enjoy aspects of Army Of The Dead's juxtaposition of post-apocalyptic nihilism and heist-film swagger. Serving as his own cinematographer and working with production designer Julie Berghoff, Snyder gives us a nightmarish Vegas in which the stench of death seems to hang heavy in the air as the desert sun slowly bakes the bombed-out Strip.
But the filmmaker operates better under the aegis of a pre-existing narrative framework, such as on Watchmen. As with Sucker Punch, which was also based on an original idea by Snyder, Army Of The Dead merely exposes his inability to invent interesting characters or a riveting story. The script, cowritten with Shay Hatten and Joby Harold, is a potentially cheeky mash-up of genres — Ocean's Eleven meets Escape From New York meets The Walking Dead — but the actors tend to play dull types who fail to transcend the cliches they embody. And the team's odyssey to reach the casino vault and get out alive, all before the imminent nuclear attack, hits every expected beat without much flair.
Even viewers simply seeking turbo-charged zombie carnage may be disappointed by Army Of The Dead, which boasts a few energetic sequences but nothing particularly bravura. The film has some novel ideas — including a way for zombies to avoid being shot in the head — and introduces the disturbing concept of zombie tigers. But for a filmmaker known for his more-is-more aesthetic, the picture rarely bowls the viewer over with his audacity.
What's worse, Army Of The Dead aims for poignancy by creating an emotional arc for Scott and Kate, who has reasons for hating her father but will eventually grow closer to him through this harrowing ordeal. But Bautista and Purnell can't save this threadbare narrative gimmick, which predictably leads to an epic finale involving Scott risking everything to rescue his daughter.
With a picture like this, part of the pleasure should be watching the mismatched team members bond during the intense adventure. So it's notable that the crew's sarcastic helicopter pilot, played by Tig Notaro, was digitally inserted during post-production once Snyder decided to scrub out the original actor, Chris D'Elia, due to subsequent sexual misconduct accusations. Tellingly, Notaro seems only slightly less disconnected than the rest of Scott's squad, who were all present together during filming. It's no spoiler to report that not everyone in Army Of The Dead will make it out alive — what is surprising is how little you'll care who does.
Production company: The Stone Quarry
Worldwide distribution: Netflix
Producers: Deborah Snyder, Wesley Coller, Zack Snyder
Screenplay: Zack Snyder & Shay Hatten and Joby Harold, story by Zack Snyder
Production design: Julie Berghoff
Editing: Dody Dorn
Cinematography: Zack Snyder
Music: Tom Holkenborg
Main cast: Dave Bautista, Ella Purnell, Omari Hardwick, Ana de la Reguera, Theo Rossi, Matthias Schweighofer, Nora Arnezeder, Hiroyuki Sanada, Garret Dillahunt