A new voice from Denmark addresses the pains of the past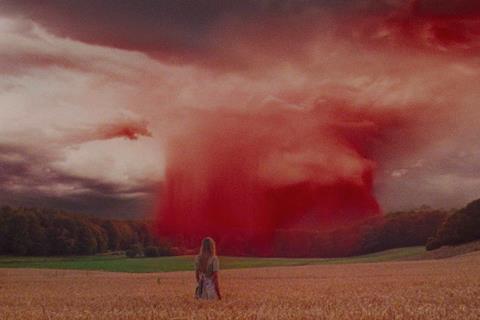 Dir/scr. Tea Lindeburg. Denmark, 2021. 86 mins.
There's a bridge to be crossed, literally and thematically, for teenaged dreamer Lise (Flora Hoffman Lindahl) in Danish TV director Tea Lindeburg's assertive feature debut As In Heaven. Set in the late 1800s on a seemingly-affluent rural farm, this intriguing story which plays out across one summer's day shows how life can be altered irrevocably for a girl who wakes up with her future ahead of her and realises within 24 hours that is all in her past. Lindeburg strings her piece along a throb of danger throughout, and this accomplished feature, which competes for San Sebastian's Golden Shell award, will certainly draw favourable notices.
An ambitious calling card, and technically accomplished in what it sets out to do
Lindeburg's story, taken from Marie Bregendahl's 1912 novel A Night Of Dying, is rooted in motherhood and what it means to be a woman in a system that is quasi feudal. Fecundity is prized, religion is an obsession, yet a stubborn superstition also prevails. A woman may have 14 children and bury ten of them – that is, if she survives the births herself. A family can move on and casually abandon a child, because life here is hard and tenuous. But Lise, a child when we meet her, has found a way out: her beloved mother has insisted that she be sent away to school, the first in her family to do so, over the objections of her father.
Lise is the oldest of a clatter of children, and her mother, or Mor, Anna (Ida Cæcilie Rasmussen) is heavily pregnant again. Barefooted and carefree, she busies herself with stealing her mother's silver hair grip and packing her suitcase, tumbling childishly in the hay with stablehand Jens Peter (Albert Rudeck) and taunting a neighbour's son who has been left alone in an empty house. Her strict father scolds her for looking like a child, and the back-and-forth between girl and woman fits across Hoffman Lindahl's expressive face. But the film has started ominously, with a thunderstorm of blood. There's danger here, but where exactly does it lie?
The answer becomes clear when childbirth starts in earnest, and Lise is sent away with her siblings. As servants and relatives bustle behind closed doors, Lise has a spiritual reckoning when she realises those same doors are also slamming in on her. Childish thoughts on how life would be without her mother – she'd cut her hair and wear a dress – are replaced by a desperate bargaining with God, as the full significance of events sinks in. The sunny harvest day of play is replaced by an ominous thunderstorm as Marcel Zyskind's camera tracks through claustrophobic hallways lit only by lantern.
An acknowledgment of society's debt to women of the past, whose lives – whether servant or master – were brutally ruled by their sex, As In Heaven is an ambitious calling card, and technically accomplished in what it sets out to do. The colour palette, from the white-blonde fields and sunlit faces to the narrowing darkness, spotted with blood, is palpably well thought-out. Complex interior shots, in particular when Lindeburg tracks two girls through furious agonies they are not supposed to witness, are tense. And there's a constant threat of danger humming in the background which won't allow an audience to passively observe Lise's plight.
Flora Hoffman Lindahl isn't given much in the way of mature dialogue: Lindeberg's own screenplay is sparse, and sometime scenes play out a beat too long. The young actor must internalise a complex chain of reactions, from the delight of impending freedom, to a sense of her own growing power as a woman in her encounters with the two boys moving through to the loss of that independence before it has even properly begun. It's a breakthrough performance for the young actor in a film which marks a new voice in what seems like an endlessly rich seam of modern Danish film-making.
Production company: Motor
International sales: LevelK, debra@levelk.dk
Producers: Lisa Orheim Stender, Jesper Morthorst
Screenplay: Tea Lindeburg
Production design: Jesper Clausen
Cinematography: Marcel Zyskind
Editing: Asa Mossberg
Music: Kristian Leth
Main cast: Flora Ofelia Hofmann Lindahl, Ida Cæcilie Rasmussen, Palma Lindeburg Leth, Anna-Olivia Øster Coakley, Flora Augusta, Kirsten Olesen, Lisbet Dahl, Stine Fischer Christensen, Thure Lindhardt, Albert Rudbeck Lindhardt