A young woman attempts to survive after abandoning her newborn in Moscow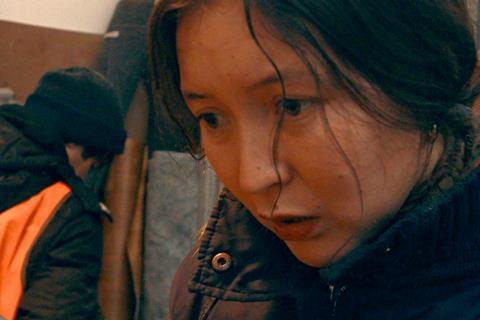 Dir: Sergey Dvortsevoy. Rus-Ger-Pol-Kaz-Chi. 2018. 107mins
The limits of empathy are tested in Ayka, a raw, intimate drama about an impoverished young Kyrgyz woman trying to survive in Moscow after abandoning her newborn. Filmmaker Sergey Dvortsevoy thrusts us into a desperate situation and then offers little relief, which effectually captures his heroine's fraught mind-set but also, unfortunately, begins to produce diminishing dramatic returns. Samal Yeslyamova gives an enormously reserved performance, but the film's sombre relentlessness ultimately feels programmatic rather than organic.
With her steely eyes and unsmiling demeanour, Yeslyamova never worries about appealing to the audience's sympathie
Screening as part of Cannes' official competition, Ayka will appeal to festivals and art-houses, especially among audiences familiar with Dvortsevoy's Tulpan, which won Un Certain Regard and also starred Yeslyamova. Ayka's aesthetic and tonal similarity to the Dardenne brothers' stripped-down, handheld-camera character studies should be an additional selling point for discriminating consumers of serious cinema.
When we first meet 25 year-old Ayka (Yeslyamova), she's in a maternity ward after just giving birth to her first child. But rather than feeding the infant, she heads to the bathroom alone in order to stage an impromptu breakout through the window. Over the course of about a week, she goes searching for a job while staying a step ahead of menacing creditors — all the while trying to keep the birth secret, no matter the delivery's physical aftereffects that are severely impairing her health.
By opening with such a shocking scene of Ayka fleeing her child, Dvortsevoy challenges the viewer from the first moment, stirring our judgemental nature by asking us what kind of woman would do something so unconscionable. The director films Ayka in intense, hovering close-ups, revealing nothing of her interior life but suggesting her imperilled existence as an illegal alien through a series of unadorned sequences of increasingly despairing hardships.
After escaping the hospital, Ayka goes straight to work at a chicken processing facility, where she methodically rips the feathers off the dead birds, only to learn that her shady boss (Ashkat Kuchinchirekov) has decided to skip town without paying his employees. This sets in motion a new wave of anxiety for the young woman, who needs an emergency loan to pay back dangerous men who bankrolled her dashed dream of starting up a sewing business. Much of the film consists of Ayka looking for employment which, as a Kyrgyz immigrant with an expired work permit, proves nearly impossible.
With her steely eyes and unsmiling demeanour, Yeslyamova never worries about appealing to the audience's sympathies. Focused solely on keeping her head above water, our main character is almost ruthlessly pragmatic, strategising and forever moving forward in search of some sort of financial windfall. (The few moments she has to rest take place in a dingy, cramped flat that she shares with a sizable mishmash of fellow illegal immigrants.) And because there's nothing beatific about her agony — Ayka never has an instance where she laments her decision to abandon the child — Ayka demands viewers stare directly into the difficulty of her situation and to acknowledge how such a life causes an individual to lose an element of her humanity in the name of survival.
Since we don't know precisely how she got into such dire straits — or even where or who the father of her child is — Ayka undercuts any hope of a justifying backstory that could explain away her circumstance. Bracingly, the movie provokes an examination of our own biases as we watch this woman beg, harass, threaten and lie to stay alive. Did she bring this misery on herself? Or is it extenuating circumstances, including society's xenophobic disdain for outsiders, that brought Ayka to this fate? Put more plainly: is it her fault or ours?
As intellectually stimulating as Ayka can be, its storytelling can't keep pace. Dvortsevoy eschews major plot twists or reveals — mostly, Ayka barrels ahead, consequences be damned. Presumably, Dvortsevoy's narrative choice means to heighten the realism, but it results in a monotony that grows oppressive. And even though that oppressive tone is part of Ayka's larger point, there's an almost obsessive emphasis on unending bleakness. Ayka is a woman facing few good options for her future, but in its own way this movie's straitjacket of suffering paints itself into a corner it can't escape.
Production companies: Kinodvor, Pallas Film, Otter Films, Eurasia, Juben Pictures, KNM, ZDF/ARTE
International sales: The Match Factory, thania.dimitrakopoulou@matchfactory.de and info@matchfactory.de
Producers: Sergey Dvortsevoy, Thanassis Karathanos, Martin Hampel, Anna Wydra
Screenplay: Sergey Dvortsevoy, Gennadij Ostrowskij
Production design: Olga Jurasova
Editing: Sergey Dvortsevoy, Peter Markovic
Cinematography: Jola Dylewska
Cast: Samal Yeslyamova, Zhipargul Abdilaeva, David Alaverdyan, Sergey Mazur, Slava Agashkin, Ashkat Kuchinchirekov