Margot Robbie takes centre stage in Damien Chazelle's sprawling, hedonistic portrait of pre-sound Hollywood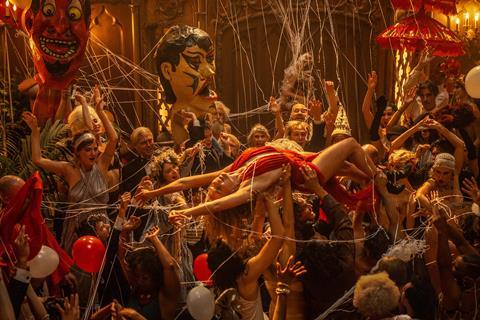 Dir/scr: Damien Chazelle. US. 2022. 188 mins
Damien Chazelle returns to La La Land territory for Babylon, an overindulgent, consistently engrossing immersion in the decadence of the film industry's pre-sound era, an age portrayed as one of lavish, hedonistic excess that wasn't built to last. In a different manner to his Oscar-winning 2016 musical, the writer-director examines how Hollywood is as much an idea as it is a place — and how reality keeps intruding into that fantasy, forcing its dreaming denizens to face the parts of themselves that they'd rather avoid. Running over three hours, and swamped with sex, drugs and over-the-top set pieces, this swaggering drama seems infused with the impetuous energy of its characters, resulting in a film that's drunk on its own ambition, wildly uneven but never, ever boring.
Wildly uneven, but never, ever boring
Paramount releases its awards-season hopeful in North America on December 23, with a UK rollout set for January 20. A large ensemble led by Brad Pitt, Margot Robbie and Diego Calvo will help draw viewers to a picture that both celebrates Hollywood's myth-making powers and mourns the aspiring artists lured by its siren song. Chazelle, who followed up La La Land with the less-well-received First Man, has delivered the sort of bold filmmaking that will inspire a wide variety of responses — but whether general audiences will get on board is another matter entirely.
Set primarily between the mid-1920s and early 1930s, Babylon introduces us to Manny (Calvo), a lowly Hollywood assistant who meets Nellie (Robbie), a brash young actress who has just arrived in town from New Jersey, convinced stardom beckons. He's immediately smitten with this flirtatious firecracker, their paths crossing frequently over the next few years as she becomes a big-screen phenomenon and he rises up the ranks behind the scenes, teaming up with matinee idol Jack (Pitt). But when talkies take the industry by storm, these silent-era fixtures must to adjust to the new technology.
Chazelle takes his film's title seriously, creating a feast for the senses, especially early on as this nascent Hollywood community enjoys opulent parties that appear to stretch on forever — the nudity is rampant, every sexual kink is permitted, and cocaine is readily available. (There's also one of the more disgusting excrement jokes in recent memory.) Ably assisted by cinematographer Linus Sandgren and production designer Florencia Martin, Chazelle makes these overflowing scenes feel both garish and intoxicating, attacking them with Baz Luhrmann-like relish.
His central characters are familiar types — Manny is the wide-eyed innocent, Nellie is the pragmatic hustler, while Jack is the faded heartthrob — but the performances are so boisterous that they mostly push past the cliches to get at something more urgent and organic. Robbie is especially magnetic, applying the same unpredictable combustion she exudes as Harley Quinn to this portrayal of a scrappy outsider who craves fame. It's a sexy, assured turn but, as Nellie grows increasingly unstable, there's also pathos and fragility as we begin to witness the depth of her insecurity.
Babylon boasts the sort of showy set pieces one might associate with Quentin Tarantino or Paul Thomas Anderson, and several of them are beauties. The film's setting and time period will draw comparisons to Singin' In The Rain — also about Hollywood's transition to sound — but Chazelle manages to riff on one of that classic's best scenes to offer a comparable, hilarious set piece in which Nellie grapples with the limitations of primitive recording devices on set.
If in some ways Babylon's milieu is more striking than its dramatis personae, that's partly Chazelle's point: for all the film's glamour, there's also a growing awareness among the characters that they're secondary to Hollywood itself in the eyes of the public. Ultimately, the motion picture business doesn't need our three protagonists — or anyone — because stars can be replaced and tastes change. Most touching in this regard is Pitt, who supplies Jack with just enough melancholy as an ageing actor staring down his inevitable irrelevance.
Of a sizeable supporting cast, Jean Smart makes the most of her role as an acidic gossip columnist. Jovan Adepo, playing a trumpeter who unexpectedly becomes a pivotal figure, has one especially heartbreaking scene, but the character simply feels too much of a cypher for the period's racism to register as a flesh-and-blood soul. That failing is emblematic of Chazelle's overabundant approach, marrying big ideas and striking tonal shifts to a sprawling narrative (which incorporates everything from a love story to a thriller subplot) and myriad visual flourishes.
But despite its overreach and missteps, Babylon is far from a syrupy ode to the picture business. Quite the contrary, it understands that Hollywood's sparkling allure is far removed from the desperate, often sad industry that ensnares so many hopefuls. Chazelle honours cinema's majesty, but he has no illusions about its dark side.
Production companies: Marc Platt Productions, Wild Chickens, Organism Pictures
Worldwide distribution: Paramount Pictures
Producers: Marc Platt, Matt Plouffe, Olivia Hamilton
Cinematography: Linus Sandgren
Production design: Florencia Martin
Editing: Tom Cross
Music: Justin Hurwitz
Main cast: Brad Pitt, Margot Robbie, Diego Calva, Jean Smart, Jovan Adepo, Li Jun Li, P.J. Byrne, Lukas Haas, Olivia Hamilton, Max Minghella, Rory Scovel, Katherine Waterston, Tobey Maguire