Will Smith and Martin Lawrence reunite on Sony's far from fresh franchise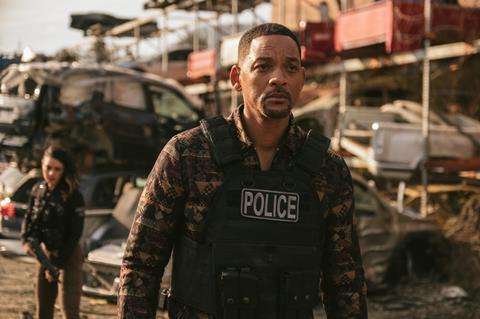 Dirs: Adil & Bilall. US. 2020. 123mins.
A quarter of a century after the first instalment, can these bad boys grow up and embrace middle age? Aiming for a slightly more serious tone than the first two films, Bad Boys For Life addresses mortality, regret and getting older — although any attempt at gravitas is quickly drowned out by the franchise's usual over-reliance on explosions and macho posturing. Taking the reins from Michael Bay, directing duo Adil & Bilall supply loads of energised style, but without the panache or shamelessness of their predecessor. As for stars Will Smith and Martin Lawrence, they don't seem rejuvenated by this reunion, mostly re-creating the forced back-and-forth quipping that wasn't even fresh back when they were younger men.
A by-the-numbers sequel, which, like its protagonists, desperately wants to reclaim past glories that are far, far out of reach.
Sony opens Bad Boys For Life in the UK and US on January 17, hoping that audiences have been craving more action-comedy hijinks since 2003's Bad Boys II. Smith has had massive hits of late with everything from Suicide Squad ($747 million worldwide) to the new Aladdin ($1.1 billion), but it will be interesting to see how much pent-up interest there is for this franchise beyond nostalgic die-hards. Without a lot of high-octane action movies in the marketplace, Bad Boys For Life should do well until the arrival of Smith's Suicide Squad co-star Margot Robbie's spinoff film Birds Of Prey.
Cranky Marcus (Lawrence) and cocky Mike (Smith) remain best friends, but Marcus is ready to retire from law enforcement after the birth of his first grandchild, while Mike can't imagine a life outside of being a cop. Things change when Mike is gunned down by Armando (Jacob Scipio), a mysterious assassin working with his crime-boss mother Isabel (Kate del Castillo). Barely surviving, Mike vows vengeance — and he convinces his reluctant partner to team up for one last case.
The original film had all the Bay trademarks: slick camera moves, male bonding, adolescent banter and leering shots of the movie's female characters. Directors Adil El Arbi and Bilall Fallah (Black), better known as Adil & Bilall, do a decent job of mimicking Bay's high-gloss aesthetic and chaotic editing, although there's a welcome respite from the homophobic, racist and sexist humour that was meant to be so edgy in the first two instalments.
Although Bad Boys For Life's worldview is far less objectionable, the filmmakers haven't figured out how to enliven a series whose pleasures were always a bit shallow. At the time of 1995's Bad Boys, Smith and Lawrence were TV stars transitioning to the big screen, and so the conceit of having the comics play tough-talking, mismatched Miami cops was amusing. But with Bad Boys For Life, their argumentative shtick has grown stale, with neither character able to surprise us. The perils of ageing for men — impotency, grey hair — are addressed with obvious jokes, even though the movie nonetheless tries to turn back the clock by giving them plenty of opportunities to engage in the same intense action sequences as they took part in decades ago.
With one exception, Adil & Bilall don't unleash anything inspired in their chase scenes and shootouts, although Lorne Balfe's appropriately epic score suggests monumental stakes for these two detectives as they square off with Armando. (Scipio, much younger than Smith and Lawrence, has all the taut, brash authority that the slowed-down Mike and Marcus lack.) Throughout, the movie hints at a grand reckoning for our fast-talking heroes, setting them on a collision course with a foe who might bring about their demise. Cluing us into Bad Boys For Life's darker, more sombre spirit, the filmmakers kill off supporting characters and introduce a late-reel plot twist that complicates Mike's feelings about this case — as well as his perception of himself. But those stabs at dramatic grandeur mostly feel like empty gestures — an unconvincing attempt to convince viewers that it was worth revisiting this franchise.
Of Smith's blockbuster roles, the Bad Boys movies remain his least rewarding and watching the actor try to dramatise Mike's overgrown adolescence is tiresome. Lawrence's high-strung energy isn't nearly as electric as it once was, and the pair's rapport fails to ignite.
Thankfully, some of the supporting cast are appealing, including Paola Nunez as the brilliant leader of an elite police force who used to date Mike. Del Castillo isn't exactly subtle as the vindictive crime lord, but her over-the-top villainy is at least unpredictable — as opposed to much of this by-the-numbers sequel, which, like Mike and Marcus, desperately wants to reclaim past glories that are far, far out of reach.
Production companies: Don Simpson/Jerry Bruckheimer Films, 2.0 Entertainment, Overbrook Entertainment
Worldwide distribution: Sony
Producers: Jerry Bruckheimer, Will Smith, Doug Belgrad
Screenplay: Chris Bremner and Peter Craig and Joe Carnahan, story by Peter Craig and Joe Carnahan
Production design: Jon Billington
Editing: Peter McNulty, Dan Lebental
Cinematography: Robrecht Heyvaert
Music: Lorne Balfe
Main cast: Will Smith, Martin Lawrence, Vanessa Hudgens, Alexander Ludwig, Charles Melton, Paola Nunez, Kate del Castillo, Nicky Jam, Joe Pantoliano