Justin Simien follows up Dear White People with this satirical thriller about bloodthirsty hair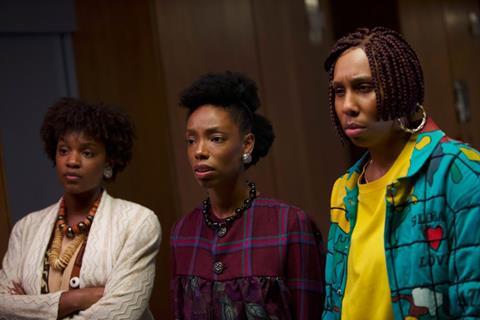 Dir/scr: Justin Simien. US. 2019. 115min
If Dear White People, Justin Simien's 2014 Sundance Film Festival breakout debut, uses a sharp, witty script to interrogate the complexities and hypocrisies of race relations in the Obama era, the director's second feature uses a more blunt-force analogy: Killer hair!
The film is anchored by Elle Lorraine's breakout performance
In the wake of Get Out and Us, Bad Hair is poised to be a hot commercial property in the US, drawing buyers at Sundance to its easily marketable package. It's straight-forward and has enough jump-scares and wild images to make for a compelling trailer, drawing viewers on to whichever screen it eventually lands. (Simien remade Dear White People as a Netflix series, so streaming could be a possibility.)
Set in 1989, during the epic rise of hip-hop, Bad Hair follows aspiring TV creative Anna Bludso (Elle Lorraine), who works in Los Angeles for a black music video TV show called Culture. Rejected by her boyfriend (Jay Pharoah) and faced with a staffing shakeup at the network, Anna fears she's going to lose her job. But her new boss, ex-supermodel Zora (Vanessa Williams), suggests Anna could possibly be an associate producer, as long as she changes her hairstyle to the current office fashion—a weave.
For the uninitiated, a weave is when a woman's real hair is braided into cornrows or scalp braids, while extra hair extensions are woven into the braids with a special needle. And for Simien, the weave is a clear symbol of selling out, erasing black identity and conforming to white Western conceptions of beauty, — and yes, evil. Eventually, Anna's lush, newly straightened hair begins to take over her will, with a vampiric penchant for blood.
But it takes a while for Bad Hair to reach its hair-raising heights. The film's overlong build-up sets up the central conflict between those in Anna's life who she can trust—all of them, who don't have weaves, including her former mentor, her cousin, and two of her coworkers, among them Lena Waithe's quick-witted hip-hop tomboy—and the new glamour girls who represent a threat, most prominently, Williams' light-skinned Zora.
The film's late '80s spot-on clothing fashions, set-designs, and music video recreations are amusing enough, but things only really start to get interesting after Anna gets the weave—an excruciating and torturous process that Simien and his team effectively milk with bloody close-ups and fleshy sound design. Other striking set-pieces follow, with Anna's hair whipping fiercely around her head and thirsting for blood in some unexpected places.
Though it's all a bit ridiculous—and Simien, in certain instances, acknowledges the humour in his horror—the film is anchored by Elle Lorraine's breakout performance. She gives Anna a veritable fragility and vulnerability; when she cries with agony as she gets her first weave, it's painful to watch. The actress's small thin frame also makes Anna appear all the more helpless when surrounded by a whirlwind of monstrous hair.
Seemingly, Simien has a lot on his mind with Bad Hair. The film opens with a James Baldwin quote: "American history is longer, larger, more various, more beautiful, and more terrible than anything anyone has ever said about it." The film also yokes its parable of murderous hair to made-up stories of slave folklore. But the film's reach for more meaningful American myth-busting is less successful than its images of hair spindles creeping menacingly through a broken window.
Production companies: Sight Unseen Pictures
International sales: Endeavour Content
Producers: Julia Lebedev, Angel Lopez, Eddie Vaisman, Justin Simien
Production Design: Scott Kuzio
Editing: Phillip J. Bartell, Kelly Matsumoto
Cinematography: Topher Osborn
Music: Kris Bowers
Main cast: Elle Lorraine, Vanessa Williams, Jay Pharoah, Lena Waithe, Blair Underwood, Laverne Cox