Dir: Mark Waters. US. 2016. 92mins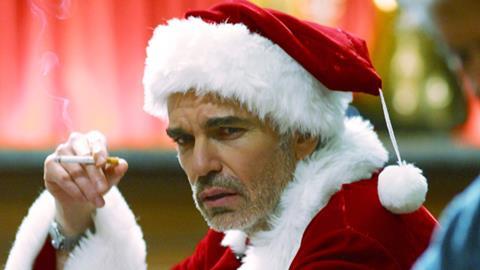 An agonisingly strained attempt at misanthropic comedy, Bad Santa 2 is puerile when it should be shocking, calculating when it should be transgressive, and listless when it should be liberating. This dud sequel to the 2003 cult classic brings Billy Bob Thornton back as the ornery, horny alcoholic, but the novelty of his nastiness has long since expired, and even the presence of Kathy Bates as his equally rotten mother does little to alleviate the desperate crassness of the whole endeavour.
This Santa is, indeed, really bad — but not in the way the filmmakers intended
Opening in late November in global markets, Bad Santa 2 will hope to build on the commercial success of the original, which helped launch a subgenre of comedies about characters behaving badly, including Bad Teacher and Bad Moms. This is arguably Thornton's most famous role, but it's fair to ask how many people have been pining for a follow-up 13 years later.
Reprising his role as Willie Soke, Thornton is appreciably grizzled and scornful, his foul-mouthed thief reuniting with ex-partner Marcus (Tony Cox) in Chicago to pull off their latest caper. They will infiltrate a charity — assisted by Willie's caustic, criminal mother Sunny (Bates) — and pretend to be volunteers wanting to help. But as they get closer to the night of their Christmas Eve heist, Willie begins to question his selfishness, especially after he starts spending time with his young simpleton friend Thurman (Brett Kelly), who is all grown up after being a sweet, dopey kid in the first film.
Thornton, Cox and Kelly may be back for Bad Santa 2 but, crucially, the original's director (Terry Zwigoff) and its writers (Glenn Ficarra and John Requa) aren't involved. In their place, Mean Girls director Mark Waters and screenwriters Johnny Rosenthal and Shauna Cross have offered a tame simulation that lacks the first film's genuine anger. Predictably, this new film mostly copies the formula, providing Willie with plenty of frank sexual encounters when he's not lambasting all those around him with uninspired, coarse invective.
For a proudly uncouth movie like this to work, the comedic targets need to be richly deserving of such verbal abuse, but Willie mostly just yells at his similarly toxic cohorts. The back-and-forth between him and Marcus isn't nearly as fresh this time, and even though Bates' cruel matriarch does provide a bit of zing, everybody in Bad Santa 2 is vulgar and mean in the exact same way. And when Willie berates Thurman, the young man's banal idiocy is so mild that there's no joy in watching him being ripped apart.
Christina Hendricks takes over Lauren Graham's role as Willie's unlikely love interest, playing one of the founders of the charity, who seems like a kind-hearted soul until it becomes clear she's a recovering alcoholic with a filthy side. But she and Thornton have no chemistry, and the repeat of the use of "outrageous" sex scenes, which proved mildly risqué in the first film, now feels programmatic.
The original movie got much of its naughty kick from acknowledging a universal truth: as much as Christmastime is a beloved time of year, many people despise its forced merriment and find the season's intimations of brotherly goodwill deeply depressing, if not outright obnoxious. But there's no such kernel of wit to Bad Santa 2, and much of the film concerns Willie's hatred to spending time with his abrasive mother while wondering if, deep down, they actually do love each other. This is a familiar trick in these movies — launching a frontal assault of tactless humour but then later mitigating it with guarded sentimentality — but the characters are so flatly drawn it's impossible to care. This Santa is, indeed, really bad — but not in the way the filmmakers intended.
Production companies: Broad Green Pictures, Miramax, Ingenious
US distribution: Broad Green Pictures, www.broadgreen.com
International sales: Sierra/Affinity, www.sierra-affinity.com
Producers: Geyer Kosinski, Andrew Gunn
Executive producers: Zanne Devine, David Thwaites, Daniel Hammond, Gabriel Hammond, Mark Waters, Jessica Tuchinsky, Adam Fields, Doug Ellin
Screenplay: Johnny Rosenthal and Shauna Cross, based on characters created by Glenn Ficarra & John Requa
Cinematography: Theo van de Sande
Production design: Isabelle Guay
Editor: Travis Sittard
Music: Lyle Workman
Website: www.badsanta2.com
Main Cast: Billy Bob Thornton, Kathy Bates, Tony Cox, Christina Hendricks, Brett Kelly, Ryan Hansen, Jenny Zigrino, Jeff Skowron