Zach Cregger serves up some unexpected twists in this nerve-shredding horror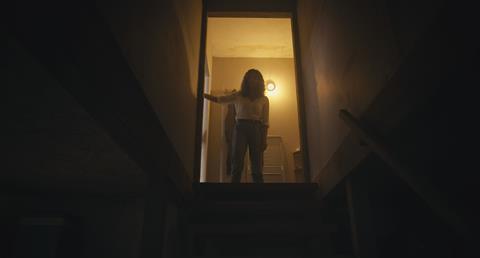 Dir/scr: Zach Cregger. US. 2022. 102 mins.
Much like the luckless main characters, audiences will be left off-balance by Barbarian, an inventive, nerve-shredding horror film whose greatest shock is its unpredictability. In his solo feature directorial debut, filmmaker Zach Cregger tells the story of two strangers (Georgina Campbell, Bill Skarsgard) who end up renting the same Airbnb property and try to make the best of an awkward situation; a setup that barely prepares the viewer for what's to come. Dancing across multiple themes and frequently upending expectations, Barbarian keeps us wonderfully uncertain about where it's going — or even what it's ultimately about — which only makes the picture that much more gripping.
It's exhilarating (and frightening) to watch Cregger tinker with the genre conventions
Opening in the US on September 9, the film will cater to genre fans who should appreciate the balance of scares and smarts. There aren't huge names in the cast — although Skarsgard's association with the It series could help — but the twisty plot could make this a modest hit, and help establish Cregger as a talent worth following.
Campbell plays Tess, who visits Detroit for a job interview only to pull up to her Airbnb rental and discover that there's someone inside: Keith (Skarsgard), who says he has rented the house. Realising that the property has been accidentally double-booked, Tess and Keith decide that they'll both stay there, despite her wariness about being in the same house as a man she doesn't know.
Writer-director Cregger, one of the founders of the sketch troupe The Whitest Kids U' Know who previously wrote and directed the 2009 comedy Miss March with the late Trevor Moore, embeds the audience inside Tess's frazzled mindset. Understandably, she's uneasy about being around Keith, who seems friendly enough — although Skarsgard plays him with just enough of an edge that we're not sure he can be trusted. In its early stretches, Barbarian hints at hidden menace through quiet camera movements and Anna Drubich's icy, John Carpenter-channeling electronic score. Keith swears he's not a toxic male, but the way he benignly tells Tess that she has a pretty name is enough to trigger her (and our) suspicions. And when Tess starts to wonder about the house itself, Barbarian begins to unveil the surprises in store.
But just as the viewer might start feeling confident about what kind of horror film this is, Cregger introduces a third character, a Hollywood actor living in Southern California named AJ (Justin Long), who doesn't appear to have any relationship to the central storyline. Rest assured Barbarian will connect these threads with ample cleverness, in the process recalibrating our assumptions about the film's final destination.
Shifting locations and time frames — not to mention aspect ratios — Cregger builds his twists organically, the disparate pieces forming a coherent whole that touches on everything from income inequality to #MeToo. But unlike so many modern horror films, which underline their themes emphatically to be sure we notice them, Barbarian's social commentary is thoughtful but intriguingly elusive — and always secondary to the film's deft terrors. Since we're never sure exactly what Cregger is driving at, we can't anticipate the often gory or unsettling shocks. That ambiguity gives Barbarian a narrative freedom, liberating Cregger to take risks and, while all his gambits don't work, it's exhilarating (and frightening) to watch him tinker with the genre conventions.
The performances are nicely measured, with Campbell especially good as a young woman trying to extricate herself from a bad boyfriend — only to find herself questioning her tendencies when she meets Keith, who swears he's not another jerk. By comparison, Long brings a cutting comic sensibility as a self-involved actor about to face a personal reckoning. Fearlessly but not recklessly, Cregger mixes tones without ever forgetting that, above all else, Barbarian is a horror film — a discombobulating one, to be sure, but a picture meant to deliver the chills and jumps an audience demands.
That said, one of the picture's strongest attributes is that, while Barbarian checks the required boxes, the scares don't come quite when expected — or in the form the audience might anticipate. Tess can't possibly imagine what awaits her — viewers should avoid spoilers so they can experience this film in a similar fashion.
Production companies: Boulderlight Pictures, Vertigo Entertainment
Worldwide distribution: Disney
Producers: Arnon Milchan, Roy Lee, Raphael Margules, J.D. Lifshitz
Cinematography: Zach Kuperstein
Production design: Rossitsa Bakeva
Editing: Joe Murphy
Music: Anna Drubich
Main cast: Georgina Campbell, Bill Skarsgard, Justin Long, Matthew Patrick Davis, Richard Brake