Margot Robbie is a Barbie on a mission in Greta Gerwig's rousing take on Mattel's iconic doll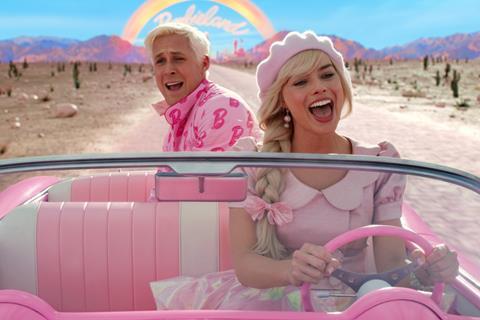 Dir: Greta Gerwig. US. 2023. 114mins
She's a Barbie girl, in a Barbie world… but what happens when the iconic doll steps out of her dream house and into a decidedly more nightmarish reality? In the confident hands of director Greta Gerwig, the result is 'existential crisis Barbie', a doll designed to represent all women who is herself struggling to understand what being a woman actually means. While Gerwig and co-writer Noah Baumbach may couch this self-discovery narrative in powder pinks and unrelenting pep, their message is authentic and acerbic: a feminist call to arms wrapped up in a hugely entertaining popcorn movie.
A feminist call to arms wrapped up in a hugely entertaining popcorn movie
Those summer movie credentials — not to mention Warner Bros' seemingly bottomless marketing budget — look set to see Barbie become one of the year's big hits, with stars Margot Robbie and Ryan Gosling helping it reach far beyond existing Barbie fans. Gerwig also brings her own following as an actor and director, delivering a family-friendly package that should thrive in a busy blockbuster marketplace that includes Christopher Nolan's Oppenheimer, also releasing globally on July 21, and the still-strong Mission: Impossible — Dead Reckoning Part One.
Helen Mirren narrates an arresting opening sequence which sets the tone for both the film and its self-aware style; a frame-by-frame parody of the opening of Kubrick's 2001, in which young girls play 'mother' with baby dolls only for a monolithically giant Barbie to land in their midst and change the face of playtime forever. As Mirren explains, Barbie was created in 1959 — by American businesswoman Ruth Handler, who later appears, played by Rhea Perlman, as something of a spirit guide — to take on any guise; doctor, lawyer, athlete, astronaut. "Because Barbie can be anything, girls can be anything," was the lofty idea.
This powerful sentiment has subsequently shaped Barbie Land, the fantasy home of myriad diverse Barbie and Kens — and, in one of the ongoing jokes, the singular Allan (launched in 1964 as 'Ken's buddy' , played by Michael Cera) and a host of discontinued (and often questionable) dolls such as the perpetually pregnant Midge. There is a female president, an all-female supreme court, female scientists, Nobel Prize winners and medical professionals. The Kens simply exist as eye candy within Barbie's orbit; we never see them alone, or contributing to society. It is, perhaps, a toyland version of a feminist utopia, complete with its own vibrant soundtrack featuring often on-the-nose compositions from artists including Lizzo, Sam Smith and Khalid.
It's also something of a heaven for Barbie fans, veteran production designer Sarah Greenwood working with costume designer Jacqueline Durran to bring elements of the doll's 50-plus year heritage into every corner of this world. When Ken hurts himself in a surfing accident, for example — he hurls himself at a wave that turns out, like everything else, to be entirely made of plastic — the ambulance that arrives to treat him folds all the way open. This playtime aesthetic is in every small detail; the Barbies sip from empty cups, float instead of walk (to emulate small hands moving them from place to place) and have an outfit for every occasion.
Centre of it all is 'stereotypical Barbie' (Robbie), who loves her perfect life and, while she may not reciprocate the romantic feelings of her particular Ken (Gosling), finds much fulfilment in her friendships. One day, however, she wakes up without the usual spring in her step — literally; her heels are flat on the floor, an Elephant Man-like physical abomination in Barbie Land. After having thoughts about dying and falling off her roof, she consults with 'weird Barbie' (Kate McKinnon), a quirky, worldly-wise doll who tells her that a portal has opened between her and the real world, and she must head to Los Angeles to heal the rift.
When Barbie gets there, Ken in tow, she – in a meta twist – encounters manufacturer Mattel's profits-driven CEO (Will Ferrell) and all-male board, who desperately want to put her back in her box, along with lowly employee Gloria (America Ferrera), who sees her true potential. Barbie also encounters an ugly patriarchal system at odds with everything she has believed to be true; a sidelined Ken, meanwhile, finds a new power structure to take back to Barbie Land.
As these two worlds collide, the insightful and frequently hilarious screenplay highlights their difference in ways that are both funny and achingly knowing. Ken sees the attention they receive on arrival in California as admiration, for example, while Barbie interprets the leers as a threat she has no context to understand. Crucially, too, the screenplay never undermines its central character; Barbie is naive, yes, but never stupid, and has a sharp intuition that steers her right, even in this alien landscape
Robbie is outstanding, putting in a layered performance that has fun with Barbie's bubbly side but also showcases the angst that often comes from true enlightenment. Alongside her, Gosling virtually steals the show as the outwardly swaggering yet entirely downtrodden Ken, who is also struggling to find his place in a world where Barbie does not want him. His flirtation with the patriarchy leads to some laugh-out-loud moments which show up the ludicrous nature of toxic masculinity, but remain sympathetic to the vulnerability of many seduced by it.
Ultimately, however, this is Barbie's journey. When a rousing, relatable speech from Gloria fully opens her eyes to "the cognitive dissonance required to be a woman under the patriarchy", Barbie is imbued with a righteous anger that motivates her to step up — in flat shoes, of course — and change her world. Gerwig will be hoping that her film inspires a whole new generation of girls to follow in her footsteps.
Production companies: Heyday Films, Luckychap Entertainment, NB/GG Pictures, Mattel
Worldwide distribution: Warner Bros
Producers: David Heyman, Margot Robbie, Tom Ackerley, Robbie Brenner
Screenplay: Greta Gerwig, Noah Baumbach
Cinematography: Rodrigo Prieto
Production design: Sarah Greenwood
Editing: Nick Houy
Music: Mark Ronson, Andrew Wyatt
Main cast: Margot Robbie, Ryan Gosling, America Ferrera, Will Ferrell, Kate McKinnon, Issa Rae, Michael Cera, Rhea Perlman, Ariana Greenblatt, John Cena