Dir. Zack Snyder. US, 2016, 152 mins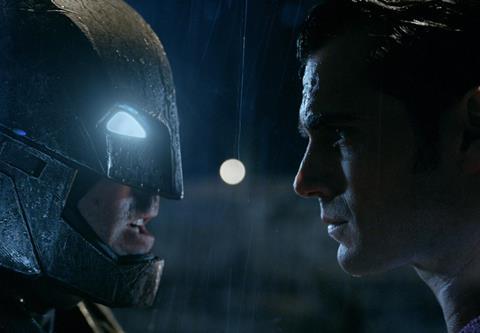 Zack Snyder throws the contents of the superhero kitchen sink at Batman v Superman: Dawn Of Justice: this film has so many alter-egos and twisted back-stories, it writhes in existential 'who-am-I and why-am-I-here?' agony before exploding with the effort of sustaining Warner Bros's frenzied DC Comics franchise rival to Marvel and its Avengers, Iron-Man and Guardians Of The Galaxy behemoths.
Batman v Superman is crammed to bursting, spilling out of its 152-minute running time.
Gorging on bombast and self-importance, swamped by its own mythology, Batman v Superman is loud, sprawling, and distracted. The action jumps around almost as fast as a man can fly, but nowhere near as smoothly. The doubling-up of the Caped Crusader with the Man of Steel would need strong notices to see revenues grow exponentially, but these may not be forthcoming, and its crunchy, dour, violence will restrict numbers.
Yet the spectacle is here and the fan base is there to give Snyder's film strong opening numbers over the Easter holiday weekend, preaching to the converted. Man Of Steel, the Superman reboot also directed by Snyder, took $668m globally in 2013 despite mixed reviews, and the title of this film will effectively do the talking in overseas markets – no need for translations or explanations here.
Beefed-up bruiser Ben Affleck takes a world-weary approach to an older, sourer Batman who is increasingly motivated by his 'legacy'. "You're too old to die young," notes caustic butler Alfred (Jeremy Irons) as a morose Bruce Wayne chugs on vintage claret.
Being the nose of a franchise is an unexpected career-curve for Affleck after winning the Best Picture Oscar for Argo. It's hard for any performance to really register here, though, given the film's determination to pound as hard as it can on action beats from the get-go, with the credit sequence re-staging the murder of Bruce Wayne's parents and the opening act devoted to the annihilation of Metropolis.
Exposition is lavish throughout Batman v Superman, but the titular superhero squabbling has its roots in the final battle from Snyder's Man Of Steel, re-staged here from the ground perspective, which pitched Superman (the reliably bland Henry Cavill) against General Zod. It also, according to Chris Terrio and David S. Goyer's screenplay, resulted in a Twin-Towers like destruction on the streets of the city, and the mass loss of life at Wayne Enterprises when its headquarters became collateral damage in the battle.
Two years later, and Batman just can't forget, bringing us to the central question of why he would 'V' Superman – after all, they seem much more likely to be allies in the fight against crime. And, with the extra-terrestrial Superman posessed of superior firepower to the mortal, suited Batman, isn't the 'who-would-win-a-superhero-smackdown?' question just a playground ruse designed to appeal to those of us who haven't grown up?
While Hollywood never went broke by appealing to viewers who haven't grown up, any who didn't keep up with Batman or Superman's recent iterations may find themselves fatally disorientated here – it may be high-concept, but Batman v Superman certainly isn't streamlined. Gotham City exists side-by-side with Metropolis, although production designer Patrick Tatoupoulous has so much on his hands, the orientation isn't always so clear. Further shaking the fizzy drink bottle is the fact that Batman is prone to nightmares and hallucinations, while Superman has an encounter with his dead dad.
Riding down the backbone of the plot is Lex Luthor's son, helpfully also called Lex and played by Jesse Eisenberg as a spoiled Silicone Valley brat. Lex has similar-sized daddy-issues to his fellow orphans Batman and Superman, and aims to play them off against each other by revitalising stolen Kryptonite and messing around with General Zod's dead body.
Added to this Troika is a beady-eyed Senator played by Holly Hunter, keen to pursue questions about placing limits on superpowers – there's much talk of monsters, man's cruelty, and false gods.
Roving reporter and Superman love interest Lois Lane (Amy Adams) embarks on an operation in the desert to interview an Isis-style militia. And franchise cameos including Diane Lane as Superman's mum and Laurence Fishburne as The Daily Planet's editor crop up, not to mention a brand new Batmobile. More screentime for Jeremy Irons as a frostier, tech-savvy Alfred and Israeli actress Gal Gadot as an elusive Wonder Woman might have helped, but they may come into play later down the line as the franchise develops. Hans Zimmer composes with the help of Junkie XL (Tom Holkenborg), the dial jacked up and a full operatic chorus at the ready.
The burning question, of course, is how the DC Extended Universe will perform for Warner Brothers on its second outing after Man Of Steel, with Suicide Squad, the two-part Justice League (Snyder is set to direct both instalments), Wonder Woman and The Flash in the immediate pipeline.
Batman v Superman is crammed to bursting, spilling out of its 152-minute running time. The studio rebooted Batman after 1997's Batman & Robin failed to perform, going back to basics with the Dark Knight trilogy, directed by Christopher Nolan (who acts as executive producer here). He stripped it all down with the idea that. at least to start, less can be more. For Synder, it seems, more is simply not enough.
Production companies: DC Entertainment, RatPac Entertainment, Atlas Entertainment, Cruel and Unusual Films
International distribution: Warner Bros.
Producers: Charles Roven, Deborah Snyder
Executive Producers: Wesley Coller, Geoff Johns, David S. Goyer, Christopher Nolan
Screenplay: Chris Terrio, David S. Goyer, based on characters from DC Comics
Cinematography: Larry Fong
Editor: David Brenner
Production design: Patrick Tatopoulos
Costume designer: Michael Wilkinson
Visual effects supervisor: John 'DJ' DesJardin
Music: Hans Zimmer with Junkie XL
Main cast: Ben Affleck, Henry Cavill, Amy Adams, Jesse Eisenberg, Diane Lane, Laurence Fishburne, Jeremy Irons, Holly Hunter, Gil Gadot.