Spike Jonze directs a stage show by the band's two surviving members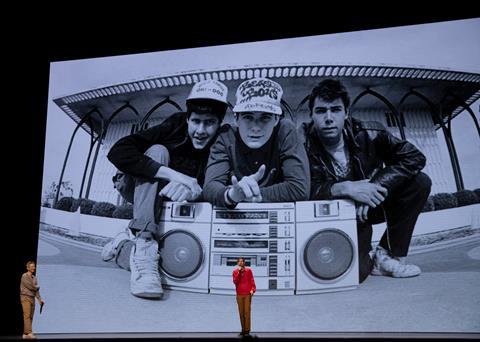 Dir. Spike Jonze. US. 2020. 119 mins.
Spike Jonze's documentary about the Beastie Boys, his longtime friends and collaborators, is a film of a scripted stage show interspersed with clips from the band's raucous past. Mike Diamond (Mike D), and Adam Horovitz (Ad Rock), the two surviving members, reminisce about their history in a lengthy niche film which was set initially for a SxSW premiere and a limited cinema/TV release but will now go out on Apple TV+ on April 24 to dedicated fans of an act whose last show was in 2009. It's a nostalgia piece, spiked with sadness over the absence of founder member Adam Yauch (MCA), who died of cancer in 2012. Beastie Boys Story is a film about a band with hardly any music; it's like the Python's live 2014 show, with fewer gags.
A jamming session between ageing friends (including Ben Stiller and Steve Buscemi in the audience) with all the highs and lows that experience might entail
Jonze's film (his first full-length feature since 2013's Her) sits in an awkward gap between live performance and event cinema. You can almost sense the energy draining up the camera lead on the way to the frame. The live audience at Brooklyn's Kings Theatre seems genuinely entertained by the double act, but the momentum slips as these two older men in chinos walk the audience through the New York punk and rap scene of the 1980s to a screen montage of clips and archive interviews.The multi-media project sprang from a Beastie Boys book, published in 2018; the script was written by Jonze, Diamond and Horovitz and Jonze is frequently mentioned throughout, his voice intruding on several auto-prompt slip-ups.
The Beastie Boys had a genuinely intriguing and unusual career; Def Jam's token white rappers ('Fight For The Right To Party') followed global success in their teens with spells in the wilderness and periods of musical innovation and surprising reinvention. Off the stage, though, their antics could be tedious and they seemed determined to shrug off any attempt at introspection, always staying in semi-mocking character. While Beastie Boys Story is a sober and restrained walk-through by Diamond and Horowitz, it can suffer from some of the same problems. It only really engages when the pair speak honestly - about their relationship with Russell Simmons and Rick Ruben, about how they forced their female drummer Kate Schellenbach from the band, but mostly the weight of the loss of Yaruch.
Dispensing with family backgrounds – although, at two hours, Jonze had the time if he wanted - The Beastie Boys starts out in the New York scene of the mid-1980s when these lifelong friends ran into each other at various punk shows, sensing each other out and forming tentative music and cultural collaborations. They loved British punk rockers The Clash, and obsessed about Run DMC and the emerging rap artists. A friendship with Rick Rubin (to whom they no longer speak) kicked open the doors for Def Jam to sign the Beastie Boys and the tour for the album 'Licence To Ill' – when they were still in their late teens – was a global smash. As all that exuberant success and excess predictably grounds to a halt under the strain of constant touring, it also comes as something of a strain to realise we're 70 minutes into the film and it's only 1989.
The Beastie Boys had a sort of jokey, lunatic, gifted anarchism that came across best in the music, and the silly Wayne's World-era music videos. Clips, photos, high-energy montages on the giant screen behind Diamond and Horovitz aren't really enough to bring that across - we only see some of the video for 'Sabotage', directed by Jonze in 1994, for example. It seems like an artefact from another time now, and fans who identify the band with that era will surely be fascinated, and rightly so. But it's only at the end of the film, when the energetic music video for 'Intergalactic' (1998) plays out over the credits, that the nuttiness of it all seems real again.
This is followed, however, by another ten minutes of clips and out-takes, taking the film to the two-hour mark and reinforcing the sense that this, essentially, is a jamming session between ageing friends (including Ben Stiller and Steve Buscemi in the audience) with all the highs and lows that experience might entail.
Production companies: Fresh Bread, Pulse Films
International distribution: Apple TV+
Producers: Jason Baum, Amanda Adelson, Spike Jonze
Screenplay: Mike Diamond, Adam Horovitz, Spike Jonze
Cinematography: Autumn Durald
Production design: Sam Lisenko
Editors: Jeff Buchanan, Zoe Schack