Dirs. Tsai Ming-liang (no-no-sleep); Mohsen Makhmalbaf (The Tenant); Yim Ho (Three Days After My Death; Huang Jianxin (The Insomniac Diary). HK, 2015. 117 mins.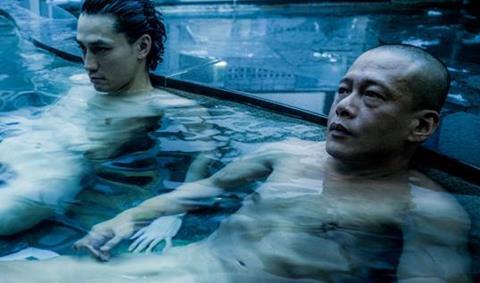 Beautiful 2015 is the fourth incarnation of the Hong Kong International Film Festival Society's Beautiful series of short films, made in conjunction with Youko. Four renowned film-makers from the region – Tsai Ming-liang, Mohsen Makhmalbaf, Yim Ho and Huang Jianxin - present their cinematic essays, which are clearly stand-alone, but not so clearly linked outside a loose geographic connection (now stretching as far as Iran).
Huang has delivered a claustrophobic tale disguised as a sentimental love story which moves in an endless circle of waking and sleeping.
Taken in one sitting, the shifts in style are extreme and can be abrupt and jarring. But apart, each film is a clear stand-out, and could be programmed separately in global short festivals. Highlights are Makhmalbaf's London-set The Tenant, and Taiwan's Tsai Ming-liang, returning to the series with no-no-sleep and his slow-moving-monk played by his muse Lee Kang-sheng.
The Tenant is the shortest film, at just under 20 minutes, and it's also the most immediate and forceful: a desperate asylum seeker from Iran (Amirali Khosrojerdi) tries to hold on to his bedsit by taking two blind people to see the Queen's Jubilee procession down the Thames, charging £5 per-hour each. He's also juggling a small dog, blind from diabetes, and his wheelchair-bound landlady. When the time comes, nobody can see the Queen, least of all Amirali, who is doomed by the traumas of his past.
A House Makhmalbaf production – designed by Hana and shot by Maysam – The Tenant was written by Mohsen Makhmalbaf with Marziyeh Meshkny (who also edits). It is almost a perfect short film, each character full and loaded with potential, a situation with layers of significance, yet no resolution. It's thought-provoking and it's disturbing but The Tenant never needs to raise its voice. Shooting on the hoof in Battersea Park and on Chelsea Embankment in the rain, Makhmalbaf makes it all seem so effortless.
Tsai Ming-liang has always demanded an effort, however, and no-no-sleep veers into installation territory. The slow-moving monk returns from 2012's Walker, when a red-robed Lee Kang-sheng shuffled through Hong Kong (he also appeared in last year's Xi You in Marseilles with Denis Lavant). Tsai moves on to Japan this time, a train arriving in a blur of liquid lights at another staple of the auteur's cinema – a sauna, where Masanobu Ado is bathing himself in preparation for a swim and a steam. Nothing happens, of course; but nothing happens beautifully. At 32 static minutes, this is an ask for a portmanteau audience.
Three Days After My Death, from Hong Kong's Yim Ho (Red Dust), sees Gigi Wong cast as a Cantonese fishwife, a crusty mother-in-law who is crushed under the wheels of a car and hovers between life and death in hospital. There she meets an angel (Hong Kong TV star Shaopin Tsui) dressed in an American Football outfit, who shows her the right way in an overtly sentimental mix of Scrooge and Touched By An Angel.
Fifth Generation director Huang Jianxin has been more active as a producer recently (The Taking of Tiger Mountain, The White Haired Witch of Lunar Kingdom), and his last films as a director were state-backed historical epics. Insomniac Diary is a very modern romance, set in Beijing and clocking in at 25 mins. With a nod to Love Story, Huang brings together two sick people: an insomniac man, Mr Liang (Shawn Dou) who cannot sleep, and a hypersomniac woman, Miss Zhou (Tong Liya), who cannot stay awake.
Huang has delivered a claustrophobic tale disguised as a sentimental love story which moves in an endless circle of waking and sleeping. Mr Liang never feels tired, he cannot dream, or be hypnotised. When Miss Zhou moves in with him, their unconsummated romance takes on an unhealthier proportions; he installs cameras and watches her every move, he shuns promotion to look after her. He is endlessly wakeful and watchful and Insomniac Diary is more than it superficially appears.
Beautiful's production credits are smooth across the board. Visual excitement is never far away, whether it be with Tsai Ming-liang's experimenta, Makhmalbaf's jarring reality,or Huang's soaring trip around a Beijing amusement arcade.
Beautiful portmanteau producer: Victor Koo
Production companies: Hong Kong International Film Festival Society/Youkou Original
Contact: HKIFF Society,
No-no-sleep:
Dir/scr Tsai Ming-liang
Cinematography: Liao Peng-Jung
Editor: Lei Cheng-ching
Cast: Lee Kang-sheng, Masanobu Ado
The Tenant
Director: Mohsen Makhmalbaf
Screenwriters: Mohsen Makhmalbag, Marziyeh Meskny
Editor: Marziyeh Meskny
Cinematographer: Maysam Makhmalbaf
Three Days After My Death
Director: Yim Ho
Screenwriter: Yim Ho, Wong Chin-yan
Cinematographer: Jack Lam
Editor: Stanley Tsang
Cast: Gigi Wong, Shaopin Tsui, Rachel Yip, Huang Xian Guang
Insomniac Diary
Director: Huang Jianxin
Screenwriter: Chen Chen, Huang Xin
Cinematography: Zhao Xiaoshi, Li Qiang
Editor: Derek Hui
Main cast: Shawn Dou, Tong Liya, Lin Yiwei