Dir. Fisher Stevens. US, 2016. 96 mins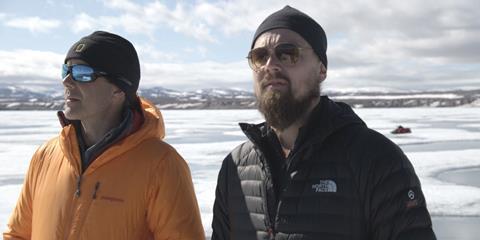 Over the past twenty years, Leonardo DiCaprio has spent the currency of his celebrity on becoming an informed, committed environmental activist. Any notion that he lacks the credentials for the role as United Nations Ambassador Of Peace or is being indulged in a vanity project are decisively put to bed by Before The Flood (previously entitled The Turning Point) , a sober, thoughtful documentary that combines a lament for a lost Eden with a rousing call to action.
Director Fisher Stevens takes an intelligent approach to the use of DiCaprio and the importance of his subject matter
Inevitably, it will be accused of preaching to the converted but DiCaprio's name, the wide-ranging subject matter and beautiful imagery from around the globe should be sufficient to attract attention and a robust theatrical life for an accessible documentary very much in the tradition of the Oscar-winning An Inconvenient Truth (2006).
Director Fisher Stevens takes an intelligent approach to the use of DiCaprio and the importance of his subject matter. He realises the audience may by initially drawn into the film by a personal sense of DiCaprio's commitment to the cause. DiCaprio obliges by recalling a poster of Heironymous Bosch's Garden of Heavenly Delights that once hung above his crib and how he now shudders at the thought that the final panel depicting a degraded and destroyed planet may be the reality facing all of us. He talks of visiting the National History Museum as a child and being fascinated by the species that are now extinct from the Dodo to the Tasmanian Tiger.
DiCaprio admits to being pessimistic about what can be achieved in an America where a whole swathe of politicians are in the pay of vast corporations with vested interests in sustaining the status quo when it comes to an economy based on the consumption of fossil fuels. The early stages of the documentary focus on the North American experience of climate change, with DiCaprio admitting that the more he has discovered about the subject, the more he feels he doesn't know.
Any accusation that unsympathetic forces might level against DiCaprio are ones that he mentions himself, including concerns about the carbon footprint of someone who jets around the world trying to address climate change.
As DiCaprio journeys from the Canadian Tar Sands in Alberta to the smog-shrouded streets of Beijing, waterlogged areas of Miami to the decimated rainforests of Indonesia, he asks the questions that anyone with a curious mind might demand: How far have we gone? How much damage has been done? What can we do to change things? He is humble and self-effacing and whilst the film includes some vintage footage of scientific predictions of the 1950s it is never knowingly flippant. You almost sense that this is too serious an issue for DiCaprio to risk treating it with anything less than respect.
Before The Flood isn't as entertaining, angry or cheekily provocative as a Michael Moore documentary might have been. It's mission is to educate and inform as DiCaprio meets with Presidents and Popes, scientists and politicians, astronauts and inventors.
It might even be considered a little dry in places as we learn about the consequences of climate change and projections of what might happen in the coming decades. DiCaprio and Stevens are aware of the complexities surrounding the issue. They address why we should expect developing economies like India to cut fossil fuel consumption when millions of its people have yet to secure electricity and millions more want to enjoy a lifestyle that is taken for granted by western societies.
Just when you think Before The Flood is intent on spreading doom and gloom, DiCaprio attempts to find some signs of hope in the climate change conference at Paris last December and in the small differences that individuals could make that might have a profound effect, including a simple change of diet to eat much less beef.
Ultimately, Before The Flood is a concise, thought-provoking contribution to the climate change debate and DiCaprio's presence should ensure a much bigger audience is drawn to its message.
Production companies: Appian Way, Insurgent Docs, RatPac Documentary Films
International sales: Cinetic Media info@cineticmedia.com
Producers: Trevor Davidovski, Jennifer Davisson, Leonardo DiCaprio, James Packer, Brett Ratner, Fisher Stevens
Screenplay: Mark Monroe
Cinematography: Antonio Rossi
Editors: Geoff Richman, Ben Sozanski, Brett Banks, Abhay Sofsky
Music: Mogwai ,Trent Reznor, Atticus Ross, Gustavo Santaolalla