A police detective takes on a drugs lord in Lee Hae-young's thriller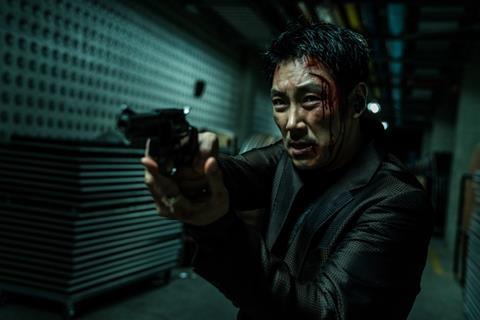 Dir/Scr: Lee Hae-young. South Korea. 2018. 123mins
Lee Hae-young (The Silenced) packs enough explosions and adrenaline in his remake of Johnnie To's action thriller Drug War (2012), about a police investigator working to bring down a drug lord, to draw in audiences both home and abroad. Although Liever unsurprisingly shares a number of similarities to the original, Lee — who co-wrote the script with Chung Seo-kyung (The Handmaiden) — takes it in a different direction, and leaves his own mark.
Overall, the film is stylistically impressive, underscoring Lee's strong craftsmanship.
The film has performed strongly at the box office in Korea, pulling in over 1.8m viewers ($14.87m) since its release on May 22. With little in the way of competition until Jurassic World: Fallen Kingdom opens on June 6, it looks to build on this tally having already become Lee's most successful film to date. And, given the film's strong genre elements including audacious set-pieces, violent narrative and eccentric characters, it shouldn't have a problem finding an audience overseas, especially among fans of Korean genre cinema, when it is released in North America through Well Go USA on June 8.
At the centre of the story is a detective, Won-ho (Cho Jin-woong) who is determined to track down an elusive drug lord called Mr. Lee. There is a break in the case when an explosion at a drug lab which wipes out the upper management of a drug cartel almost kills a power broker (Kim Sung-ryoung), who then surrenders to the police and provides them with information. Also caught up in the blast is one of the members of the drug syndicate named Rak (Ryu Jun-yeol).
After being apprehended, Rak agrees to assist Won-ho with his investigation. In so doing, Rak enables Won-ho to go undercover and meet a number of individuals involved in the drug trade including Sun-chang (Park Hae-jun), a founding member of the syndicate and a ruthless Chinese-Korean figure called Jin Ha-rin (Kim Joo-hyuk) who comes to Seoul after being approached by the mysterious head of a drug organisation with a business proposition.
Akin to Lee's handsomely produced The Silenced, it's expertly shot with an abundance of aerial imagery that captures the beautiful landscape of rural and urban Korea, along with Norway where parts of the film were shot. Overall, the film is stylistically impressive, underscoring Lee's strong craftsmanship.
Where the film falters somewhat, however, is in its character development. With too many villainous roles, the narrative focus is on solving the identity of Mr. Lee and catching him, at the expense of developing the relationship between Rak and Won-ho that lacks enough chemistry.
Still, despite the congested narrative, there is much to keep audiences entertained including the compelling performances by the entire cast. In particular, the late Kim Joo-hyuk (The Truth Beneath), who was tragically killed in a car accident last year is excellent in his final performance as the Chinese-Korean drug lord. Also of notice is the talented young actor Ryu Jun-yeol (A Taxi Driver), who is able to bring a bit of mystery to his captivating role.
Production Company: Yong Film
International Sales: Contents Panda (sales@its-new.co.kr)
Executive Producer: Young Kim
Producers: Syd Lim, Jung Hee-soon
Screenplay: Lee Hae-young, Chung Seo-kyung
Cinematography: Kim Tae-kyung
Production Design: Lee Ha-jun
Editing: Yang Jin-mo
Music: Dalpalan
Main Cast: Cho Jin-woong, Ryu Jun-yeol, Kim Sung-ryoung, Park Hae-jun, Cha Seung-won, Kim Joo-hyuk