Mirai's Mamoru Hosoda plays in a virtual realm with this captivating alternate-reality animation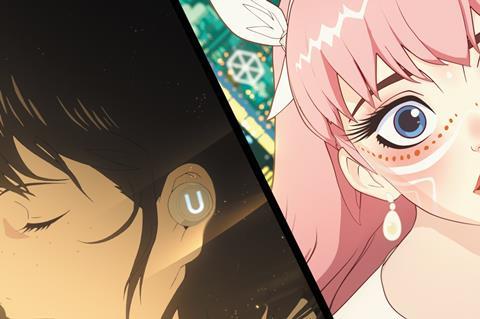 Dir/scr: Mamoru Hosoda. Japan. 2021. 127 mins.
Beauty And The Beast asserts a strong influence over Belle, the vibrantly animated, emotionally potent new feature from Mamoru Hosoda. Telling the story of an unconfident high-school girl who becomes a sensation in a popular virtual-reality world, the Oscar-nominated writer-director of Mirai puts his heroine on a collision course with a fearsome creature with secrets of his own. Those who love the Disney classic will certainly note the homages made by Hosoda, but eventually the filmmaker adds his own wrinkles to the well-worn tale, transforming the fable into a metaphor for family, identity and trauma.
At first, it appears that Hosoda merely wants to remake Beauty And The Beast, but there are surprises in store that shouldn't be spoiled.
Screening as a Cannes Premiere, Belle opens in Japan on July 16 before heading to French theatres on December 29. (GKIDS is set to release the film in the US.) Mirai's Best Animated Feature nod at the 2019 Academy Awards should help bring attention to this follow-up, and certainly audience familiarity with Beauty And The Beast will help, too. Additionally, the picture's timeliness — touching on social media and adolescent anxiety — could strike a chord with younger viewers and their families
Suzu (voiced by Kaho Nakamura) is a shy, awkward 17-year-old girl who wishes she was as outgoing and pretty as her much-beloved classmate Luka (Tina Tamashiro). So when she decides to create a profile on U, a hyper-real virtual realm, she copies part of Luka's appearance for her avatar, stunning the large online community with her beauty and amazing singing ability. But Suzu soon encounters a frightening Beast (Takeru Satoh) who lives alone in a floating castle, refusing to let anyone get close to him — or explain the origin of the bruises across his body.
Belle isn't particularly original in its discussion of our internet-addicted existence, and its lighthearted chronicling of age-old teenage worries, such as dating and fitting in, is fairly standard. But Hosoda's vision of U is striking, giving us a magical realm in which avatars defy gravity, where the infrastructure resembles a sleek, glittering megalopolis. The pop ballads that Suzu sings as her alter ego Belle are catchy, and it's intriguing to watch this young woman (literally) find her voice by hiding behind a digital disguise.
But as one might expect, Belle's celebrity makes things complicated for Suzu, who is still mourning the loss of her mother from childhood. And as she tries to crack the Beast's harsh outer shell — not to mention figure out who he is in real life — Belle takes a turn toward the melodramatic, replicating scenes from the 1991 Disney film, including the famous ballroom dance sequence.
At first, it appears that Hosoda merely wants to remake Beauty And The Beast, but there are surprises in store that shouldn't be spoiled. Let it be said, however, that what makes Belle affecting in its later stretches is Hosoda's subversion of that fairy tale's narrative — in particular, its notion of true beauty and the reasons why the Beast has grown so withdrawn and distrustful. Though perhaps a little too long at over two hours, the film needs the extended runtime to explore Suzu and then shift gears once the Beast — and his backstory — becomes equally as important to the plot.
Beyond the leads, Belle also does a nice job of fleshing out its supporting cast, especially Ryo Narita as Suzu's lifelong friend who may or may not have feelings for her. Whether it's Suzu's edgy pal Hiro (Lilas Ikuta) or her caring father (Koji Yakusho), who has never been able to fully reconnect with his daughter since her mother's death, Suzu actually has quite a loving extended family in the real world. It may be a simplistic life lesson, but Belle's suggestion that we don't need to enter the virtual realm to find community is nonetheless appreciated.
Production company: Studio Chizu
International sales: Charades, nicolas@charades.eu
Producers: Yuichiro Saito, Genki Kawamura, Nozomu Takahashi, Toshimi Tanio
Production design: Anri Jojo, Eric Wong
Editing: Shigeru Nishiyama
Music: Ludvig Forssell, Yuta Bando
Main voice cast: Kaho Nakamura, Takeru Satoh, Koji Yakusho, Lilas Ikuta, Ryo Narita, Shota Sometani, Tina Tamashiro