A brother and a sister attempt to navigate life in Mumbai's impoverished underclass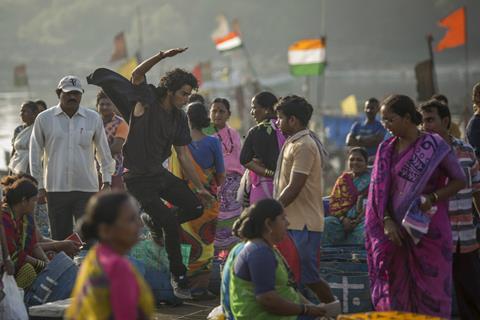 Dir: Majid Majidi. India. 2017. 120mins.
The first India-set film for award-winning Iranian director Majid Majidi, Beyond The Clouds is a melodrama set in Mumbai's impoverished underclass. A brother who lives on the wrong side of the law and his sister, who finds herself imprisoned for attempted murder after she defends herself from a sexual assault, are the two central characters. As it gives a voice to the voiceless and making a case for the people whose poverty denies them justice, it's perhaps forgivable that the film labours its point a little stridently at times.
The film doesn't pull its punches when it comes to condemning a society which punishes its poor
Majidi, who was Oscar nominated for Children Of Heaven (1997), brings an outsider's eye view to the streets of Mumbai, which makes for a visually striking picture. It should connect with furthur festival audiences following its world premiere in competition at the London Film Festival. Theatrical prospects are likely to be most healthy in territories with a proven appetite for Indian independent cinema which doesn't conform to the mainstream Bollywood tropes.
An arresting opening shot neatly conveys a city divided. The camera scans a busy road, packed with commuter traffic. It latches onto a young man darting in between the vehicles and follows him over the edge of the embankment and down, under the road bridge to where numerous impoverished families make their homes. The young man, Aamir (energetic newcomer Ishaan Khattar) saunters through the chaos and hops onto the back of a motorbike. The lush, swelling romantic score from A R Rahman is a little incongruous, given that what subsequently plays out on the screen is a series of drug deliveries which Aamir makes all over the city.
A police bust interrupts an impromptu dance sequence – the closest the film comes to a Hindi movie musical number – and results in a kinetic chase through the city which culminates at a laundry, the workplace of Aamir's sister Taara (Malavika Mohanan, prone to extreme reactions). With the help of an older male colleague Akshi (Goutam Ghose), Taara conceals her brother, and his stash of drugs. But in Akshi's mind, his help means that Taara is now somehow beholden to him. He assaults her, against a striking backdrop of sheets which soon turn from lemon yellow to blood red when Taara fights him off using a rock to his head.
Taara finds herself facing life in prison, unless Akshi recovers and can be persuaded to admit his role in the incident. But although he regains consciousness, Akshi is unable to talk. Both Taara and Aamir find hope in their desperate situation through connections with children. Taara befriends Chotu, the child of an ailing prisoner, while Aamir grudgingly warms to Akshi's mother and two daughters; even if he first toys with the idea of selling the older of the two girls to a local pimp.
Although at times a little overwrought in tone, and at others emphatically sentimental, the film doesn't pull its punches when it comes to condemning a society which punishes its poor. It's also an arresting visual experience: a potent recurring motif uses silhouettes; another a scattering flocks of birds. And climactic scenes set against the backdrop of the anarchic festival of Holi encapsulate the film's vivid energy.
Production company: Zee Studios, Namah Pictures
Contact: Zee Studios International vibha.chopra@zee.esselgroup.com
Producers: Shareen Mantri Kedia, Kishor Arora
Screenplay: Majid Majidi, Mehran Kashani
Cinematographer: Anil Mehta
Editor: Hassan Hassandoost
Production design: Mansi Dhruv Mehta
Music: A R Rahman
Main cast: Ishaan Khattar, Malavika Mohanan, Goutam Ghose, GV Sharada, Dhwani Rajesh, Amruta Santosh Thakur, Shivam Pujar