'Welcome To The Blumhouse' continues with a story about a man who plunges into a rabbithole of his own mind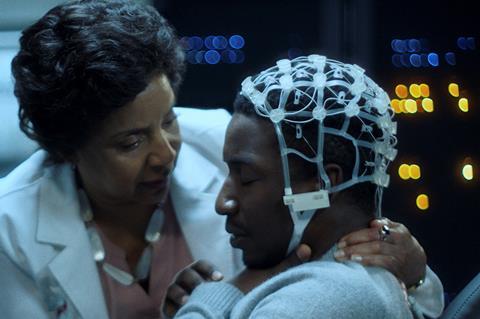 Dir: Emmanuel Osei-Kuffour, Jr. US. 2020. 101mins.
Black Box , a Blumhouse production (and the second in a four-part anthology) screening on Amazon Prime, is a psychological horror film which plays with familiar genre elements — an amnesiac main character, strange and scary clues buried in the subconscious. Falling down a rabbit hole of increasingly preposterous plot twists, Emmanuel Osei-Kuffour, Jr.'s feature directorial debut stars Mamoudou Athie as a grieving single father who lost his wife (and his memory) in a car crash. When he volunteers for an experimental treatment that might help him retrieve his past, it seems certain that many upsetting revelations will transpire. Despite a potentially daring twist at the mid-mark, though, the film lacks sufficient chills, or a satisfactory payoff. Blumhouse has a well-earned reputation for top-flight horror which will lure audiences to this Hallowe'en-timed series, 'Welcome to the Blumhouse'.
Light on gore, instead focusing on building suspense through disturbing sights
The biggest name in the cast is Phylicia Rashad, playing a a doctor who's clearly up to something, with Athie leading as Nolan, a man who barely escaped with his life after the fatal accident which claimed his wife. His guilt and grief are compounded by the fact that he seems to have permanent memory loss, and nothing his adoring young daughter Ava (Amanda Christine) does is able to bring it back.
That's when he meets Lillian Brooks (Rashad), a neuropsychiatrist with a radical process that she believes can reactivate lost memories. In essence, she will put Nolan under hypnosis, utsing a complicated computer program to help him acces his past. But as Nolan roams through the virtual world of his mind, he sees images from what appear to be another person's life — as well as a frighteningly misshapen human figure that keeps walking toward him in a threatening manner.
Osei-Kuffour teases us with the question of precisely what is going on. Is Nolan's amnesia a symptom of him repressing something terrible from his past? Or does Brooks' treatment have an ulterior motive? Initially, Black Box has some fun hinting at multiple possibilities — all of them ominous — while developing the sweet rapport between Nolan and Ava, who are bonded by their sorrow. The film is very light on gore, instead focusing on building suspense through disturbing sights — in his subconscious, Nolan sees people with blurred-out faces — and a creepy score by Brandon Roberts.
But eventually, Black Box has to pull back the curtain on its grand mystery, and while the twist is certainly unexpected, it's not confidently executed, radically shifting the focus of the story but not in a way that's especially fascinating. It wouldn't be appropriate to reveal the nature of the twist, but suffice it to say that Rashad overplays her hand, depicting the doctor with such a strong hint of campy menace that we instantly suspect her of nefarious schemes.
That said, Athie projects the right amount of vulnerability as a widower trying to pick up the pieces. We feel Nolan's anxiety about submitting to Brooks' experimental procedure, but we also recognise that he sees no other option to make himself whole again. As Nolan's supportive best friend Gary, Tosin Morohunfola is a friendly presence, but his unassuming kindness leaves the viewer wary: perhapse Gary isn't telling his buddy everything about the man he was before the accident? Outside Rashad, the supporting cast manages to give their characters' warmth an edge, leaving us uncertain who to trust.
Osei-Kuffour, who also cowrote the screenplay, ambitiously tries to fit in several thematic threads. Domestic violence, loss, fatherhood and the fear of our darker nature all factor into Black Box, and as the film changes course in its second half, straining believability along the way, the feverish intensity of its disjointed ideas gives the proceedings a slight pulse. But for a picture that starts off as a portrait of mourning and memory loss, the increasingly silly Black Box ultimately proves very forgettable.
Production company: Blumhouse Television
Worldwide distribution: Amazon
Producer: John Brister
Screenplay: Emmanuel Osei-Kuffour, Jr. and Stephen Herman, story by Stephen Herman
Production design: Ryan Martin Dwyer
Editing: Glenn Garland
Cinematography: Hilda Mercado
Music: Brandon Roberts
Main cast: Mamoudou Athie, Phylicia Rashad, Amanda Christine, Tosin Morohunfola, Charmaine Bingwa