Gurinder Chadha adapts Sarfraz Mansoor's memoirs to the soundtrack of The Boss, delivering a feelgood potential hit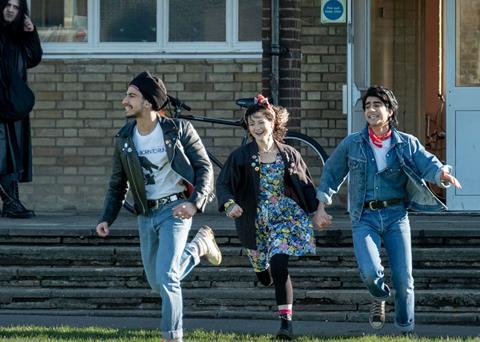 Dir: Gurinder Chadha. UK. 2019. 114mins
A different kind of jukebox musical, Blinded By The Light is a warm tribute to Bruce Springsteen as seen through the eyes of a sensitive British-Pakistani teenager who discovers in this very American songwriter a sense of hope and promise that exists nowhere else in his world. Bend It Like Beckham director Gurinder Chadha has fashioned another crowd-pleaser in the same vein from journalist Sarfraz Manzoor's memoirs, and while this flimsy coming-of-age drama over-relies on the Boss's greatest hits for its emotional high points, this remains a likeable and touching story about finding your own voice.
Chadha cheekily stages several faux-musical numbers in which [the cast dashes] through the streets of Luton or across lush meadows belting out Springsteen songs
Springsteen's millions of fans are a sizable potential audience for Blinded By The Light, which premiered at Sundance. Strong word-of-mouth could make this a sleeper hit, with small supporting turns from Rob Brydon and Hayley Atwell helping to raise visibility.
Blinded By The Light takes place in 1987 in the decidedly unglamourous town of Luton, home to aspiring writer Javed (Viveik Kalra), whose creative aspirations are discouraged by his disapproving father Malik (Kulvinder Ghir). The 16-year-old hates Luton — not least because it's overrun by skinheads — but he finds an escape after his pal Roops (Aaron Phagura) introduces him to the music of Bruce Springsteen, whose tales of passionate dreamers strike a chord with this searching soul.
Working from Guardian journalist Manzoor's memoir Greetings From Bury Park, which recounted his Springsteen obsession, Chadha wants to illustrate how music is a universal language, connecting people who wouldn't otherwise have much in common. That's a fairly clichéd notion, to be sure, but Blinded By The Light invests enough genuine sentiment into the mix that it's simply more pleasurable to give into this film's happy spirit.
Kalra is very appealing as this slightly awkward virgin who sees around him only bigotry and the sting of Margaret Thatcher's economic policies, which have impacted the residents of Luton — including his father, who's just lost his job. But once Springsteen comes into his life, he grows in confidence as a poet and, more importantly, feels that someone finally understands the uncertainty and restlessness inside him. (Along those lines, Atwell brings some charm to the thankless role of a supportive English teacher who pushes Javed to take his writing seriously.)
Chadha cheekily stages several faux-musical numbers in which Javed, Roops and Javed's unlikely new girlfriend Eliza (Nell Williams) dash through the streets of Luton or across lush meadows belting out Springsteen songs. (Brydon, playing Roops' dad, hams it up during one number.) These sequences don't have much professional polish, and one suspects they're not meant to: more than anything else, Chadha wants to remind viewers of what it was like to fall madly in love with a new artist in your teens, their music becoming your virtual soundtrack. Blinded By The Light is nearly wall-to-wall Springsteen tunes, and chestnuts like 'Born to Run' and 'Thunder Road' become Javed's anthems. Even though the cute, intentionally sloppy choreography can be disappointing, it doesn't deter from Chadha's bighearted point about the restorative power of music.
Especially winning is Javed's courtship of the politically conscious Eliza, who he initially assumes is too cool for him. Williams has a flirtatious rapport with Kalra, and while their relationship isn't explored in depth, the characters have such chemistry that the viewer can't help but root for them.
Springsteen has often written songs about the disheartened, but the tension between fathers and sons is also a crucial theme in his work. Not surprisingly, then, Blinded By The Light devotes a good part of its running time to the growing feud between Javed and Malik, who worries that his son is so concerned with being British that he's forgotten his Pakistani roots. This disagreement allows Chadha to express what it can be like for immigrants who moved to the West in the hopes of creating a better life for their children — only to discover that their kids want different things for themselves.
That said, none of these contentious scenes between father and son are ever too concerning: despite harsh exchanges between them, we feel fairly certain that all will end well. That's Blinded By The Light's strategy in a nutshell, hinting at some of life's more trying aspects but reassuring us with feel-good scenes and Bruce Springsteen's rousing words and music.
Production company: Bend It Films
US sales: Endeavor, jkorshak@endeavorcontent.com/International sales: Cornerstone Films, jm@cornerstonefilm.com
Producers: Gurinder Chadha, Jane Barclay, Jamal Daniel
Screenplay: Sarfraz Manzoor, Gurinder Chadha, Paul Mayeda Berges, based on the book Greetings From Bury Park by Sarfraz Manzoor
Production design: Nick Ellis
Editing: Justin Krish
Cinematography: Ben Smithard
Music: A.R. Rahman
Main cast: Viveik Kalra, Kulvinder Ghir, Meera Ganatra, Nell Williams, Aaron Phagura, Rob Brydon, Hayley Atwell