In which Vin Diesel is resurrected, along with plot points from multiple other sci-fi films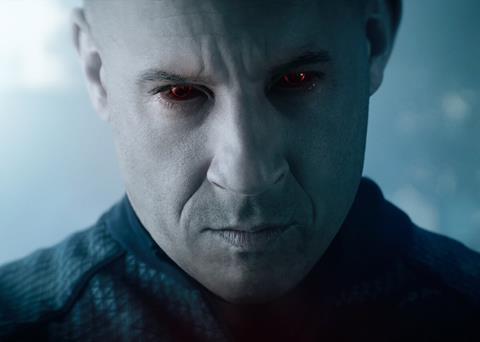 Dir: David S. F. Wilson. US. 2020. 109mins.
A Frankenstein patchwork of about a dozen sci-fi/action classics, Bloodshot offers a few moderately clever plot twists, but this Vin Diesel vehicle feels largely like a way for the muscular star to fill time before his next Fast And Furious flick. Based on the Valiant comic about a soldier who dies in the line of duty, only to be reborn as an elite assassin infused with nanotechnology, Bloodshot boasts a competent slickness and an over-the-top finale that's not without its ludicrous charms. But for a film that advocates the importance of writing one's own future, it certainly feels indebted to blockbusters of yore.
Diesel is almost as cartoonish as the cheap-looking special effects, but not nearly as animated.
Arriving March 11 in the UK and March 13 in the US, this Sony release will need every drop of Diesel's star power, although away from his roles as Groot and Dominic Toretto, he hasn't been quite as mighty commercially. Bloodshot will face some competition from The Hunt this weekend and A Quiet Place Part II the following week, while the industry as a whole grapples with the damaging impact of the coronavirus on box office.
Diesel plays Ray, an American soldier who goes into the world's most dangerous places, executing top-secret missions. Hopelessly devoted to his adoring wife Gina (Talulah Riley), Ray swears he'll always come home in one piece. Ray and Gina are taken hostage by a fearsome global terrorist named Max (Toby Kebbell), who ends up murdering the soldier. Waking up in a strange facility run by Dr. Emil Harting (Guy Pearce), Ray is told that he has been brought back to life and enhanced with cutting-edge technology, which makes him super-strong and able to heal instantly. Ray can't remember anything of his life, but then a vague memory flashes in his head, spurring him to track down Max and get revenge — against Harting's objections.
That synopsis will surely call to mind RoboCop, but that's just the beginning of Bloodshot's liberal borrowing. To list some of the other cinematic influences would spoil where the plot ultimately goes, but suffice to say that not everything Ray has been told is true, forcing him to question his memory and what he perceives as reality. (Hint: A few different Arnold Schwarzenegger movies are crucial touchstones.)
For some time, director David S. F. Wilson (making his feature debut) has fun with the twists and misdirection, savouring the ability to pull the rug out from under the viewer — even while Ray is still unaware of what's happening. But eventually Bloodshot (which started out as a comic book in the early 1990s) runs out of surprises, resorting to action-movie clichés and some strained pseudo-philosophical musings about fate, identity and free will. Wilson, cinematographer Jacques Jouffret and production designer Tom Brown are pros at making their set pieces pop — they're a feast of bright colours, shiny surfaces and gaudy explosions — but the filmmakers aren't nearly as confident when it comes to tackling the script's wobbly stabs at deeper meaning.
It doesn't help that Diesel can't summon up the pathos necessary to make Ray's plight poignant. The actor's deadpan sense of humour helps liven things up a little — occasionally, Bloodshot tweaks its own ultra-macho posturing — but he's unable to convey depth or vulnerability, which makes Ray a little too robotic, even with all that nanotechnology swimming through his circulatory system. By the time Bloodshot reaches its excessively violent conclusion, Diesel is almost as cartoonish as the cheap-looking special effects, but not nearly as animated.
It's fairly easy to guess that Harting is hiding secrets, but Pearce never overdoes the villainy, playing his character less like a stereotypical megalomaniacal madman and more as an exceedingly practical genius. As KT, another of Harting's super-soldiers, Eiza Gonzalez exudes a tenderness otherwise missing in Bloodshot, although it's indicative of this movie's baser instincts that this killing machine is always inexplicably wearing tight, revealing clothing that shows off her midriff. At least Lamorne Morris seems to be enjoying himself playing Wilfred Wigans, a computer whiz who will end up helping Ray get to the bottom of the film's mystery. Bloodshot isn't what you'd call witty, but Morris' flip, sarcastic delivery elicits a fair amount of chuckles — a rare instance where the movie doesn't just resurrect plot points from earlier films.
Production company: Original Film
Worldwide distribution: Sony Pictures
Producers: Neal H. Moritz, Toby Jaffe, Dinesh Shamdasani, Vin Diesel
Screenplay: Jeff Wadlow and Eric Heisserer, story by Jeff Wadlow, based on the Valiant comic book
Production design: Tom Brown
Editing: Jim May
Cinematography: Jacques Jouffret
Music: Steve Jablonsky
Main cast: Vin Diesel, Eiza Gonzalez, Sam Heughan, Toby Kebbell, Talulah Riley, Lamorne Morris, Guy Pearce