Elvira Lind's remarkable documentary follows two years in the life of provocative dancer Bobbi Jene Smith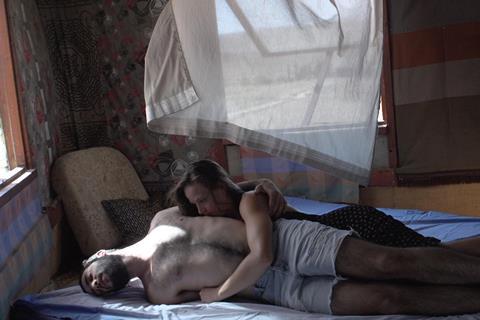 Dir: Elvira Lind. US/Denmark/Israel. 2017. 96mins
The first time we see dancer Bobbi Jene Smith in director Elvira Lind's remarkable documentary she's naked, practicing her intense, contorted choreography while ignoring the camera that's observing her. It's an apt metaphor for Bobbi Jene's startlingly intimate candour as it traces Smith cutting ties with Israel's premier dance company and returning to her American homeland to remake her career. A treatise on art, ambition, long-distance relationships and the struggles to find one's own voice, the film unfolds with uncommon grace.
The documentary is less about plot than it is about capturing the demands of the creative life with unfussy simplicity.
Premiering at the Tribeca Film Festival, where it won three jury prizes (including Best Documentary Feature), Bobbi Jene will appeal chiefly to fans of contemporary dance, although anyone with a passing passion for the arts should be hooked, too. Because of some of the explicit subject matter in Smith's routines television distribution may prove trickier, but strong reviews should lead to solid festival and theatrical buzz.
Lind (Songs For Alexis) offers no talking-head interviews or intertitles to orient the viewer. Instead she quietly tags along with Smith who, at 30, decides to leave the Batsheva Dance Company after a decade as part of the acclaimed group. Raised in Iowa and studying at Juilliard when she was convinced to move to Israel by Batsheva's charismatic choreographer Ohad Naharin, Smith feels that she needs to move back to the States to launch the next phase of her professional life — even if that risks jeopardizing her romance with Or, a handsome, sensitive dancer who's 10 years her junior.
Bobbi Jene tracks Smith over two years, first monitoring her bittersweet final months with Batsheva and then documenting her arrival in San Francisco before she eventually makes her way to New York. Despite her accolades as part of Batsheva, Smith finds that she practically has to start again when she returns to America, slowly making the connections necessary to mount a solo piece that will require her to dance naked and, at one point, grind up against a sandbag.
Clearly, Smith's new work is a provocative one, but it's also intensely personal — a realization we make not because it's explicitly stated but because, intuitively, we sense how the piece's themes of self-doubt, risk-taking and catharsis are mirroring her real life.
Lind is next to Smith as she experiences many difficult or unguarded moments; telling Naharin (a former lover) that she's leaving Israel, hanging out with Or and spending time with her Christian mother who doesn't feel entirely comfortable with her daughter's routines. Such extraordinary everyday moments provide a snapshot into the driven, vulnerable artist she is.
While much happens in Bobbi Jene, the documentary is less about plot than it is about capturing the demands of the creative life with unfussy simplicity. Although one scene depicts Smith spending time with movie star Laura Dern, there's very little glamour — just the crucial, mundane busywork required to keep a career going.
Throughout the movie, we see snippets of the piece Smith wants to stage but, when Bobbi Jene reveals more of it during the charged finale, it's surprisingly moving; in large part because we've come to understand the tears and toil that went into its making. The film may open with Smith naked but as Bobbi Jene concludes, we feel we've seen an artist truly exposed.
Production companies: Sonntag Pictures, French Quarter Film, Danish Film Institute, the Swedish Film Institute, Nordisk Film & TV Fond, DR, SVT, NRK, DBS
International sales: Salma Abdalla, Autlook Filmsales, salma@autlookfilms.com
Producers: Julie Leerskov & Sara Stockmann
Cinematography: Elvira Lind
Editor: Adam Nielsen
Music: Uno Helmersson
Website: www.facebook.com/bobbijene