Sacha Baron Cohen brings his most successful creation back to surprisingly effective life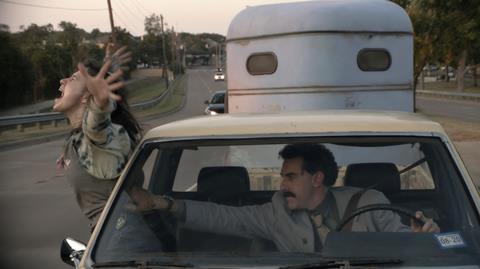 Dir: Jason Woliner. US. 2020. 96mins.
Consistently funny while rarely flirting with the outrageous highs of its predecessor, Borat Subsequent Moviefilm proves there's plenty of life in Sacha Baron Cohen's beloved alter ego. Fourteen years after the original Borat, the new film is, for better or worse, more of the same as Baron Cohen interacts with ordinary Americans, forcing them to react to his character's offensive, retrograde attitudes — attitudes which, not as shockingly this time, are sometimes reflected back by Borat's unwitting costars. All of this is familiar but still surprisingly effective, and it's highlighted by Baron Cohen's onscreen partner Maria Bakalova, who ends up providing some of this mockumentary's finest moments.
For better or worse, more of the same; familiar but still surprisingly effective
Amazon streams Subsequent Moviefilm starting October 23, and there should be sufficient interest in the character, who hasn't made many appearances since the 2006 original. Baron Cohen's subsequent projects may have failed to capture the zeitgeist, but there are plenty of laughs here.
As Subsequent Moviefilm begins, Borat (Baron Cohen) explains to the viewer that he's been condemned to work in a gulag in Kazakhstan ever since his first film made the country a global laughing stock. Offered a reprieve, Borat is ordered to return to America to present Donald Trump with Kazakhstan's most famous monkey. But once he arrives in the States by boat, Borat learns that Tutar (Bakalova), a 15-year-old daughter he never knew he had (or wanted), has snuck into his cargo — and eaten the monkey on the long voyage.
The Subsequent Moviefilm screenplay, credited to eight writers, chronicles Borat and Tutar's attempts to meet Vice President Mike Pence, mistakenly believing he will appreciate the young woman as a gift. Directed by Jason Woliner, Subsequent Moviefilm is divided between scripted segments, in which Borat and Tutar plot their next move, and improvised encounters with everyone from Instagram influencers to right-wing conspiracy theorists, who don't realise they're part of a Borat film.
For more than 20 years now, Baron Cohen has made a career playing ridiculous pseudo-journalists who somehow manage to fool prominent politicians and celebrities into speaking with him. The audacity of his stunts has always been impressive, but because of Borat, which elevated Baron Cohen himself to celebrity status, it has proved harder to work incognito. Subsequent Moviefilm deftly handles this problem in two ways — first by showing, within the world of the film, that Borat is aware that many Americans know who he is, prompting the character to don disguises to conduct his interviews.
But even better is the filmmakers' decision to cast Bakalova as Borat's equally clueless daughter and have her do the same live-camera stunts that were long Baron Cohen's forte. Subsequent Moviefilm's subjects who might recognise him aren't prepared for a seemingly innocent, thickly accented Kazakh teenager who believes that women should live in cages and that their vaginas are lined with sharp teeth.
Bakalova is remarkable, proving just as fearless and quick-witted as Baron Cohen. (When they appear together alongside unsuspecting Americans, it's delightful to watch them riff — particularly during a surprising sequence involving a certain high-ranking Trump administration official.) Although Subsequent Moviefilm misses the presence of Ken Davitian, who played Borat's fiery producer in the first film, Bakalova brings a winning dim-bulb energy that's leavened by real sweetness as the two characters start to bond.
The film's real-people segments, often meant to point out how racist everyday Americans can be, don't break much new ground, an inevitable byproduct of Baron Cohen working this terrain for so long. (Likewise, the actor is still wonderfully silly in the role, if not quite as fresh.) But as with Borat, some of the best moments involve instances when the characters meet some exceedingly kind individuals. A segment in which Tutar's adult "babysitter" learns about the harsh treatment of women in Kazakhstan — all of which is exaggerated for comic effect — inspires a compassionate speech about female empowerment that is touching. It's very much to the filmmakers' credit that they don't treat that scene for laughs, instead marvelling at the basic decency that emerges in even the strangest situations.
As Subsequent Moviefilm reaches its conclusion, Baron Cohen tips his hand regarding his purpose for making this comedy — some of which was filmed during quarantine — and encourages American viewers to confront the uncomfortable parallels between their troubled homeland and the fictionalised cruelty rampant in Kazakhstan. But rather than scolding, Subsequent Moviefilm remains optimistic. Borat's beliefs may be repulsive, but deep down he's got a big heart. Sacha Baron Cohen seems to be looking for that same goodness everywhere his camera goes.
'Borat Subsequent Moviefilm's full title is 'Borat Subsequent Moviefilm: Delivery Of Prodigious Bribe To American Regime For Make Benefit Once Glorious Nation Of Kazakhstan'
Production company: Four by Two Films
Worldwide distribution: Amazon
Producers: Sacha Baron Cohen, Monica Levinson, Anthony Hines
Screenplay: Sacha Baron Cohen & Anthony Hines & Dan Swimer & Peter Baynham & Erica Rivinoja & Dan Mazer & Jena Friedman & Lee Kern, story by Sacha Baron Cohen & Anthony Hines & Dan Swimer & Nina Pedrad, based on a character by Sacha Baron Cohen
Production design: David Saenz de Maturana
Editing: James Thomas, Craig Alpert, Michael Giambra
Cinematography: Luke Geissbuhler
Music: Erran Baron Cohen
Main cast: Sacha Baron Cohen, Maria Bakalova