This Transformers spin-off boasts a surprising amount of heart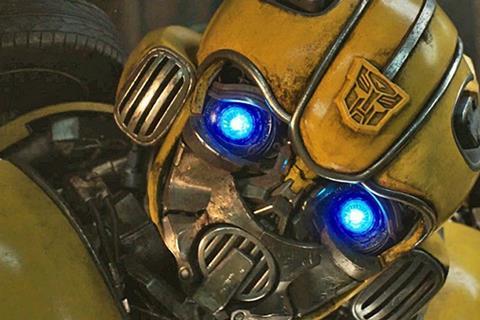 Dir: Travis Knight. US. 2018. 114mins.
Charm and sweetness were in short supply in Michael Bay's Transformers films, but they're the secret ingredients to Bumblebee; a likeable prequel that indulges in nostalgic affection for all things 1980s — especially the era's music and movies. Making his live-action feature debut, Kubo And The Two Strings director Travis Knight does his best to balance clattering spectacle with a modest girl-and-her-robot tale. He's assisted mightily by Hailee Steinfeld, who infuses this uneven action film with significant soul.
Knight has focused on a cheerful coming-of-age story in a sci-fi setting
Arriving around Christmastime in both the US and UK, this Paramount offering will be a litmus test of the Hasbro franchise's continued commercial strength. (Where 2011's Transformers: Dark Of The Moon and 2014's Transformers: Age Of Extinction each topped $1.1 billion worldwide, the 2017 follow-up Transformers: The Last Knight grossed a relatively measly $605 million.) Bumblebee is a popular supporting character in the Transformers saga, but the film faces sizable competition from Aquaman.
Set in 1987, Bumblebee stars Steinfeld as Charlie, an 18-year-old mourning the loss of her beloved father and desperate for a life away from her distracted mother (Pamela Adlon). She thinks she's found freedom in the form of a beat-up old Volkswagen Beetle that she repairs, but she soon discovers that the car is actually Bumblebee, a heroic Autobot sent to Earth to set up a base for his fellow rebels, who are squaring off with the evil Decepticons.
Knight drapes Bumblebee in copious 1980s pop-culture references, and the movie itself plays like an extended homage to that most '80s of films, E.T. The Extra-Terrestrial, which similarly was about a friendship between a young misfit and an adorable, skittish alien. Much like Steven Spielberg's family classic, Bumblebee shines when it's just the two central characters spending time together and learning from one another. Bumblebee can't talk, but he'll develop an ability to communicate through songs he locates across the dial of his car radio, and, in this robot Charlie, finds a confidant at a time when she's still reeling from her dad's death.
Character relationships have meant little in Transformers — despite Shia LaBeouf's attempts to build a rapport with Bumblebee in the initial instalments — but Bumblebee has a welcome warmth and light touch. It helps that Bumblebee possesses such an expressive face and lively blue eyes — he's like a gigantic metal puppy — but even more impressive is Steinfeld's heartfelt, touching performance. Christina Hodson's screenplay provides a predictable narrative arc for Charlie, but the Oscar-nominated actress makes the familiar beats feel genuine, even surprising. And Knight and his effects team convincingly create an environment in which Steinfeld and her CG counterpart seem to be sharing the screen; a crucial component considering that the characters' growing bond and occasional slapstick silliness are the film's emotional foundation.
Inevitably, Bumblebee introduces huge stakes as a pair of menacing Decepticons tries to hunt this Autobot down. (Additionally, John Cena plays a gruff American military officer who views Bumblebee as a threat that needs to be neutralized.) Whenever the film resembles Bay's slick, high-octane monstrosities, Bumblebee loses its allure, quickly devolving into drab action sequences. It's also during these moments that the film adopts the humourless, war-movie tone that always made the previous Transformers films such joyless cacophonies of violence and self-importance.
Thank goodness, then, that Knight has largely conceived Bumblebee for a younger audience, focusing on a cheerful coming-of-age story in a sci-fi setting. (And no doubt the copious inclusion of deathless '80s bands such as The Smiths and Tears For Fears on the soundtrack will please the target audience's aging parents, who will tag along.)
But Bumblebee's generally genial demeanour isn't this prequel's only appealing upgrade. Where Bay's movies often objectified its female characters, Bumblebee gives us a young woman who's smart, vulnerable and nuanced. And as the smitten, nerdy classmate who ends up getting roped into this adventure, Jorge Lendeborg Jr. radiates geeky lovability that's a nice match for Charlie's wary but kind-hearted vibe.
Some of the film's story beats are stilted — and the awkward shifts into life-or-death action set pieces can be jarring — but Bumblebee has such obvious fondness for its characters that those shortcomings can mostly be brushed aside. Who knew underneath the hood of this franchise there could be a little heart?
Production companies: di Bonaventura Pictures, Tom DeSanto Productions, Don Murphy Productions, Bay Films
Worldwide distribution: Paramount Pictures
Producers: Lorenzo di Bonaventura, Tom DeSanto & Don Murphy, Michael Bay, Mark Vahradian
Screenplay: Christina Hodson, based on Hasbro's Transformers action figures
Production design: Sean Haworth
Editing: Paul Rubell
Cinematography: Enrique Chediak
Music: Dario Marianelli
Main cast: Hailee Steinfeld, John Cena, Jorge Lendeborg Jr., John Ortiz, Jason Drucker