Dir: John Wells. US. 2015. 100mins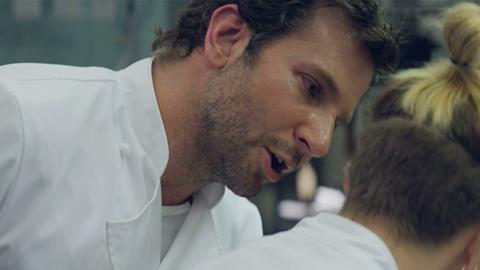 The culinary comedy-drama Burnt tells a likeable redemption story that could have used a little spice. Despite strong performances, especially from Bradley Cooper as a disgraced superstar chef looking for a second chance, the latest from director John Wells (August: Osage County) never quite escapes a movie-ish conventionality: every thoughtful story beat and every well-observed character moment happens with such predictability and slick professionalism that the whole project seems smothered in bland sweetness. Ironically for a film about a daredevil who wants to challenge his customers, Burnt mostly plays it safe.
The only thing that looks better than the actors are Adam's dishes, which are shot in lavish, almost pornographic close-up.
Opening in the US on October 30, this Weinstein Company offering looks to be popular with date-night crowds, the movie's feel-good tone possibly translating to strong word of mouth. Cooper's box office appeal will certainly be an attraction, and a supporting cast that includes Sienna Miller, Daniel Brühl and Alicia Vikander could help lure those on the fence. And especially during a time in the marketplace where horror movies and prestige pictures dominate, Burnt could prove to be decent counterprogramming, although the film's low-stakes drama would make it just as viable a viewing option down the road on DVD, VOD and cable.
Cooper plays Adam Jones, a hotshot chef who comes to London hoping to take over the kitchen of a posh, fading restaurant run by his old friend Tony (Brühl). Years ago, Adam was the toast of Parisian dining until drug addiction and other self-destructive behaviour sabotaged his career, but now he hopes that getting sober will help him get back on top, earning him the coveted third Michelin star reserved for the greatest of eateries.
From the start, Burnt establishes that Adam is a stereotypical bad boy complete with facial stubble, sunglasses, leather jacket, and cocky, sarcastic attitude. Cooper brings a light touch to the role, balancing Adam's bravado with a sense of humour. But still, Wells and screenwriter Steven Knight dutifully lay the groundwork for what will be a fairly pedestrian redemption arc: rest assured that Adam is going to learn to face his fears while discovering that his ruthless quest for perfection can't make up for deep insecurities.
Wells — who has a background in television, executive producing acclaimed ensemble dramas such as ER and The West Wing — populates Adam's world with lively supporting characters, giving the restaurant and its kitchen an inviting vibrancy. Unfortunately, even though these people are often well-drawn — particularly in the case of strong-willed single mother (and excellent chef) Helene (Miller) and Adam's long-time rival Reece (Matthew Rhys) — they tend to get slotted into the film in such a way that they're less individuals than merely plot devices to help (or hinder) Adam's personal growth.
Consequently, Burnt provokes a strange sensation in the viewer. Because so much of the detail in the behind-the-scenes kitchen preparation feels authentic and exciting — and yet the comparably warmed-over character drama seems so flavourless — one might be forgiven for thinking that the movie is a watered-down version of a far pricklier true story, Wells and Knight soft-pedalling the real Adam's more despicable qualities in order to make it palatable to a wider audience. But in truth, Burnt is a work of fiction, which makes it all the more surprising that Adam's supposed battle with his demons is rarely harrowing. (Even less believable is a recurring subplot in which he must confront some mildly-threatening thugs who stop in periodically to collect on drug money he owes them.) Adam seeks redemption, but the path isn't that treacherous, and so there's little sense of genuine stakes.
Reuniting with Cooper after previously co-starring with him in American Sniper, Miller conveys no-nonsense fire as Helene, the one person in Adam's kitchen who will stand up to his browbeating. (Early on in Burnt, Adam throws plates and verbally assaults his underlings — symptomatic, apparently, of so many high-maintenance celebrity chefs.)
Wells and Knight resist a predictable love story between Adam and Helene, especially since he's sworn off women after some bad run-ins in his past, and instead let the characters develop a rapport built on mutual respect while hinting at the possibility of a future relationship. This development is an instance in which Burnt eschews formula, but even then the characters tend to talk in expositional ways, laying out their backstories and inner drives so that even the dimmest audience member can chart what's going on emotionally.
Still, it's hard to judge Burnt too harshly thanks to the film's breezy forward momentum and the confidence of the cast. Brühl brings a lot to what is potentially a punching-bag role, that of a gay maître d' who has long pined for Adam, by projecting vulnerability and wit. Likewise, Emma Thompson plays a therapist who conveniently tells Adam what's wrong with him in sound-bite morsels, and yet she has such warmth and charm that the bromides go down easily. As Adam's former lover, Vikander conveys just the right amount of alluring heartbreak, while Uma Thurman seems to be enjoying herself immensely in a very brief role as a tough lesbian food critic who just so happened to sleep with Adam many moons ago. The only thing that looks better than the actors are Adam's dishes, which are shot in lavish, almost pornographic close-up.
Production companies: Shiny Penny Productions, 3 Arts Entertainment, Battle Mountain Films
US distribution: The Weinstein Company, www.weinsteinco.com
International sales: The Weinstein Company, www.weinsteinco.com
Producers: Stacey Sher, Erwin Stoff, John Wells
Executive producers: Bob Weinstein, Harvey Weinstein, Michael Shamberg, Kris Thykier, David Glasser, Claire Rudnick Polstein, Dylan Sellers, Negeen Yazdi
Screenplay: Steven Knight, story by Michael Kalesniko
Cinematography: Adriano Goldman
Production design: David Gropman
Editor: Nick Moore
Music: Rob Simonsen
Website: www.burntmovie.com
Main Cast: Bradley Cooper, Sienna Miller, Omar Sy, Daniel Brühl, Riccardo Scamarcio, Sam Keeley, Alicia Vikander, Matthew Rhys, Uma Thurman, Emma Thompson, Lily James, Sarah Greene