Dir. Marina Person. Brazil. 2015. 90 mins.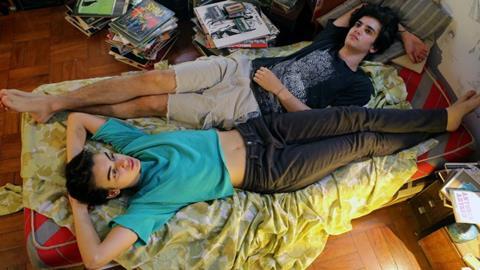 A geeky teenage girl must negotiate adolescence and chose between two suitors: a popular, muscle-bound jock and a sensitive outsider. It's a well-worn premise which turns up everywhere from the Twilight franchise to pretty much everything Molly Ringwald starred in during the 1980s. But the familiarity of the scenario doesn't lessen the appeal of California, an engaging bittersweet Brazilian teen romance.
It's a moment so unashamedly feel-good, it makes you want to punch the air.
The 1980s-set feature debut of actress-turned-director Marina Person, Califórnia combines a catchy period soundtrack with a core of likeable central performances. And while Person does hit a few too many of the teen girl benchmark moments – periods, first boyfriends and loss of virginity all figure – the Sao Paulo setting adds a fresh perspective on a story with a fairly universal coming of age trajectory. This would be a welcome, upbeat addition to festival programmes; a theatrical life outside the festival circuit is not out of the question but is dependant on critical support and enthusiastic word of mouth.
The 80s are evoked through a colour palette spiked with citrus and neon tones, and through well-sourced costumes by Leticia Barbieri. But most importantly, for indie kid Estela (Clara Gallo), it is the music which defines the era. The soundtrack is a nostalgic treat – Estella reverently hoards mix tapes featuring Bowie, The Cure, Echo And The Bunnymen, Joy Division, The Cocteau Twins and others. Music is the passion she shares with her beloved Uncle Carlos (Caio Blat), an exuberant rock journalist who lives in California. And her long-cherished dream is to visit him there – she struck a deal with her parents, trading in her fifteenth birthday party for the promise that she could take the trip once she reached seventeen.
Now of age, Estela is lagging behind her friends in some of the key adolescent milestones. She has only just started to menstruate; she has yet to find a steady boyfriend, let alone start to get to grips with sex. But when her uncle suddenly and unexpectedly returns to Brazil, thwarting her plans for the trip, Estela is forced to find the maturity to deal with the initial disappointment and a deeper sadness when she realises the extent of his problems.
Initially, however, she is preoccupied with her own personal quandary: how to win the affections of blond surfer and soccer star Xande (Giovanni Gallo). So smitten is she that she barely notices the new boy at school, goth rebel JM (Caio Horowicz). But he notices her, and courts her with gifts of The Cure tapes and a copy of Camus' The Outsider.
In common with the best teen romances, it's clear to everyone except the central character with whom she should end up. And the spark between Gallo and Horowicz crackles so persuasively, you start to wonder how long Person can realistically keep them apart. Estela's final realisation of her true feelings, and her dash across Sao Paulo to her man, with The Cure's jubilant love anthem Caterpillar Girl playing on the soundtrack, is a moment so unashamedly feel-good, it makes you want to punch the air.
Production company: Mira Filmes
International sales: Films Boutique info@filmsboutique.com
Producer: Gustavo Rosa de Moura
Screenplay: Marina Person, Mariana Veríssimo, Francisco Guarnieri
Cinematography: Flora Dias
Editor: Bernardo Barcellos
Production design: Ana Mara Abreu
Main cast: Clara Gallo, Caio Blat, Caio Horowicz, Livia Gijon, Paulo Miklos, Virginia Cavendish, Giovanni Gallo