A former boxer gets involved with the local Irish drugs mafia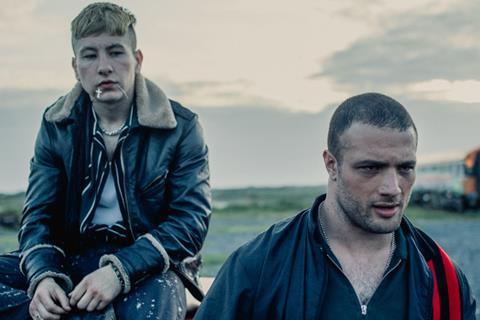 Dir: Nick Rowland. UK, Ireland. 2019. 101mins
The plight of Douglas 'Arm' Armstrong (Cosmo Jarvis, excellent) is that his fists move faster than his mind. It's an instinct for violence which has been put to good use, first in a brief stint as a boxer, and now as an enforcer for the local crime family, the Devers clan. But Arm's allegiance to the Devers is driving a wedge between him and his ex-girlfriend Ursula (Niamh Algar) and their autistic son. With Ursula asking for financial support, and the Devers making their own demands on him, Arm is struggling to balance his own needs with those of the people around him, in this assured tragi-comic crime drama.
The cinematography drifts woozily out of focus as Arm struggles to comprehend the fast moving world around him
This is the first feature from former Screen Star Of Tomorrow Nick Rowland, who won best short at EIFF 2014 with Slap. And as a statement of intent, it's unequivocal: Rowland combines striking visual flair with razor-wire character studies. The film, drenched in a sense of place and clouded with simmering unease, should appeal to the audience which responded enthusiastically to Michael Pearce's Beast, both in further festival slots and released theatrically. It's a showcase for Rowland certainly, but also for the crisp writing talents of Joe Murtagh, who carves a broad tragic-comic sweep out of a short story by Colin Barrett and wields dialogue with the elaborate savagery of Martin McDonagh.
Bulked out and shaven headed, Jarvis is barely recognisable as the cocksure lover from Lady Macbeth. His face has an idea of handsomeness about it which is slightly slurred by the drink and drugs that Dympna Devers (Barry Keoghan) pours into him. Dympna is a friend. Or was one at least, but now the power in their relationship seems to flow one way. "This is not loyalty. It's servitude." spits Ursula, Arm's ex, who feels that their son would be better off with no access to a father who "beats up junkies until they shit themselves." Dympna drips poison into Arm's ears – that Ursula is taking advantage of him, that she's fake. And Arm obediently repeats it back to her. He lost the knack of thinking for himself along with his abruptly curtailed boxing career.
Set in rural Ireland (and filmed in Galway and Co. Clare), the film unfolds in spiteful small towns and against landscape which is frequently handsome in a scowling, fractious kind of a way. But the drama of the setting is punctuated with absurdity: Arm, striding out of the home of a man he was sent to beat for a transgression involving the youngest Devers sister, with a plasma screen under his arm. A plasma he fails to divest himself of at every subsequent port of call.
The natural response to someone like Arm is to either pity him or fear him. But Rowland encourages the audience to understand him. Jump cuts in the editing of fight sequences hint at a mind short-circuited by a few too many thumps to the head. The cinematography drifts woozily out of focus as Arm struggles to comprehend the fast moving world around him. And sound design is particularly effective – in a club, when Arm sees his ex with another man, the music builds to an almost unbearable crescendo, until it seems certain that someone's going to get hurt, one way or another. But for all this, the bravura moment of the film is not one of the more stylistically assertive episodes, but a wrenching, pensive scene towards the close of the picture which focuses entirely on Jarvis's face.
Production company: DMC Film, Element Pictures
International Sales: Altitude Film Sales info@altitudefilment.com
Producer: Daniel Emmerson
Screenplay: Joe Murtagh
Production Design: Damien Creagh
Editing: Nicolas Chaudeurge, Matthew Tabern
Cinematography: Piers McGrail
Music: Blanck Mass
Main cast: Cosmo Jarvis, Barry Keoghan, Niamh Algar, Ned Dennehy, David Wilmot