Using out-takes of Paul Newman to resurrect a key character feels like a ghoulish top-note on a franchise which has run out of gas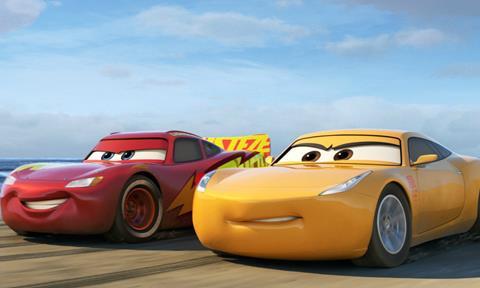 Dir: Brian Fee. US. 2017. 109mins
In Cars 3, champion racer Lightning McQueen grapples with the possibility that his glory days are behind him — an uncomfortably apt metaphor for a franchise which has run out of gas. Pixar's latest boasts the company's reliably cheerful disposition and gorgeous visuals, but otherwise this meandering, pedestrian affair is never particularly funny or poignant — the hallmarks that once made this studio the gold standard for Hollywood animation.
…an unsophisticated story that takes few risks and caters to children at the expense of their parents
Opening June 16 in the US, this Disney release represents a shift back to the sweet, sentimental tone of the 2006 original and a move away from Cars 2's sleek, spy-movie aesthetic. The first two instalments combined ftook just over $1bn worldwide, and considering that it has been six years between instalments, there should be pent-up anticipation among family audiences. But the new film's ho-hum execution might depress grosses a little, as will the fact that Cars 3 is geared to younger crowds as opposed to Pixar's more all-ages adventures.
Owen Wilson returns to voice Lightning McQueen, a hotshot racer who discovers that he's not as fast as a new generation of high-tech competition — particularly the arrogant up-and-comer Jackson Storm (voiced by Armie Hammer). Demoralised and facing an uncertain future, Lightning teams up with an uber-positive trainer named Cruz Ramirez (voiced by Cristela Alonzo) to hunt down his beloved, deceased mentor Doc Hudson's legendary coach Smokey (voiced by Chris Cooper) in order to regain his edge.
Making his feature directorial debut, Pixar storyboard artist Brian Fee has conceived Cars 3 as a meditation on the passage of time, the anxiety of getting older and the struggle to find one's place. Whereas Cars 2 turned the focus on cartoonish supporting character Mater (voiced by Larry The Cable Guy), the new film thankfully returns him to the role of comic relief while concentrating on Lightning's painful realisation that the only thing that has given his life purpose — being a world-class racer — is disappearing and that he may need to start a new chapter.
Unfortunately, these potentially touching themes are flattened by an unsophisticated story that takes few risks and caters to children at the expense of their parents. The animation is often splendid, and the cars' lively faces can be adorable. But Wilson's boyish enthusiasm can't propel the one-note Lightning, who has never been as richly nuanced a character as Pixar's best creations. Cars 3 can't generate much pathos from Lightning's existential dilemma, instead delivering a perfunctory sports-movie narrative that finds him training for a big race in which he needs to defeat Jackson Storm or go into retirement.
The new members of the voice ensemble have been chained to drab roles. Hammer lends his haughty air to Jackson Storm, and Cooper has all the requisite grizzled gravitas for Smokey, but they're stereotypes in search of a novel twist. Alonzo is slightly more successful as Cruz, a peppy trainer who never became a racer because she lacked self-assurance, but the new-age-y character's mildly contentious relationship with the no-nonsense Lightning produces very little comedic spark.
In keeping with Cars 3's fixation on the passage of time, one of the most affecting turns comes from Paul Newman, who voiced Doc Hudson in the original film. Dead now for nine years, Newman portrays the dearly departed guru in flashbacks as a directionless Lightning struggles to find his confidence. (The character's dialogue comes from outtakes from Cars recording sessions.) But although the Oscar-winning actor's warm, gruff voice is a welcome addition to Cars 3, it feels slightly ghoulish of the filmmakers to use old Newman audio to stitch together a new performance.
While much of Cars 3 rolls along predictably, the finale throws out a plot twist that, theoretically, could be a clever subversion of the script's biggest narrative cliché: the hurtling toward an inevitable showdown in which our aging hero must prove he's still on top. Sadly, that twist doesn't work because it feels like a bit of a cheat and because the seven credited writers haven't laid enough character groundwork for it to be believable. Like the film's speedy racers, Cars 3 goes round and round — but it never really gets anywhere.
Production company: Pixar Animation Studios
Worldwide distribution: Disney, www.disney.com
Producer: Kevin Reher
Executive producer: John Lasseter
Screenplay: Kiel Murray, Bob Peterson, Mike Rich; original story by Brian Fee, Ben Queen, Eyal Podell, Jonathon E. Stewart
Cinematography: Jeremy Lasky (director of photography/camera) and Kim White (director of photography/lighting)
Production design: William Cone, Jay Shuster
Editor: Jason Hudak
Music: Randy Newman
Website: www.Disney.com/Cars3
Main Voice Cast: Owen Wilson, Cristela Alonzo, Chris Cooper, Nathan Fillion, Larry The Cable Guy, Armie Hammer