A 'New Yorker' short story becomes a feature-length examination of a young woman's dating fears starring CODA's Emilia Jones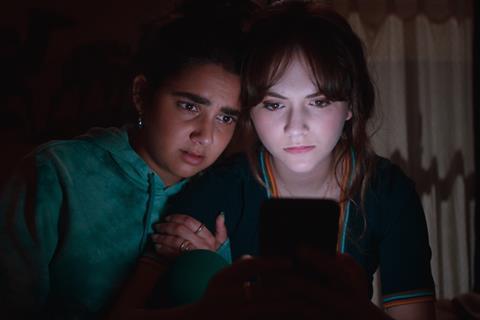 Dir: Susanna Fogel. France/US. 2023. 119mins
The fears of a female college student embarking on a potential romance with an older man drive the narrative of Cat Person, which aims to be both comedic and terrifying – no doubt accurately reflecting many women's anxieties about toxic relationships. Based on Kristen Roupenian's much-discussed 2017 short story, this adaptation works best when capturing the fraught realities around a dating world complicated by technology and a growing understanding of how dangerous some men can be. Emilia Jones and Nicholas Braun let the tension build between their characters and, although director Susanna Fogel doesn't always navigate the film's tricky tonal shifts well, Cat Person pokes at larger issues about modern courtship that don't seem likely to disappear anytime soon.
As a time capsule for an anxious age, Cat Person gets its claws into you
This Sundance premiere should be a buzzy proposition, bolstered by its rising stars and the amount of conversation the original short story generated when it was first published in 'The New Yorker'. Not unlike 2020's Promising Young Woman, Cat Person will speak to viewers still wrestling with the aftermath of #MeToo, with plenty of opinion pieces sure to appear in the wake of the film's eventual theatrical release.
Jones, who was Oscar-nominated for CODA, plays Margot, a second-year student who works at a revival cinema who attracts the attention of Robert (Braun), a soft-spoken, slightly awkward patron. They start texting, developing a rapport over their smartphones that Margot considers turning into an in-person dating situation. But the more time she spends with him in real life, the more she begins to question whether the appealing man she got to know over text is all that similar to his actual personality.
Working from a script by Michelle Ashford, Fogel (who won a DGA award for directing an episode of the acclaimed series The Flight Attendant) opens the adaptation with a Margaret Atwood quote: "Men are afraid that women will laugh at them. Women are afraid that men will kill them." Fogel proceeds to spend the next two hours proving the author's thesis, studying the nervous dating rituals of a young woman who has grown up fearing men's potential for violence. Careful while walking across campus at night alone lest she be assaulted, Margot sees in the older Robert an insecure but perhaps ultimately harmless fellow who is really into Harrison Ford films. Exacerbated by her cynical roommate Taylor's (Geraldine Viswanathan) warnings that men aren't to be trusted, Margot proceeds cautiously, with Robert's frequent flirty texts helping her feel more confident that he actually might be a good guy.
Those who read Roupenian's short story will know what happens next, but suffice it to say that once Margot lowers her guard, Robert begins to exhibit creepier behaviour — or, at the very least, what appears to be creepier. Braun is quite good at having Robert reside in an uncomfortable no-man's-land between awkward and vaguely menacing. Bearded and slightly intense, Robert has a playful sense of humour but also seems somewhat patronising and controlling. Cat Person ably illustrates how young women like Margot feel forced to choose between coming across as uptight or putting themselves in situations in which they don't feel safe.
Jones plays Margot as bright but also self-conscious. Much like Robert, Margot is skittish about getting into a relationship — although as the Atwood quote suggests, for entirely different reasons — and the picture puts us inside her wary mindset, occasionally visualising scenes that are happening only in her head, some of which are romantic while others seem straight out of a horror film. Fogel wants the viewer to feel Margot's trepidation, which can lead to comedic moments. As the film progresses, though, the tone turns increasingly dark and tense.
As an attempt to encapsulate women's dread of men — as well as the ways in which society makes women feel inferior to men — Cat Person can be quite pointed. By expanding the short story and inventing a new third act, the adaptation isn't always as compelling in its plotting, however, sometimes recycling romantic-thriller tropes that aren't any more fresh because of the zeitgeist-y premise.
It helps that Jones and Braun exude a warm chemistry that also makes room for an edginess between their characters. Both Margot and Robert are worried about being hurt, their fears amplified by a dating world in which concerns about sexual assault and inappropriate conduct are being more scrupulously examined. Some of the twists aren't expertly executed, but as a time capsule for an anxious age, Cat Person gets its claws into you.
Production companies: Studiocanal, The New Yorker Studios
International sales: Studiocanal, info@studiocanal.com and catperson@studiocanal.com
Producers: Jeremy Steckler, Helen Estabrook
Screenplay: Michelle Ashford, based on the short story 'Cat Person' by Kristen Roupenian, as first published in 'The New Yorker'
Cinematography: Manuel Billeter
Production design: Sally Levi
Editing: Jacob Craycroft
Music: Heather McIntosh
Main cast: Emilia Jones, Nicholas Braun, Geraldine Viswanathan, Hope Davis, Fred Melamed, Isabella Rossellini