Three adult actresses pretend to be pre-teen girls in order to highlight the dangers of online paedophilia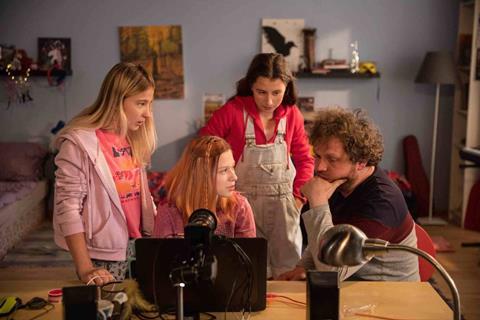 Dirs/scrs: Barbora Chalupova, Vit Klusak. Czech Republic/Slovakia. 2020. 100mins
A provocative experiment yields fascinating, unnerving results in Caught In The Net, in which documentarians Barbora Chalupova and Vit Klusak discover the extent of online child abuse occurring in their native Czech Republic. Casting three adult actresses to play 12-year-olds who interact with men on platforms like Facebook and Skype, the film chronicles just how quickly these predators try to sweet-talk or browbeat the women into taking off their clothes or sending them racy pictures. Sometimes difficult to watch but also an important record of the dangers that await young people when they log on, Caught In The Net is enraging and startling.
Dissects the would-be abusers' strategies to marvellous effect
Already a hit in the filmmakers' homeland, the movie (which is part of CPH:DOX now-online festival) could find an overseas audience considering that, sadly, online predation knows no boundaries. Caught In The Net's marketable hook and hot-button topicality — not to mention its cathartic ending — should all contribute to the documentary's visibility.
As Caught In The Net begins, we learn the ground rules for this experiment: Chalupova and Klusak send out a casting notice, looking for adult actresses who can play young. At the audition, the actresses learn that they are to portray 12-year-old who, through fake online profiles, will live-chat with men, establishing from the beginning of their encounters that they are underage. The filmmakers, accompanied by psychologists, lawyers and others, will monitor the interactions to study the men's behaviour.
What could have easily been a reality-show stunt is, instead, a gripping, dispiriting exploration of the way that paedophiles prey on young girls online. We recognise early on just how widespread the phenomenon is: When the filmmakers are auditioning actresses, a majority of the applicants say that they themselves experienced some form of online abuse as children. And, indeed, the three women who are ultimately chosen for the experiment, Sabina, Anezka and Tereza, begin receiving messages from men almost as soon as their profiles go up. Soon, the actresses (and the audience) are exposed to photos of male genitalia, images from underage porn and leering advances from predators who want to masturbate on camera.
Remarkably, Chalupova and Klusak manage to keep this riveting rather than simply nauseating, chiefly by letting us spend enough time with Sabina, Anezka and Tereza so that they're not merely bait. Caught In The Net is suffused with outrage but, because the filmmakers and these actresses are in control of the situation, the audience feels a sense of empowerment over these pathetic sexual predators, who range in age from 30 to pensioners and are unaware that they're the experiment's lab rats.
To that end, Caught In The Net dissects the would-be abusers' strategies to marvellous effect. Distorting their faces so that we see only their eyes and mouths while the rest of their head is a fuzzy blob, the filmmakers dehumanize these men, which makes them seem extra-ghoulish. For English-language viewers, the subtitles provide an additional gut-punch: Reading these men's craven words on the screen as they try to ingratiate themselves and ask for sexual favours only underlines how disgusting they are. And as some of the paedophiles return for multiple online sessions, we start to notice patterns in their behaviour, hinting at the depth of their depravity.
All three actresses acquit themselves heroically under difficult circumstances, but they clearly relish the opportunity to turn the tables on these men, leaving them sexually frustrated by denying their requests. (As the experiment continues new dimensions are introduced, but the women remain in complete control.) Caught In The Net can sometimes be so outlandish in what it shows that it's almost impossible to believe that what we're seeing is real — especially when the actresses eventually meet a few of these paedophiles in public. But the sobering truth is that, for too many young people, this seeming outrageousness is depressingly commonplace.
No wonder that the movie's ending, which involves an impromptu confrontation with one of the men — who is someone known to Caught In The Net's makeup artist — has such a jolt to it. Online predators think they're safe on the web but, for once, an abuser gets his just desserts in the real world.
Production companies: Hypermarket Film, Czech Television, Peter Kerekes, RTVS, Helium Film
International sales: Autlook Filmsales, welcome@autlookfilms.com
Producers: Vit Klusak, Filip Remunda
Editing: Vit Klusak
Cinematography: Adam Krulis
Music: Pjoni