Elizabeth Banks' real-life tale of a drug-fuelled rampaging bear doesn't deliver much of a high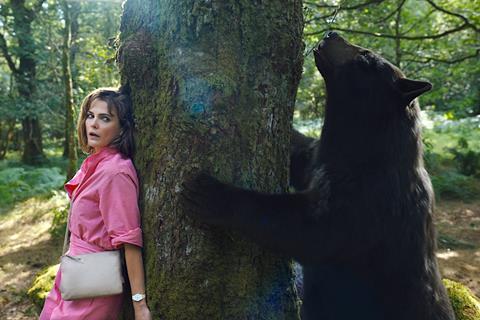 Dir: Elizabeth Banks. US. 2023. 95mins
Hoping to be an outrageous, gory good time, Cocaine Bear has some cheeky fun adapting a true story about some missing drugs and the furry mammal that consumes them, transforming the titular bear into a ferocious predator that lays waste to everything in her path. Director Elizabeth Banks' third feature leans into the material's trashy B-movie qualities, treating this oddball crime saga as a dark comedy that is only sporadically as clever as it thinks it is. The bloodier the bear attacks, the better the film – which sadly is not often enough.
Cocaine Bear's true star is the film's winking irreverence and knowingly silly premise
Universal Pictures releases this snarky beast in the UK and US on February 24, betting that the picture's viral-sensation trailer will help lure audiences to theatres. The cast includes Keri Russell, O'Shea Jackson, Jr. and the late Ray Liotta, who gives one of his final performances, but Cocaine Bear's true star is the film's winking irreverence and knowingly silly premise. Expect myriad comparisons to another self-consciously schlocky action-thriller, 2006's Snakes On A Plane, although Universal will want to top that film's meagre $62 million worldwide gross.
In 1985, a large shipment of cocaine is accidentally dumped out of a plane over the forests of Georgia, prompting drug kingpin Syd (Liotta) to send his son Eddie (Alden Ehrenreich) and his friend Daveed (Jackson, Jr.) to retrieve the lost drugs. Meanwhile, in those same woods, a divorced single mum, Sari (Russell) is looking for her wilful daughter Dee Dee (Brooklynn Prince). But what none of these people know is that a fearsome bear has found some of the cocaine, devoured it, and is now so high that she wants to attack whatever she sees — especially unsuspecting humans.
With Cocaine Bear, which is based on actual events, Banks (Pitch Perfect 2, the 2019 Charlie's Angels remake) has once again made a film whose principal objective is to offer pure escapism. While some of the bear's assaults can be gruesome, the overall mood is playful, with Banks mocking both nature-attacks horror-thrillers and the cheesy, low-budget Sharknado-type pictures that litter lesser cable networks. Whether impishly scoring traumatic sequences to poppy Depeche Mode songs or encouraging composer Mark Mothersbaugh to craft over-the-top dramatic themes, the director wants us to laugh and be scared simultaneously, the gore mostly used to punctuate what's funny about the film's witless secondary characters being killed off.
Unfortunately, the Sari storyline isn't very interesting, while Eddie and Daveed's search for the drugs is fairly forgettable until they encounter the bear. The CGI used to bring the animal to life is convincing though, and Banks makes good use of close-ups to emphasise the bear's bloodthirsty glare and horrifyingly sharp teeth. Wisely, Cocaine Bear is sparing in how much it shows its titular character, which allows her every appearance to be sufficiently frightening, even when her arrival signals it's time for laughs. (Most of her victims die in disgusting ways, although Banks always stresses the funhouse thrills, constantly reminding us not to take the stranger-than-fiction proceedings too seriously.)
To be sure, the characters are meant to be somewhat stock in order to lampoon genre conventions, but they are not entertainingly cliched. Ehrenreich does what he can to make the sweet-tempered Eddie sympathetic, while Isiah Whitlock Jr. approaches his stereotypical weary veteran detective with deadpan humour. As for Liotta, his snarling criminal is too familiar to crackle. Ultimately, everybody in Cocaine Bear is made out of cardboard, leaving audiences to wait until the digital beast returns to the screen for something exciting to happen.
Jimmy Warden's screenplay does contain a couple witty bits of business. A chase sequence involving an escaping emergency vehicle and a quickly approaching bear is brutally efficient, and a few of the running jokes consistently hit their target. (The best involves the fact that absolutely no one knows if you are supposed to play dead or actively engage a bear in order to keep from getting eaten. Spoiler Alert: it may not make much of a difference when you're staring down a hairy killing machine on cocaine.)
But for all its attempts to deliver down-and-dirty pulp delights, Cocaine Bear is too often little more than a mediocre simulation of the so-bad-it's-good guilty pleasures crafted by far less talented artists than the ones in front of and behind the camera of this picture. Unlike its zonked-out predator, Banks' film rarely feels similarly energised.
Production companies: Lord Miller, Brownstone, Jurassic Party
Worldwide distribution: Universal Pictures
Producers: Phil Lord, Christopher Miller, Elizabeth Banks, Max Handelman, Brian Duffield, Aditya Sood
Screenplay: Jimmy Warden
Cinematography: John Guleserian
Production design: Aaron Haye
Editing: Joel Negron
Music: Mark Mothersbaugh
Main cast: Keri Russell, O'Shea Jackson, Jr., Christian Convery, Alden Ehrenreich, Jesse Tyler Ferguson, Brooklynn Prince, Isiah Whitlock Jr., Margo Martindale, Ray Liotta