Keira Knightly stars as the unheralded Parisian author Sidonie-Gabrielle Colette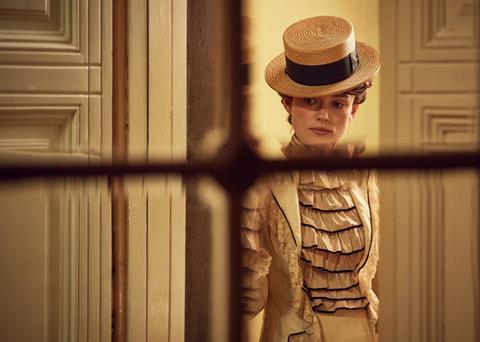 Dir: Wash Westmoreland. UK. 2017. 111mins
The delightful, sexy biopic Colette showers its affection on Sidonie-Gabrielle Colette, the turn-of-the-century Parisian author whose struggles to have her creativity recognised still resonate in our modern age of gender inequality. Keira Knightley plays Colette with wit and backbone, giving the proceedings a crowd-pleasing tone that never feels cloying. And although director Wash Westmoreland tackles several serious subjects — sexual liberation, the repression of women's voices, the power of art to change society — the movie has such a playful spirit that the talking points go down smoothly.
The triumph is hard-fought for Colette, but Westmoreland's film makes her personal transformation cheering and deeply satisfying.
Screening in Sundance's Premieres section, Colette ought to appeal to older art-house crowds, and while those outside France may not be as familiar with Colette's work, Knightley's marquee value should help compensate. Warm word-of-mouth may boost box office.
The film follows Colette (Knightley) as a young woman being courted by a debonair impresario known simply as Willy (Dominic West). She marries the man, who is trying to make his name by launching a successful literary brand — an ambition that, thus far, has proven fruitless. That's when Colette comes up with an autobiographical idea built around a sexually adventurous teen named Claudine. The book is a hit, and Willy takes the credit, pressuring his wife to write more novels featuring this popular protagonist.
Colette was a passion project for Westmoreland and his late partner Richard Glatzer, who together directed Still Alice and Quinceañera. But the years spent developing the material haven't produced a laboured or ponderous effort. Quite the contrary, Colette (which is dedicated to Glatzer) is often cheeky as it chronicles this unconventional marriage and roots for Colette as she discovers her artistic side and then finds her freedom.
Indicative of the movie's spirited tone is the fact that, when Colette discovers that Willy has been unfaithful to her, she eventually uses that as fodder for her work and motivation to seek out personal happiness. Colette makes clear that although there was mutual respect — even love — between these two people, their marriage was largely a business partnership, with her providing the bestselling novels and him brilliantly marketing them to the masses. Westmoreland is non-judgemental about this arrangement, breezily dramatising how Colette and Willy pursue other sexual partners — sometimes the same person — and enjoy the massive success of Claudine. Eventually, though, Colette must rid herself of this man who seeks to control her creation.
In her career, Knightley has sometimes come across as distant or brittle onscreen, and some of that reserve is still on display in Colette. Her performance couldn't be described as unbridled, but she plays the author as a woman learning to stand up for herself creatively and to be comfortable with her sexual yearnings. The actress has a tart rapport with West, whose Willy isn't a cartoon cad but does try to hold her down, insisting that the books must be published under his name since readers won't buy novels from female authors. West does a nice job showing how this man could both sincerely love Colette and repress her, revealing the nuance within the character's callousness.
In telling Colette's story, Westmoreland also illustrates how Claudine transformed popular culture, introducing a new type of heroine that society had never experienced before. Colette is similar to other biopics in its depiction of the inevitable downside of success, but the film argues that, for Colette, being the unheralded inspiration for a literary phenomenon also taught her to have the strength to let that character go. Just as a dalliance with an American beauty (Eleanor Tomlinson) helped to open her up sexually — leading to her most satisfying relationship later in life — so too was Claudine just a stepping stone to the fulfilment this artist was always seeking. The triumph is hard-fought for Colette, but Colette makes her personal transformation cheering and deeply satisfying.
Production companies: Bold Films, Killer Films, Number 9 Films
US sales: CAA/Endeavor Content, filmsales@caa.com and info@endeavorcontent.com
International sales: HanWay Films, info@hanwayfilms.com
Producers: Elizabeth Karlsen, Stephen Woolley, Pamela Koffler, Christine Vachon, Michel Litvak, Gary Michael Walters
Executive producers: Svetlana Metkina, Norman Merry, Mary Burke
Screenplay: Richard Glatzer, Wash Westmoreland, Rebecca Lenkiewicz, story by Richard Glatzer
Cinematography: Giles Nuttgens
Production design: Michael Carlin
Editor: Lucia Zucchetti
Music: Thomas Adès
Main Cast: Keira Knightley, Dominic West, Denise Gough, Fiona Shaw, Eleanor Tomlinson