Real-life tale of a Korean-American writer who returns home to care for his terminally ill mother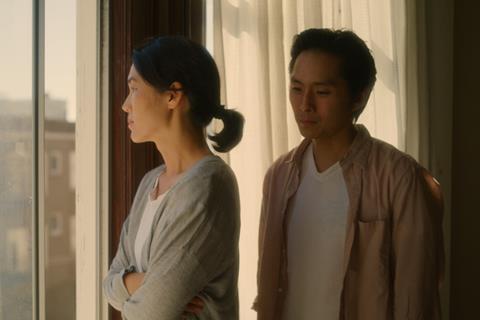 Dir: Wayne Wang. USA-South Korea. 2019. 87mins
The restrained, austere filmmaking of the latest picture from Wayne Wang belies the emotional depth of this sober picture. A portrait of an adult son caring for a mother who is slowly and painfully losing her fight against cancer, the film is based on a personal easy by Korean American writer Chang-rae Lee (Native Speaker), which was published in the New Yorker. The film gently explores the shared language of love between mother and son: the recipes that she cooked for him and he now tries to recreate for her. Wang seasons this family drama with understated hints of domestic turmoil, as the New Year celebration plays out under the shadow of the mother's failing health.
Wang favours long, static mid shots which emphasise a sense of time slowing down.
The name recognition and goodwill attached to Wayne Wang should mean that the film will travel to further film festivals – it screens in Busan following a world premiere in Toronto – where it should appeal to audiences with a taste for adult drama and beautifully presented Korean food. The star power of Justin Chon (Twilight, Gook) in the central role of Chang-rae should also be a useful marketing angle. Perhaps a little understated to register as an art house break out theatrically, the film could do moderate business, particularly chiming with Korean expat communities. The intimacy of the storytelling – and those tenderly executed cooking sequences – means that the film could work equally effectively on a streaming platform as it does in the cinema.
The film opens on a close up of food preparation. A knife is slicing, with the precision born of years of practise, through a piece of meat striated with fat. In a voiceover, Chang-rae describes his mother's instructions in preparing this, her signature dish, galbi. "The meat needs the bone nearby, to borrow its richness." Chang-rae chews over his mother's words, as if tasting out a hidden meaning. Her recipe instructions are phrased in a way that sounds as though a deeper wisdom is being passed on along with the ingredient list.
Wang favours long, static mid shots which emphasise a sense of time slowing down. The stillness within the frame is accentuated by sound which picks up the constant hum of movement and bustling traffic outside the window. Chang-rae has left his job in New York to come back to the family home in San Francisco, in order to nurse his mother. It becomes clear that he has no intention of going back; his career is on hiatus for as long as she needs him.
The colour palette in the sick room - the living room has been repurposed now that Chang-rae's mother (Jackie Chung) is too weak to climb the stairs to the bedroom – is a washed out grey-beige. It's a shade reminiscent of old, discarded bandages, and it contrasts with the warmer, more vital tones of the flashbacks which are woven throughout the picture. In these we see the mother, before her sickness hollowed her out, staring fiercely at her son as she talks him through the marinade which makes her galbi so tender and sweet. We glimpse the ghost of this same direct glare when the mother, struggling to walk on her own from her bed to the bathroom, warns her son away from helping her.
"I've always thought it was particularly cruel that the cancer was in her stomach, and that for a long time at the end she couldn't eat." Nevertheless, Chang-rae is determined that he is going to show his love for his mother in the same way she did for him: by cooking. He plans to celebrate New Year's Eve by "making her the meal she always cooked for me when I came home from school."
It becomes clear that Chang-rae owes more to his mother than just her recipes. The sacrifices she made for him and his sister weigh heavily, leaving a bad taste which threatens to ruin the meal that he is creating so meticulously. Flickering flashbacks hint at parental displeasure over Chang-rae's choice of writing as a career, and maternal frustration over the fact that he was studying so far from the family home. There's also the fact that the mother stayed in a marriage which perhaps should have ended with her husband's infidelity for the sake of the children. The dutiful son must wrestle with all this, as well as the fact of his mother's illness in this affecting study of grief.
Production Company: Center for Asian American Media
International sales: Asian Shadows contact@chineseshadows.com
Producers: Donald Young, Naja Pham Lockwood
Screenplay: Wayne Wang, Chang-rae Lee
Editing: Deirdre Slevin, Ashley Pagan
Cinematography: Richard Wong
Production Design: Minseo Kang, Elyse Wang, Chris Quilty
Main cast: Justin Chon, Jackie Chung, Christina July Kim, John Lie