Glasgow opens with this pacey biopic of Creation Records founder Alan McGee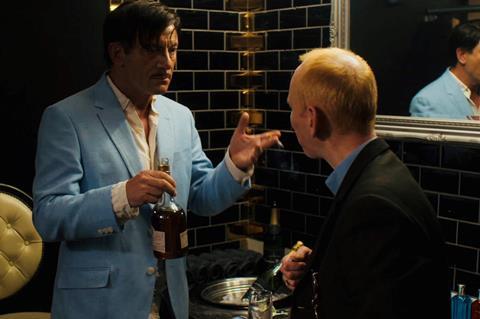 Dir. Nick Moran. UK. 2020. 108 mins.
Director Nick Moran takes a leaf out of his executive producer Danny Boyle's book for the adaption of Creation Records founder Alan McGee's memoir, proving that approaching material with high energy and at maximum velocity can go a long way when it comes to carrying an audience with you, even if some of the underlying story lacks detail.
There's a larger than life feel to Moran's first directorial outing in a decade and some may find its constant hopping from one place to the next exhausting as the action wears on
The film's links to Trainspotting don't stop at Boyle, as Ewen Bremner, who played Spud in Boyle's films, steps into the shoes of the music maverick, while Irvine Welsh co-writes the screenplay with Dean Cavanagh (Wedding Belles). This Sky Original film will be released on Sky Cinema in March after its world premiere at the Glasgow Film Festival, and is likely to strike a particular chord with those who lived through the UK music scene of the 1980s and 90s and who will quickly tune in to who is who.
Speed is of the essence - there's no hanging about with the tale, largely framed by McGee on a trip to mid-90s LA, where he snorts coke and reminisces with a reporter (Suki Waterhouse) about his past while also breaking the fourth wall to address us directly. He takes us back through the decades to see young McGee (played with a warm blend of cockiness and sensitivity by Leo Flanagan) in the working-class Glasgow home he shared with his sympathetic mum (Siobhan Redmond), handy-with-his-fists dad (Richard Jobson), supportive sisters and unpleasant gran. Finding friendship with Andrew Innes (Jack Paterson) and Bobby Gillespie (played by Ciaran Lawless and, as the years pass, Joseph Marshall), whom he would later sign as part of the Jesus and Mary Chain and Primal Scream, we're soon careering off with McGee to London and beyond.
There's a larger than life feel to Moran's first directorial outing in a decade and some may find its constant hopping from one place to the next exhausting as the action wears on. But if it occasionally strains too hard to underline its "rebellious" credentials, with an expletive-laden script, quick cuts, archive pop clips and trippy visuals, the brassy, keep-up-if-you-can approach keeps the authentic cadence of Glasgow and, more generally, helps Moran mitigate the slightly stagey production values and sets. The emphasis is on humour and the McGees' cramped council house provides the opportunity for some solid sight gags, including a series of claustrophobic Christmas dinners and a moment when, after we've watched the young McGee moshing round the living room to the Sex Pistols' Anarchy In The UK, the camera pulls back to show his gran looking on in horror.
That the action is being presented as a memory of sorts also helps it to just about get away with the fact that for a large portion of the film Bremner, 50, is playing both himself in the mid-90s and, equipped with a wig, his younger self in the 1980s, as, alongside Dick Green (Thomas Turgoose), Ed Ball (Mel Raido) and Joe Foster (Michael Socha), they begin to build Creation Records. Bremner does a lot to sell this bit of casting anarchy thanks to his edgy enthusiasm in the role. The casting occasionally drifts towards caricature, especially when the film makes an uneven jump to chronicle McGee's flirtation with the world of New Labour in its latter stages.
While taking in the expected elements of McGee's struggle for cash and his success with the likes of My Bloody Valentine and, most famously, Oasis, the film also touches on the way his partying lifestyle finally caught up with him – offering the opportunity for Jason Isaacs to drop in as a sleazy producer. It's a shame Moran doesn't pause for breath more often, as he finds poignancy in the film's all too brief reflective moments that feel like a missed opportunity for adding more emotional depth. If it's a legal buzz you're looking for, though, the soundtrack featuring everyone from David Bowie and Primal Scream to Oasis, should do the trick.
Production company: Burning Wheel Productions, Head Gear Films
International sales: Metro International Entertainment sales@metro-films.com
Producer: Shelley Hammond, Ben Dillon, Hollie Richmond, Nathan McGough, Orian Williams, Mickey Gooch Jr
Screenplay: Irvine Welsh and Dean Cavanagh, based upon the book 'Creation Stories: Riots, Raves and Running a Label' by Alan McGee
Production design: Matthew Button
Cinematography: Roberto Schaefer
Editing: Emma Gaffney
Original music: Chad Hobson
Main cast: Ewen Bremner, Suki Waterhouse, Leo Flanagan, Thomas Turgoose, Siobhan Redmond, Richard Jobson, Jack Patterson, Mel Raido, Michael Socha, Rebecca Root, Joseph Marshall, Ciaran Marshall, Jason Isaacs