John Leguizamo's directorial debut is the true story of an unlikely championship chess team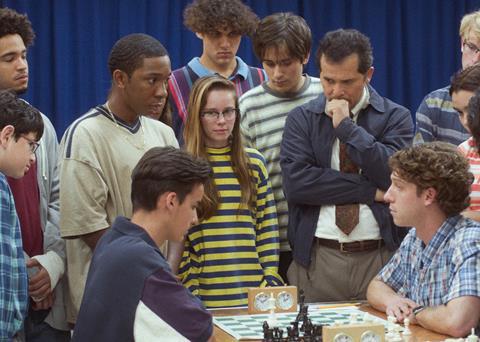 Dir: John Leguizamo. US. 2019. 117mins
Chronicling the true story of an unlikely championship chess team, Critical Thinking has plenty of heart, which unfortunately can't make up for its fairly uninspired design and predictable trajectory. Making his feature directorial debut, John Leguizamo (who also stars) digs into the cultural and political dimensions of the true story of an underfunded high school squad that, against all odds, bested players from more privileged communities. This inspirational sports drama has a worthy message — for many kids from difficult backgrounds, an education is crucial for escaping poverty — but viewers may ultimately prefer to have seen a documentary about the real-life participants rather than this earnest, conventional dramatisation.
Fashions itself as a classic underdog tale from the start
Initially programmed for South By Southwest, Critical Thinking will court buyers on the strength of Leguizamo's marquee value. Fans of feel-good sports movies — especially ones based on real events — should be intrigued, and the up-and-coming cast of young Latinx and African-American actors will appeal to audiences hungry for more diversity on screen.
In Miami in 1998, a dedicated but overworked teacher named Mr. Martinez (Leguizamo) works at one of Dade County's poorest schools, running a chess class for students who, oftentimes, have very little else that's positive in their lives. But once young men like Ito (Jorge Lendeborg Jr.), who has to work long hours to support himself, and Sedrick (Corwin Tuggles), who has a disciplinarian father, become experts in the game, Martinez fights to get the school to support a team that will compete in district meets.
Like many recent true-life dramas, Critical Thinking shows the real individuals during the end credits, speaking briefly about their experiences with this chess team. That device has become a bit of a cliché, which unfortunately is fitting for a film that too easily follows the tired tenets of sports dramas. It fashions itself as a classic underdog tale from the start, and nothing that happens in subsequent reels diverts Dito Montiel's script from its predetermined big-game finale.
That's a shame because Leguizamo is quite likeable as Martinez, largely staying away from the kinds of showy speeches that plague films of this ilk. This wise but pragmatic teacher, who grew up in the same community as his students, knows that rousing oratory won't help these kids. Instead, he shows tough love and advocates for chess's efficient, dispassionate strategising, which might motivate these players to feel like they have control over their destiny. And as a director, Leguizamo does a good job of conveying the controlled chaos of a high school classroom as Martinez relates to his brash, unruly wards, lending those scenes a realistically rambunctious energy.
Lendeborg and Tuggles lead a confident young cast, who often bring sensitivity to roles that are underwritten. Even though the characters are drawn from actual members of the '98 chess team, Critical Thinking tends to simplify their hardships until they feel like generic coming-of-age plights. (Ito gets involved in selling drugs, while Sedrick's clashes with his dad, played by Michael Kenneth Williams, don't have much resonance.) Because Leguizamo has to focus on several students' arcs, none of their chess exploits are particularly riveting — which makes the team's journey to the national championship less exciting than it should be.
Still, the movie's thoughtful tenor isn't to be discounted. This team will face off against opponents who are often white and privileged, and Critical Thinking consistently asks the audience to consider the racism and daily disadvantages that America's poorer communities must endure. For these students, chess is the one level playing field they have — the board doesn't discriminate because of your background, finances or skin colour — and there's poignancy in the small measure of comfort that provides our characters. But the filmmakers' willingness to plug their story into an inspirational-drama framework turns out to be a bad move — nuance and insight get sacrificed for reassuring narrative payoffs.
Production company: Chaplin/Berkowitz Productions
International sales: UTA, info@unitedtalent.com
Producers: Scott Rosenfelt, Jason Mandl
Screenplay: Dito Montiel
Production design: Mark Harrington
Editing: Jamie Kirkpatrick
Cinematography: Zach Zamboni
Music: Chris Hajian
Main cast: John Leguizamo, Jorge Lendeborg Jr., Angel Bismark Curiel, Will Hochman, Corwin Tuggles, Jeffry Batista, Zora Casebere, Ramses Jimenez, Rachel Bay Jones, Michael Kenneth Williams