Dirs/scr: Jay and Mark Duplass. US. 2010. 92 mins.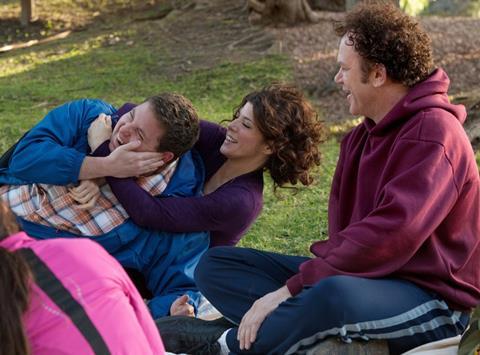 A very unusual romantic triangle powers the narrative engine for Cyrus, the Duplass brothers' peculiar and memorable third film. Executive produced by Tony and Ridley Scott and featuring a higher-profile cast than their previous comedies, Cyrus pours the idiosyncratic spirit of the Jay and Mark Duplass' previous micro-budget indies into the world of broad studio comedies, resulting in plentiful laughs and some truly poignant moments.
Jonah Hill turns in a creepy, funny performance as Cyrus, while Marisa Tomei does great work in the film's trickiest role as his mother.
Opening domestically later this year through Fox Searchlight, Cyrus should attract crowds thanks to stars John C. Reilly and Jonah Hill alongside a highly-marketable concept (grown son plots to break up his mother's new relationship). The film's mixture of comedy, drama and occasionally demented behaviour may prevent it from becomiing a runaway smash, however.
Lonely loser John (Reilly) falls for Molly (Marisa Tomei), but their budding love affair has one significant obstacle: Molly's 21-year-old son Cyrus (Hill) who lives with his mother and has an unhealthy attachment to her. At first John thinks the two men can be friends, but soon it becomes clear that Cyrus will stop at nothing to turn his mother against John.
In their 2006 debut The Puffy Chair, the Duplass brothers revealed a knack for dramatising twentysomething relationships with humour and raw honesty. Their second film, Baghead, was more audacious (though less successful), bringing together character comedy and slasher-style horror. It might initially seem as if Cyrus represents a return to pure comedy, but this seemingly broad farce soon turns darker and more intriguing.
Much of that weirdness comes from Hill's creepy, funny performance as Cyrus, who sneakily schemes to drive John away so that he can have Molly all for himself. In previous films, such as Knocked Up and Superbad, Hill has been cast as an obnoxious, volatile man-child, but with Cyrus he morphs into a weaselly, passive-aggressive manipulator who exploits his close bond with his mother to sabotage her potential happiness – while acting completely innocent. This satiric, demonic twist on the "mama's boy" archetypes is some of Hill's best film acting to date.
Although John is introduced as an ineffectual, unconfident dweeb, Reilly manages to convey his character's sweetness and depth so that Molly's interest in him never seems unbelievable.
Likewise, Tomei does great work in the film's trickiest role. Molly clearly loves Cyrus, but it's also obvious that she has coddled him to such a degree that the boundaries between mother and son are disturbingly blurry. Nonetheless, Tomei never makes Molly appear twisted or abnormal in her interactions with Cyrus, which gives their scenes an odd poignancy to go along with their inherent comedy.
On one level, Cyrus's obsession with his mother recalls the overgrown-adolescent humour of Will Ferrell films (some of which have co-starred Reilly), but the Duplass brothers use the silliness to get at a deeper truth about how immature men often want their lover to behave like a mother for them. Underneath all the laughs is an important lesson about our universal need for unconditional love and the lengths we'll go to in order to keep it.
To sign up for Screen's weekly Reviews Newsletter with all the week's new releases, international openings and full festival reviews delivered free to your mailbox every Friday, please click HERE
Production company
Scott Free
Domestic distribution
Fox Searchlight Pictures
International distribution
Twentieth Century Fox International
Producer
Michael Costigan
Cinematography
Jas Shelton
Production designer
Annie Spitz
Editor
Jay Deuby
Music
Michael Andrews
Main cast:
John C. Reilly
Jonah Hill
Marisa Tomei
Catherine Keener
Matt Walsh