Dir: Richard Raymond. UK. 2014. 103mins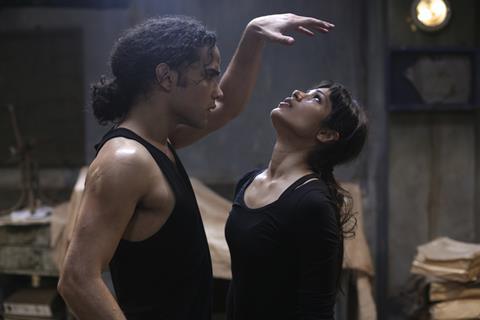 Art's power to serve as a respite from (and condemnation of) government oppression is celebrated in Desert Dancer, a fact-based account of an Iranian dancer that says all the right things about creative expression and Iran's thuggish regime. And yet, Richard Raymond's feature debut never overcomes a sluggish solemnity, the film's political points dulled by performances from Freida Pinto and Reece Ritchie which overvalue glum earnestness. Though suitably moving in parts, Desert Dancer is more dutiful than inspired, reducing a worthy message to lukewarm sermonising.
Desert Dancer has a bloodless politeness to its depictions of Iran's restrictive, intimidating policies.
Releasing April 10 in the US, Desert Dancer seems likely to be only a modest art-house performer. Although there have been successful mainstream dance movies, such as the Step Up series, in recent years, this Relativity offering features heavily theatrical interpretative dancing that's closer to ballet, which will make it a harder sell with general audiences. Those interested in a timely drama about Iran's Green Movement may seek out Desert Dancer, but home video should be a more inviting platform for this underwhelming, well-intentioned film.
The film is based on the life story of Afshin Ghaffarian, with Ritchie playing the young dancer, a student at the University of Tehran in 2009 just as the country is becoming embroiled in a contentious presidential election between Mahmoud Ahmadinejad and opposition leader Mir Hossein Mousavi. Amidst the swell of a potential popular uprising in Iran, Afshin longs to express himself through movement, even though his government forbids dancing. While at school, he meets a collection of likeminded students who also resent this oppression, teaming up to start an underground dance troupe. But the group finds its spiritual centre after meeting Elaheh (Pinto), a highly accomplished dancer who inspires them to elevate their routines.
Desert Dancer's political backdrop and clandestine storyline are rich dramatic material that Raymond only occasionally harnesses to its full potential. Enthralled by performing and dancing since childhood, Afshin isn't an antiauthoritarian firebrand but, rather, an ordinary man being deprived of his passion by a government that wants to crush individual expression. Ritchie conveys Afshin's sweetness and quiet resolve, but the man's ordinariness is emphasised too much, which prevents him from being very compelling.
This lack of incisiveness extends to other aspects of the film, too. Afshin soon learns that Elaheh has long been plagued by a heroin addiction, but Desert Dancer portrays her demons and her eventual cold-turkey recovery with distressing timidity. Even when Elaheh is in the throes of feverish sweats while trying to kick the habit, the worried Afshin holding her close the whole time, Pinto remains impossibly beautiful and immaculately made up, the harshness of the character's ordeal glossed over by filmic artificiality.
Likewise, the risks involved in Afshin and his friends starting this dance troupe and then planning a secret performance out in the desert aren't dramatised very grippingly. Desert Dancer doesn't try to be a thriller, focusing instead on the characters and their circumstance, but Raymond shows little knack for articulating the terror and ceaseless anxiety that accompanies such government oppression. Even when Iranian goons stab a friend of Afshin's — or Afshin himself is taken out in the middle of nowhere to be brutalised — Desert Dancer has a bloodless politeness to its depictions of the country's restrictive, intimidating policies.
That said, Desert Dancer does avoid certain clichés inherent in such a story. Although Afshin is instantly drawn to the alluring, damaged Elaheh, their relationship remains mostly platonic, their shared love of dance proving more important (and more sensual) than their pursuit of a romantic affair. Consequently, Ritchie and Pinto slowly reveal a bashful chemistry, their characters only really igniting during an emotionally complex dance near the film's end. Those brief moments of spark, however, are overmatched by too many moments in Jon Croker's screenplay where characters speak on-the-nose dialogue so that the audience has no doubts what Desert Dancer's main themes are. (Early on, Afshin announces, "When I dance, I feel free." He never grows more nuanced as a protagonist from there.)
Akram Khan's choreography can often be wondrous — providing the characters an avenue to communicate their deepest longings in a society that has otherwise clamped down on free speech — but at times, it can be too self-consciously poetic and expert for its own good. This is especially true at the finale when Afshin finds himself in a position of having to stand up for art in a far more vulnerable way than ever before. His mode of expression proves to be in keeping with his personality, but as conceived by Khan and Raymond, it's more technically impressive than emotionally resonant. In fact, the moment becomes an apt metaphor for Desert Dancer, which has meaningful things to say but not quite the faculty for saying them masterfully.
Production companies: May 13 Films, Rostik Investment Group, Sarah Arison Productions, Greene Light Films, Star Land kpc, BluePencilSet, LipSync Productions, 6Sales
US distribution: Relativity Media, www.relativitymedia.com
International sales: 6Sales, www.6sales.es
Producers: Pippa Cross, Fabiola Beracasa, Izabella Miko, Luis Astorquia
Executive producers: Sarah Arison, Ryan Kavanaugh, Tucker Tooley, Jason Beckman, Sally Greene, Rodika Zmikhnovskaya, Jeremy Cowdrey, Marina Fuentes Arredonda, Mohammed Al Turki, Hamza Talhouni, Norman Merry, Peter Hampden, Rick Porras, Nigel Thomas
Screenplay: Jon Croker, based on the life story of Afshin Ghaffarian
Cinematography: Carlos Catalan
Production design: Shahram Karimi
Editors: Chris Gill, Celia Haining
Music: Benjamin Wallfisch
Website: www.desertdancerthemovie.tumblr.com
Main Cast: Freida Pinto, Reece Ritchie, Tom Cullen, Nazanin Boniadi, Makram J. Khoury