Tribute to Gypsy jazz icon Django Reinhardt (Reda Kateb) set in wartime Paris opens the 2017 Berlinale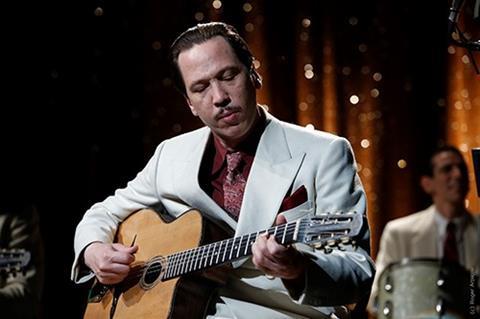 Dir: Etienne Comar. France, 2017, 115 mins
As a pre-eminent jazz aristocrat once taught, it don't mean a thing if it ain't got that swing. While, in terms of musical content, Django has swing a-plenty, cinematically Etienne Comar's drama about jazz guitar maestro Django Reinhardt is a slow crawl in decidedly unsyncopated 4/4 time. While his sober tribute to a French cultural icon aims for something of the same prestige status as Piaf biopic La Vie en Rose, this Berinale opening film seems unlikely to follow in that film's box-office footsteps. Still, unimpeachably honest intentions and a solid, laid-back lead performance by star Reda Kateb mean that at least the film won't be derided as Django Untuned.
Central to the film's appeal is the performance of Reda Kateb
The film is the directing debut of the versatile Etienne Comar, who made his mark as producer and co-writer of internationally feted Of Gods and Men by Xavier Beauvois (who has a cameo here as a doctor), as well as co-writing Maiwenn's Mon Roi and producing Abderrahmane Sissoko's Timbuktu. Based on a biographical novel by co-writer Alexis Salatko, Django covers the World War Two experiences of Reinhardt, the reigning god of Gypsy jazz, whose lightning playing partly arose out of the damage sustained by his left hand in a fire.
The film begins in occupied Paris in June 1943, where an insouciantly drunk Reinhardt turns up for a concert with his Quintette du Hot Club de Paris, before an audience heavy with German army personnel. Oblivious to the brutal effects of the Occupation on France's Gypsy population –shown in a dramatic opening sequence – Django regards the war as 'gadjo' (non-Gypsy) business and blithely continues to ride the wave of his success, with the prospect of command performances in Germany.
Warned of the prospective dangers of this by his sometime mistress, glamorous demi-mondaine Louise de Clerk (Cécile de France, likeable if somewhat on autopilot), Django eventually leaves for eastern France with wife Naguine (Beata Palya) and mother Negros (an engagingly cantankerous performance by doyenne BimBam Merstein), hoping eventually to cross to freedom in Switzerland. Then he is persuaded to play a concert for local Nazi officials, as a distraction for the smuggling of a British pilot. But Django finds a new closeness to the Gypsy community, whose suffering results in his composing a classical work, 'Requiem for the Gypsy Brothers', a reconstructed version of which closes the film.
It's significant that Comar chooses to end the film on this solemn, stately piece of music – accompanying a montage of photos of Gypsy victims of the war. While the film is deeply honourable in its intention to commemorate Gypsy identity, this decision is representative of a certain refusal of flippancy that arguably jars with Reinhardt's undoubted contribution to culture – an uncrushable joie de vivre and ceaseless formal inventiveness. Comar's film is hampered by its heritage-pic studiousness, and the decision to shoot in a reduced palette of browns and khakis – too often cinema's shorthand for World War Two austerity – results in a distinctly oppressive visual drabness.
The script by Comar and Salatko is certainly acutely tuned to contradictions, whether it's Reinhardt's initial refusal to see the compromise involved in his own success under the Occupation; or the moral ambiguity of Louise; or indeed, the perversity of a roomful of Nazis enjoying music which originates from cultures they despised. Central to the film's appeal is the performance of Reda Kateb, whose status in French cinema has risen consistently since he made his mark in A Prophet. His onstage performances as Reinhardt capture the musician's concentration and intensity, but offstage – except in his more breezily drunken moments - his Django comes across as a little too introspective and careworn to entirely mesmerise.
Musically, though, the film is a treat, with Reinhardt's compositions set alight by performers the Rosenberg Trio, and violin virtuoso Warren Ellis (of Bad Seeds fame, who co-scored recent Kateb vehicle Far From Men) adding moody interludes.
Production companies: Fidélité, Arches Films, Curiosa Films, Moana Films, Pathé, Auvergne Rhône Alpes Cinéma
International sales: Pathé International, sales@patheinternational.com
Producers: Olivier Delbosc, Marc Missonnier
Screenplay: Étienne Comar, Alexis Salatko, adapted from Folles de Django by Alexis Salatko
Cinematography: Christophe Beaucarne
Production design: Olivier Radot
Editor: Monica Coleman
Music: Django Reinhardt, The Rosenberg Trio, Warren Ellis
Main cast: Reda Kateb, Cécile de France, Beata Palya, BimBam Merstein, Gabriel Mirété