'This might be the funkiest, most peculiar instalment of the MCU'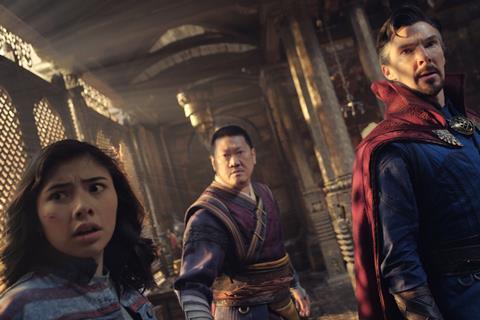 Dir: Sam Raimi. US. 2022. 126 mins.
A common complaint about Marvel pictures is that their assembly-line conformity doesn't allow the individual filmmaker's personality to shine through. Happily, that is not the case with Doctor Strange In The Multiverse Of Madness, which clearly bears the fingerprints of director Sam Raimi, infusing the material with the same trippy, giddy spirit which has guided his best work. As a result, this might be the funkiest, most peculiar instalment of the MCU, mixing horror and knowingly schlocky B-movie pleasures alongside the usual amounts of spectacle and fan service.
A superhero adventure that boasts a fair share of irreverence and pulpy intensity
Arriving in UK theatres on May 5, with the US launch the following day, Multiverse Of Madness will be challenged to match the four-quadrant Spider-Man: No Way Home's stunning $1.9 billion haul worldwide. Nevertheless, strong reviews and a seemingly insatiable audience appetite for more MCU films should propel this latest chapter to stellar grosses.
Benedict Cumberbatch returns as Doctor Strange, tormented by dreams of failing to save a mysterious young woman (Xochitl Gomez). He will soon learn, though, that his nightmares are real when he meets the woman, named America, and she explains that she has the power to leap between universes — and that she is being hunted by the fearsome Avenger Wanda (Elizabeth Olsen), who wants to harness America's powers so that she can travel to other realms and reconnect with her children, which she lost in this world. Strange's desire to protect America will put him at odds with Wanda, sending them all across the multiverse — where he will make contact with another Christine (Rachel McAdams), his former flame from our world.
The 2016 Doctor Strange film was novel because of its mind-bending effects, giving us a mystical character able to skip dimensions and defy the laws of physics, which led to dazzlingly psychedelic set pieces. Raimi, making his first feature since 2013's Oz The Great And Powerful, is well-suited for this story because of his work on the Tobey Maguire Spider-Man trilogy, but he also draws on earlier films — specifically, the slapstick, gory glee of the Evil Dead horror-comedies — to deliver a superhero adventure that boasts a fair share of irreverence and pulpy intensity.
As with Spider-Man: No Way Home, which introduced the idea of the multiverse to the MCU, Multiverse Of Madness has fun hurtling its main character into a strange realm where the rules of our reality don't necessarily apply. Production designer Charles Wood cleverly dreams up different universes and myriad imaginary metropolises, but screenwriter Michael Waldron invests the narrative with some poignancy, examining how both Strange and Wanda are wrestling with regrets and a desire for a second chance. Sometimes these themes can feel glossed over, but the actors lend their characters enough vulnerability and pathos that we feel the emotion beneath the special effects and occasionally convoluted plotting.
To be sure, Multiverse Of Madness can get bogged down trying to serve all the different storylines already established in the MCU. (Not only does one need to be familiar with the films, but the Disney+ series WandaVision is also an important precursor to what transpires here.) And, of course, there are the de rigueur surprise cameos, which in Multiverse Of Madness prove to be mildly enjoyable without adding much to the proceedings.
But when Raimi is allowed to indulge his weird streak — especially during an audacious third act — the picture pushes past the franchise's predictably polished sheen to arrive at sequences that are livelier and odder than Marvel normally permits. There is also a welcome uptick in darker-toned violence, with Olsen emerging as a complicated but terrifying foe, her righteous anger over losing her sons driving her to monstrous behaviour. Multiverse Of Madness has a delightful funhouse quality that makes room for cheerful scares as Raimi introduces demonic figures and rotting corpses, evil magic books and shocking deaths.
Cumberbatch plays Strange as a superhero who has saved the world but lost his true love, and he brings nuance to a potentially cliched character arc. Several of the supporting cast — including Gomez and Chiwetel Ejiofor (reprising his role as the sorcerer Mordo) — are underused, but McAdams is quite good, elevating Christine beyond a mere romantic interest for Strange. If Marvel is often rightly criticised for the anonymity of its productions, the studio is also faulted for resolving all of its stories with the same type of overblown action finale. Here, too, Multiverse Of Madness tries to do things a little differently, and much of the credit goes to Olsen, who manages to sell the film's unexpectedly touching ending — a bit of magic more enchanting than anything even these powerful characters could conjure up.
Production company: Marvel Studios
Worldwide distribution: Disney
Producer: Kevin Feige
Screenplay: Michael Waldron
Production design: Charles Wood
Editing: Bob Murawski, Tia Nolan
Cinematography: John Mathieson
Music: Danny Elfman
Main cast: Benedict Cumberbatch, Elizabeth Olsen, Chiwetel Ejiofor, Benedict Wong, Xochitl Gomez, Michael Stuhlbarg, Rachel McAdams