Andrei Hutuleac's sparky debut wraps sharp social commentary in absurdist comedy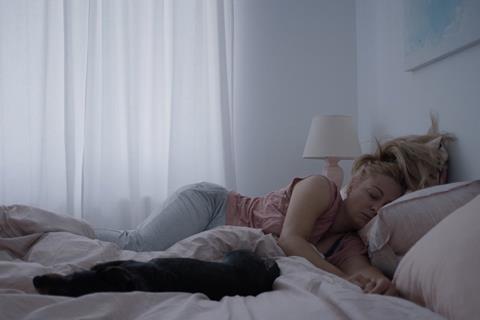 Dir: Andrei Hutuleac. Romania, 2020. 79mins
One kind impulse is endlessly punished in #dogpoopgirl, Andrei Hutuleac's brash, breezy satire which uses real events as the starting point for a caustic assault on modern life that takes outraged potshots at everything from the unfettered power of social media to the fickle court of public opinion. A cartoonish, rollercoaster energy creates sharp comic moments but an underlying bitterness makes for a less superficial ride.
A cautionary tale wrapped in absurdist comic invention
Inspired by events in South Korea in 2005, #dogpoopgirl won Best Feature and Best Actress at the Moscow Film Festival. It tells the story of Aline (Andreea Gramosteanu), a Bucharest bank employee who decides to choose a canine companion from a dog shelter. She is instantly smitten by little Oscar, winning his trust with a generous handful of biscuits.
Later, on the subway, the greedy dog spectacularly regurgitates a mound of the half-digested treats. Caught unawares, Aline has nothing with which to clean up this mess. As she dithers, fellow passengers turn on her with a chorus of voices accusing her of rude, anti-social behaviour. They also claim the offending mound as excrement. "It is puke not poop," she argues. Inevitably, another passenger captures the whole event on his phone. "If you post this you will be the king of likes, " says his encouraging mate. By morning, the video has gone viral and everyone knows Aline as the woman who refused to clean up her dog's mess.
Andrei Hutuleac's first feature has a bustling screwball fizz. The central incident is swiftly established and the swirl of consequences come thick and fast. We have the sense of how one random spark lights a blazing fire; the way Aline's life starts to spiral out of control becomes a means of reflecting a wider society in crisis.
The angry outrage behind the comedy has a force reminiscent of a vintage script by Paddy Chayefsky (The Hospital (1971), Network (1976) etc). Hutuleac takes aim at uncaring authorities, senseless bureaucracy, sensation-seeking television magazine shows, individuals who relish the chance to judge and claim the moral high ground and even – in shades of The Square – an art world keen to jump on the bandwagon. The incident inspires one sincere artist (attired in a plum coloured suit and golden shoes) to reate 'Excrementary', an exhibition devoted to excrement in art.
There is a feeling that #dogpoopgirl gleefully scatters its concerns a little too far and wide. The story does maintain a human core, including a subway guard whose actions make him collateral damage. And, of course, Aline (and her dog) suffer mightily. Once the public arena of social media has made its mind up about her, she is simply swept along by events. There seems no way of reclaiming her life. Gramosteanu convincingly conveys the bewilderment and exasperation of someone who finds it impossible to convince others that she is not the monster they think. Her fate is a cautionary tale wrapped in absurdist comic invention.
Production company: DaKino Productions, DUID
International sales: DaKino dchisu@gmail.com
Producer: Dan Chisu
Screenplay: Andrei Hutuleac, Adeline Andreea Badescu
Cinematography: Constantin Ene Jr
Editing: Alex Pintica
Production design: Adeline Andreea Badescu
Main cast: Andreea Gramosteanu, Cezar Antal, Tudor Aaron Istodor