Michael Tully creeps around the Irish countryside for a gothic tale of disappeared children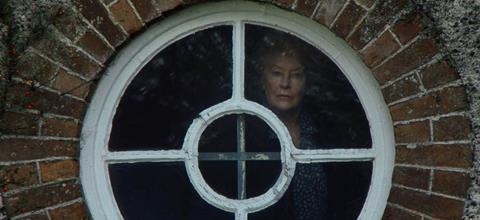 Dir. Michael Tully. US 2018. 90 mins
Slow, deliberate and often unexpectedly funny, Michael Tully's (Ping Pong Summer) contribution to the ever-growing Irish horror catalogue is refreshingly original even if it lacks the jump scare pay off to its heavily-signposted creepiness. More importantly, perhaps, it doesn't always make narrative sense. But this story about an artist, a priest in seclusion, and a vanished child has an old-fashioned art-house air and a deliberate weirdness that makes it recommended viewing for genre enthusiasts.
Recommended viewing for genre enthusiasts
Set for US release in September after a SXSW premiere and currently enjoying a festival run, Don't Leave Home could be described as Irish gothic, but it boasts a 70s arthouse sensibility in its boxy framing as an incredibly-long pre-credit sequence sets the scene. Leading us to the point where American diorama artist Melanie (Anna Margaret Hollyman) packs her bags for a trip to Ireland – don't leave home, Melanie! – the plot dabbles with the age-old Irish obsession with vanished children (stolen by evil entities from the faeries of old to the Magdalen laundry nuns).
Initially, the viewer is taken back to rural Ireland in 1986, when an eight-year-old girl disappears from her bed overnight. Siobhan (Aisling Weir) has just been painted by the local priest as she prays to the Virgin Mary in a nearby grotto. Her image also disappears from the picture.
Cut to the present, where American artist Melanie has created a show inspired by the incident. Her intricate dioramas record a spate of missing children in Ireland. A sneak preview to the press results in a damning review, however, and her finances are in a parlous state when she is contacted by the mysterious Shelley (Helena Bereen), a friend of the artist curate Alastair (Lalor Roddy), who was cleared of any wrongdoing after the disappearance of Siobhan but has left the priesthood for a life of seclusion. They have an interesting proposal for remarkably naive and unsuspicious Melanie.
This rather convoluted plotting all takes place before the opening credits, after which things finally simmer down. There's a strange mute driver/houseboy called Paraic (David McSavage) at the secluded 300 year-old estate in the Irish countryside which is Melanie's ultimate destination. Shelley, equipped with a marvellous set of evil eyebrows, is pantomime ominous, but in an enjoyable way. Alastair confides his doubts to Melanie. A group of bewigged "art collectors" arrive as lapsed Catholic Melanie enjoys fevered dreams and hallucinations. Satisfyingly, the increasingly imperilled heroine has told nobody where she is.
Even a determined suspension of disbelief can't quite explain Shelley's role in the piece, but Tully closes his film at precisely the right point to end with a punch. Tech credits are solid, and the film flows equally freely on large or small screen viewing, where it should find its most devoted fans.
Production companies: Ballymartin, Subotica Productions
International sales: XYZ
Producers: George Rush, Aoife O'Sullivan, Tristan Orpen Lynch, Ryan Zacarias, Wally Hall, Jeffrey Allard
Screenplay: Michael Tully
Production design: Bart Mangrum
Editing: Zach Clark
Cinematography: Wyatt Garfield
Music : Michael Montes
Main cast: Anna Margaret Hollyman, Lalor Roddy, Helena Bereen, David McSavage