Director Olivia Wilde lampoons American conformity in a sophomore feature that's more style over substance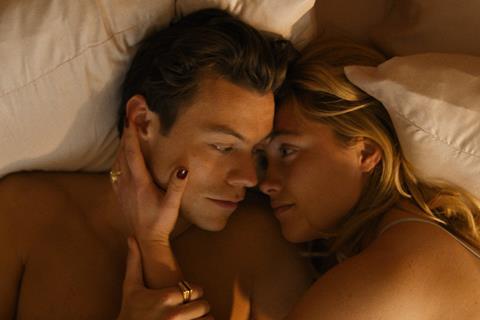 Dir: Olivia Wilde. US. 2021. 122mins
Something sinister is going on in Victory, the too-good-to-be-true planned community which is the setting for Don't Worry Darling — the only question is: what, exactly? Olivia Wilde's second feature dares the audience to solve the mystery, although the revelations are rather straightforward and the point fairly obvious. Crafted with style, and led by Florence Pugh's redoubtable performance as a picture-perfect housewife who learns a horrifying truth, this glossy thriller draws unfavourable comparisons to a whole swath of different bygone films, cribbing their unsettling undertones without adding much new to the mixture.
Touching on different genres and flaunting a sly sexiness — which is especially embodied in Pugh and Styles' lusty rapport — Don't Worry Darling doesn't lack for confidence
Following its premiere out of competition in Venice, Don't Worry Darling will open across multiple territories on September 23, including the UK and US. Wilde, who also co-stars, is operating on a broader, more ambitious canvas than she did for her charming 2019 comedy Booksmart, and an attractive cast that includes Harry Styles, KiKi Layne and Chris Pine will only further entice audiences.
Taking place in the 1950s, the film stars Pugh as Alice, happily married to successful, handsome Jack (Styles): they've recently moved to Victory, a tony, middle-class oasis in the middle of the Southern California desert. Like all the town's husbands, Jack is employed at the Victory Project, a white-collar company engaged in top-secret doings. (All Alice knows is that he's a "technical engineer" and that the company focuses on "the development of progressive materials.") But after one of her fellow housewives, Margaret (Layne), begins to unravel, insisting Victory is rotten to the core, Alice begins to view the community's charismatic leader, Frank (Pine), with trepidation.
To cite the pictures that Don't Worry Darling references would spoil some of the plot's surprises, but suffice it to say that the film's Stepford Wives vibe hints at what might possibly be awaiting Alice once she starts seeking answers. But even though Wilde's film has familiar contours, initially that's part of the pleasure: the films sets up its premise so transparently that it seems to coyly provoke the audience's suspicions. Katie Byron's production design and Matthew Libatique's lensing are immaculate, inviting viewers to savour the midcentury interiors and the natural beauty of the surroundings — all the while toying with our expectations regarding what Frank has up his sleeve.
Unfortunately, some early titillating clues — strange earthquake-like rumblings that occur occasionally in the distance, the brief glimpse of an airplane hurtling toward the ground — lead to predictable discoveries. And even some of Wilde's intuitive casting works against her. For instance, Pine perfectly embodies this dashing, paternal leader — it's such clever typecasting that we know not to trust Frank — but then the film fails to throw any genuine curveballs at us concerning who the character turns out to be.
Likewise, despite how good Pugh is as the increasingly terrified Alice, her work here is reminiscent of that in Midsommar, where she also depicted a woman thrust into a horrifying situation in which she's cut off from the outside world. But the depraved depths of Ari Aster's horror film are largely absent from Don't Worry Darling, which mostly operates in expected emotional registers. Pugh still gives her all as a wife devoted to her husband, and determined that she won't be made to believe she's crazy because of her growing fear of Frank's ulterior motives, but Katie Silberman's screenplay isn't sharp or shattering enough to give the Oscar-nominee's bracing intensity the resonance it deserves.
Wilde encourages her cast to portray their characters with a slightly smiling banality, adding another level of menace to the proceedings. At first, Don't Worry Darling seems to be a condemnation of American postwar conformit –a common theme in films that look back disparagingly at the 1950s — but Wilde doesn't stop there, setting her sights on social ills that reach into the present. Unfortunately, whereas Booksmart had a smart, breezy tone, Wilde's latest strains for significance, throwing in convoluted twists meant to underline the film's central arguments.
Discussing in detail what those arguments are would reveal the film's ending, but speaking broadly, Wilde plays with questions about how we perceive our lives — and how we lie to ourselves about how happy we actually are. Touching on different genres and flaunting a sly sexiness — which is especially embodied in Pugh and Styles' lusty rapport — Don't Worry Darling doesn't lack for confidence. But much like the elaborate charade at the heart of Victory, Wilde's film ends up not being all that it seems — in both cases, the alluring surface belies the hollowness underneath.
Production company: Vertigo Entertainment
Worldwide distribution: Warner Bros.
Producers: Olivia Wilde, Katie Silberman, Miri Yoon, Roy Lee
Screenplay: Katie Silberman, story by Carey Van Dyke & Shane Van Dyke and Katie Silberman
Cinematography: Matthew Libatique
Production design: Katie Byron
Editing: Affonso Goncalves
Music: John Powell
Main cast: Florence Pugh, Harry Styles, Olivia Wilde, Gemma Chan, KiKi Layne, Nick Kroll, Chris Pine